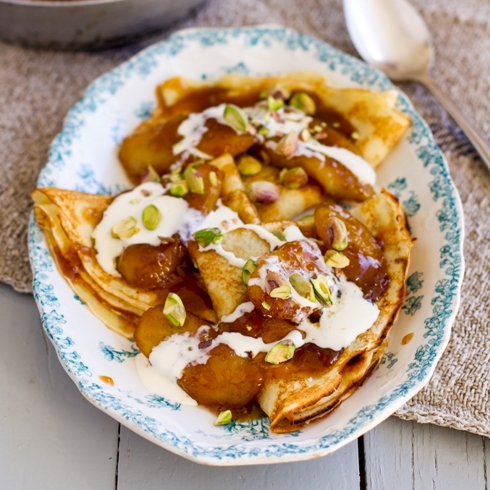 We've officially hit the middle of the year, and that means an icy winter ahead of us. The cold weather certainly makes us all long for the smell of warm, comforting winter foods. But there are few things more comforting than the smell of freshly made pancakes.
This is my favourite recipe for deluxe buttermilk pancakes, from Phillippa Cheifitz's book Lazy Days. If you don't have buttermilk in your fridge, just use full cream milk mixed with 15 ml lemon juice. But I have to say that the buttermilk just adds a luxuriously soft finish to the pancakes.
There's nothing wrong with cinnamon sugar and a squeeze of fresh lemon juice for a traditional pancake fix (Phillippa likes to spread her pancakes with homemade apricot jam!), but in this case I topped them with caramelized bananas, covered in a brown sugar and butter sauce. To make these even more deadly, I prefer to drizzle them with double thick cream and a sprinkling of roughly chopped salted pistachio nuts. Sweet, salty and crunchy, yet delicately soft and gooey.
I can have this for breakfast, lunch, dinner or dessert. So bring on the icy weather – I'll bring the pancakes!
Ingredients for buttermilk pancakes: (country pancakes, recipe by Phillippa Cheifitz)
Makes about 12 pancakes. Batter will keep in the fridge, covered, for a few days.
 6 XL eggs
1/4 teaspoon salt
30 ml sugar
375 ml (1  1/2 cups) cake flour, sifted
500 ml buttermilk (or use full cream milk mixed with 15 ml lemon juice)
30 ml melted butter (or canola oil)
canola oil for frying
Method:
Place all the ingredients in a large mixing bowl, then whisk/beat together until smooth. Allow to stand for at least 30 minutes.
Place a medium size pan over medium heat, then use a heat proof basting brush to lightly coat with oil.
When the pan is hot enough, add a ladle full of batter to the pan, swirling it around to cover the bottom of the pan. Cook for about 1-2 minutes until golden brown, then flip over using a spatula to brown the other side. Note: If your batter looks too thick, add some cold water and mix well before adding another ladle to the pan.
Stack the pancakes on top of each other, then make the topping.
Ingredients for caramelised banana topping: (enough for about 4 people)
60 g (about 1/4 cup) butter
2 x ripe, firm bananas, sliced into chunks diagonally
1/4 cup soft brown sugar
30 ml cream
double thick cream for serving (or whipped cream, or clotted cream, or mascarpone)
about 50 g salted pistachios, roughly chopped
Method:
Over medium-high heat, melt the butter in a medium sized pan, then add the banana slices. Fry for about 1 minute, turning once.
Remove the bananas from the pan,  then add the brown sugar and cream to the remaining butter in the pan. Stir until the sugar has melted and the sauce is thick (not too dark) – add a touch more cream or butter if necessary. Remove from the heat as soon as it looks ready, and return the bananas to the pan. Swirl gently.
To assemble:
Fold each pancake into quarters and arrange on a plate (about 2 per person).
Top with the caramelized bananas and sauce, then drizzle with thick cream and sprinkle with some chopped pistachios. Serve at once.
Credits:
This post was written especially for The Pretty Blog.
Text and food preparation: Ilse van der Merwe from thefoodfox.com
Photographer: Tasha Seccombe
Styling: Nicola Pretorius and Tasha Seccombe.