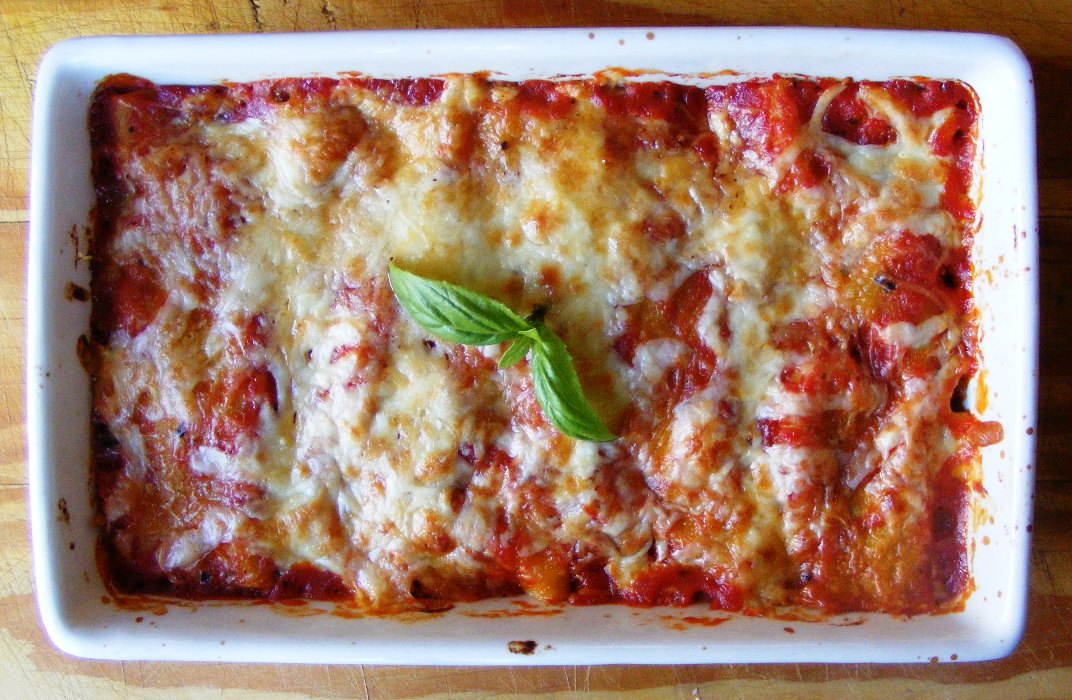 I've always been a huge fan of Italian food. It is the way that Italians value food, the way they celebrate life with food, the simple way they cook with great ingredients. Colourful, full of flavour, calorific, rich and indulgent. Just the way I like it.
Making cannelloni at home is not difficult, but I would admit it takes a bit of time to prepare and to assemble. So if you have the time to cook something really worth while, give it a shot. You need to make the tomato sauce, make the spinach and ricotta mix, roll out your pasta dough, and then assemble the little rolled pasta pockets before you bake them in the oven. You can also use store-bought dried cannelloni tubes, but they take more time to bake. I always prefer the soft freshly rolled version, but use whatever you feel like!
This is a step by step guide to making your own cannelloni. My recipe is enough for around 20 cannelloni rolls (I bake them in individual pasta dishes, 5 rolls in a dish) or 4 main portions.
Ingredients for tomato sauce:
1 x spicy tomato sauce (or use a store-bought pasta sauce like arrabiata, at least 750 ml)
Ingredients for spinach & ricotta stuffing:
2 tablespoons olive oil
400 g baby spinach or soft spinach leaves (don't use swiss chard, because you need to remove the hard white inners, and then you'll lose half of your spinach in weight)
400 g ricotta cheese
pinch of ground nutmeg
salt and pepper to taste
half a cup grated parmesan/pecorino cheese
Method for spinach and ricotta stuffing:
In a very large saucepan, heat olive oil over medium heat, add spinach leaves and fry lightly untill spinach begins to wilt. Turn/toss leaves regularly while frying. Remove from heat when all the leaves just wilted and still green. Do not overcook. Add cooked leaves to a food processor, along with the ricotta, salt and pepper, nutmeg, and grated parmesan. Process to a smooth paste. Taste and adjust seasoning if necessary. Set aside. (You can also just mix this roughly by hand – the texture will be different but it will taste exactly the same!)
Ingredients for pasta dough:
250 g flour
2 whole eggs plus 1 egg yolk
Method for pasta dough:
Put the flour, eggs and egg yolk in a food processor and mix untill it resembles cooked couscous grains. Turn out onto a surface and knead lightly into a ball. Cover with plastic and rest for at least 30 min. Roll out sheets of pasta in your pasta roller/machine, cut into squares of roughly 10 x 10 cm, and set aside (single layer, otherwise they'll stick to one another).
Extra ingredients for final assembly:
1-2 cups grated mozzarella
1/2 cup grated parmesan/pecorino
Method for assembly:
Pre-heat oven to 180 degrees Celsius. On a big surface, lay out the freshly rolled pasta squares. With a small spoon, fill each pasta square with a horisontal layer of spinach and ricotta stuffing. Roll the square into a tube.
In a shallow ovenproof dish, spoon a thin layer of tomato sauce to just cover the base. Arrange the rolled pasta tubes in the prepared oven dish next to each other.
Cover the rolled pasta tubes with another layer of tomato sauce, just covering it. Do not use too much sauce.
Cover the top of the assembled canneloni with mozzarella and parmesan cheese.
Bake in the pre-heated oven for 25 minutes or untill golden brown. Serve immediately.