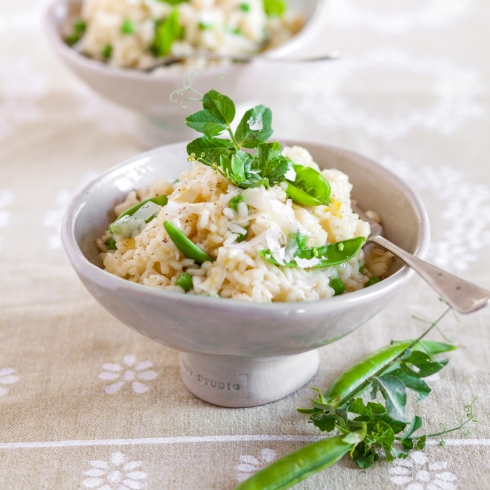 Risotto is such a versatile dish. It can be a starter, it can be a main meal, it can be lunch, it can be dinner. It can be hearty and rich with exotic mushrooms, or it can contain be fresh and light with young peas that still burst in your mouth.
This risotto is something inbetween – perfect for the beautiful Fall weather that we are currently experiencing in the Cape Winelands. Fresh flavours from the bright green peas with a hint of mint, and then a lingering richness of aged Parmigiano Reggiano.
This is surely one of my favourites dishes all year round.
Ingredients: (serves 4)
2 T butter
2 T olive oil
1 onion, finely chopped
250 g arborio rice
125 ml dry white wine
800 ml – 1 litre warm chicken stock (or vegetable stock)
250 g young peas (I used good quality frozen peas, thawed)
1 T freshly chopped mint
about 1 cup finely grated Parmigiano Reggiano
2 T butter
a few sugarsnap peas for decoration (optional)
Method:
In a medium sized pot over medium heat, add butter and olive oil, then fry onions until soft and translucent (about 5-10 minutes), but not brown.
Add rice, then fry for about 3 minutes until they are slightly toasted.
Add wine, then cook until the the liquid has been absorbed. Now start adding the stock, one ladle at a time, and cook on medium to low heat until the liquid is almost completely absorbed before adding more, stirring often. The rice should never cook completely dry. Stir every now and then to make sure that the rice doesn't stick to the bottom.
When the rice is almost cooked but still has a slight bite, add the last of the stock and cook for about 3 minutes. Remove from heat, then stir in the peas, mint, cheese and butter. Cover with a lid and leave for 5 minutes. Remove lid, then stir to combine everything. Season with salt and pepper and serve immediately (risotto will thicken on standing, and you still want it slightly runny like lava).