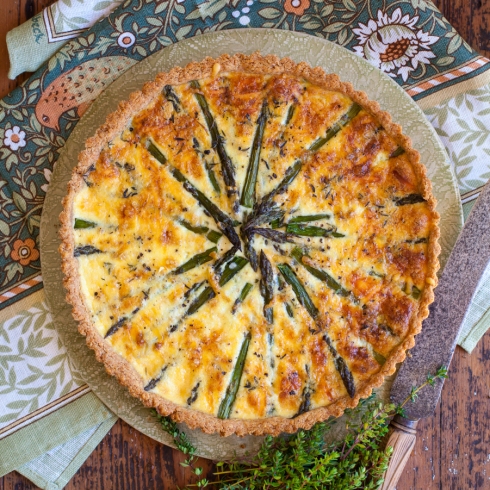 Asparagus is such a strange and wonderful vegetable, but I don't eat it too often. I like to keep it for special occasions, where I would wrap it in bacon and cook it on the grill, or blanch it for 30 seconds in simmering water and then drizzle it with buttery hollandaise sauce. It's my "treat" vegetable, if you know what I mean.
My other go-to asparagus meal is this rich asparagus tart, made with sour cream and mature cheddar cheese. It is an absolute treat for tea time, but also works well for lunch or dinner if you serve it with a green salad. It works best with fresh green asparagus, not tinned. Arrange it in any pattern you want, it makes such a beautiful picture!
Ingredients for pastry:
150 g cake flour
150 g butter, diced
20 g (125 ml) digestive bran
250 ml (100 g) grated mature cheddar cheese
Ingredients for filling:
1 bunch fresh green asparagus  (about 200-300 g)
30 ml butter
1 onion, finely chopped
2 sprigs thyme
250 ml (100 g)  grated mature cheddar cheese
250 ml sour cream
2 XL eggs
salt and freshly ground pepper
Method:
For the pastry: place the flour and butter in a food processor. Process until it resembles fine breadcrumbs, then add the bran and the cheddar. Process until it comes together in a ball, then remove from the bowl and press with clean hands into a greased 23 cm pie dish. The pastry is very soft, and it cannot be rolled out. Refrigerate until ready to use.
Pre-heat oven to 180 C.
Cut off the hard bottoms of the asparagus (if necessary), then blanch them in slowly simmering water for 30 seconds. Remove with a slotted spoon and immerse in ice water to stop it from cooking. Set aside.
In a frying pan over medium heat, melt the butter, then fry the onions and thyme (remove the stalks of the thyme) until the onions are completely soft and translucent. Transfer it to the base of the tart, then distribute evenly.
Now arrange the blanched asparagus on top of the onions in your desired pattern. Top evenly with the cheddar.
In a small mixing bowl, mix the sour cream with the eggs and season well with salt and pepper. Pour all over the asparagus, then bake the tart in the oven at 180 C for 45-60 minutes, depending on how deep your pie dish is, until set and golden brown.  Serve warm.
Credits:
This post was written especially for The Pretty Blog.
Recipe, text and food preparation: Ilse van der Merwe from thefoodfox.com
Photographer: Tasha Seccombe
Styling: Tasha Seccombe and Nicola Pretorius