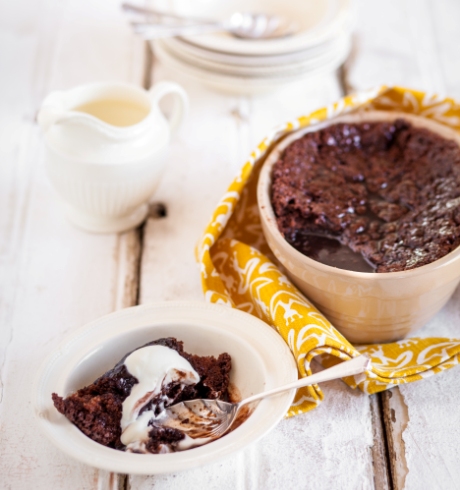 For many of the festive lunches and dinners we had when I was still a child, my Mother made a decadent yet simple saucy chocolate pudding. This is the old-school kinda chocolate pudding, made with cocoa powder (no real chocolate). This obviously also made the pudding much cheaper, but it was a sure crowd pleaser every time my Mother served it.  Vanilla ice cream completed the picture of "ebony and ivory" delight.
Apart from festive occasions, we also had it every now and then for dessert after a scrumptious Sunday lunch on colder days. My Mother knew how much we loved it, so she always made a double batch of pudding. After dinner, when the family took their regular Sunday afternoon naps, I would sneak into the kitchen. The house would be quiet except for the soft rumbling of the refrigerator. I knew the leftover pudding would be in the cooled oven, so I would grab a spoon and quickly finish half of whate
ver's left before anyone else could get to it. No guilt – just pure pleasure.
Ingredients for batter: (serves 6)
1 cup flour
2 teaspoons baking powder
1/2 teaspoon salt
2 tablespoons cocoa powder
1/2 cup sugar
3/4 cup milk
50 g butter, melted
1 teaspoon vanilla essence
 Ingredients for sauce:
1 cup sugar
1 cup warm water
2 tablespoons cocoa powder
50 g butter
Method:
Pre-heat oven to 180 C. Grease a medium sized oven dish, about 20 x 20 cm big and 5 cm deep.
Sift the flour, baking powder, salt and cocoa powder together in a mixing bowl.
Add the sugar, milk, melted butter and vanilla, then mix well (use a hand whisk or a wooden spoon). Pour the batter into the greased oven dish.
Add all the ingredients for the sauce into a small saucepan, then bring to the boil over the stove top. Simmer for 5 minutes, then pour over batter – don't stir. Place the batter and sauce mixture into the oven, then bake for about 25 minutes at 180 C. The batter will cook while the sauce will sink to the bottom to create a thick and saucy base.
Remove from the oven, then let it cool for about 15 minutes before serving warm with vanilla ice cream.
Credits:
This post was written especially for The Pretty Blog.
Recipe testing, text and food preparation: Ilse van der Merwe from thefoodfox.com
Photographer: Tasha Seccombe
Styling: Tasha Seccombe and Nicola Pretorius