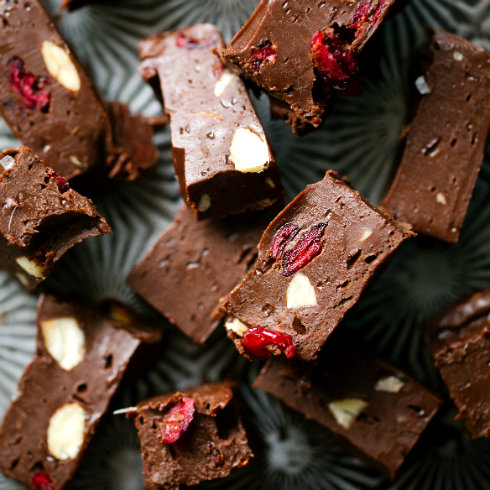 While browsing through December 2014's Taste Magazine, I came across this decadent recipe for salted chocolate fudge with cinnamon and pecan nuts by Abigail Donnelly. Lesson no.1: Never get rid of last year's magazines, they can provide you with double the inspiration for another year or three at least.
I decided to add some cranberries for a festive speck of red and the result was spectacular. Lesson no.2: Be creative and you will be rewarded generously.
My advice would be the following: use the best quality dark chocolate with a cocoa quantity of about 70%, otherwise the fudge can become very sweet. Lesson no.3: If you think fudge is too sweet to start off with, this recipe is most definitely not for you.
An interesting thing is that this fudge, unlike regular fudge, tastes better when it's cold and keeps better shape. I therefore store it in the fridge. One bite and it melts in your mouth with a silky texture straight out of sugar heaven.
I recommend that you serve these at the end of an elegant cocktail party. Cool nuggets of dark delight, easy to pop into your mouth with one bite.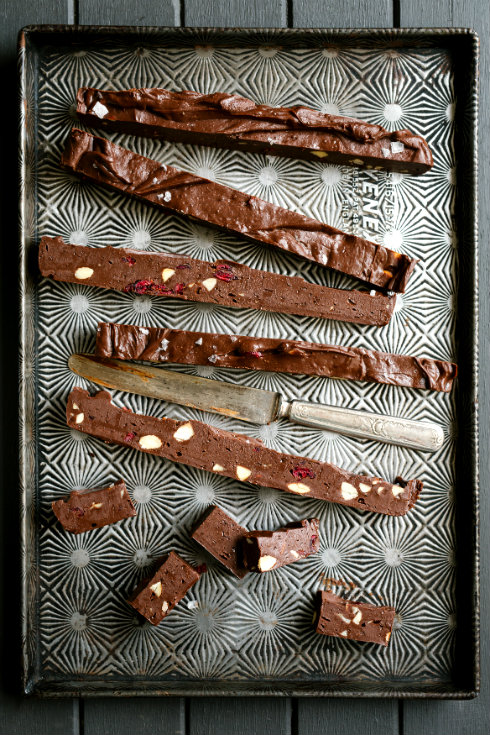 Ingredients:
1 x 385 g can condensed milk
10 ml ground cinnamon
 5 ml vanilla extract
400 g dark chocolate, chopped
45 ml butter
flaked sea salt, to taste (I used about 5 ml Maldon salt flakes)
100 g pecan nuts, chopped
80 g dried cranberries
Method:
Place all the ingredients (except for the nuts and cranberries) in a bowl over a saucepan of simmering water, ensuring the water does not touch the bowl. Allow the ingredients to melt, stirring occasionally. When fully melted, add the chopped nuts and cranberries and stir well.
Working quickly, pour into a medium size dish and chill for 4–6 hours, or until firm.
Cut into squares or small bars before serving.
Credits:
Original recipe: Abigail Donnelly, Woolworths Taste Magazine
Recipe adaptation, food preparation, food styling & text: Ilse van der Merwe
Photography & styling: Tasha Seccombe
This post has also been featured on The Pretty Blog.