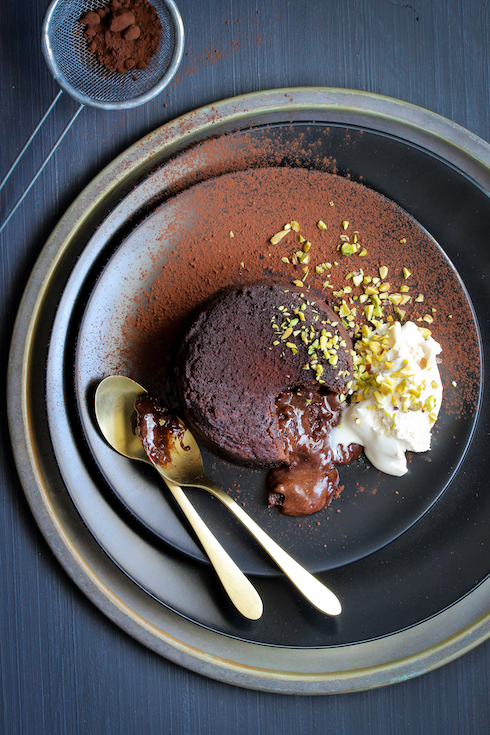 There are very few recipes out there that are written for two people only. As a standard, most serve four or six. So when you're planning a special dinner for two, it can be very frustrating to sit with more leftovers than what you actually served, or worse – paying for ingredients for a party of six when you're only hosting one guest.
I've made things easy for you by creating a recipe that saves you money time and energy. These chocolate fondants were baked in my LG Neochef microwave oven that also doubles up as a Smart Inverter oven. It heats to 160 C in only 2 minutes 50 seconds (!), using far less energy than most conventional larger ovens, perfect for cooking smaller batches. Melting chocolate with it's microwave function is a breeze, as it only takes 30 seconds (read the recipe method below, you'll see).
I have a massive sweet tooth and dessert is usually a huge priority when I serve a special dinner. If you feel a 250 ml dessert will be too big for you, make this recipe in four smaller ramekins and freeze the extra two for another time (the mixture freezes exceptionally well, just add 5 minutes to the baking time and bake from frozen).
Over the past few months I've explored more and more functions of my LG Neochef. I've even defrosted, proofed and baked croissants in about 35 minutes in total, with incredible results. This machine makes the impossible possible, using little energy and saving space. Find more info, see my recent review post.
Ingredients: (makes 2 large or 4 smaller fondants)
15 ml butter, melted, for brushing
10 ml cocoa powder
60 g good quality dark chocolate, roughly chopped (preferably 70% cocoa)
60 g butter
1 XL egg
1 XL egg yolk
75 g caster sugar
15 ml brandy/whisky (optional)
15 ml brewed espresso or very strong coffee (optional)
60 g cake flour, sifted
a pinch of salt
Method:
Using 2 x 250 ml size ramekins (or 4 x 125 ml ramekins), use a pastry brush to brush the insides with melted butter, then place in the freezer for 2 minutes. Brush the ramekins again with butter and dust all over with cocoa powder, tipping the powder all around the insides and into the next ramekin as you go. Refrigerate the ramekins until ready to use.
Place the chocolate in a large deep mug and place the  butter on top. Place in the Neochef and press "start" (it microwaves automatically at max strength for 30 seconds) then remove – the butter would have melted and the mug would be heated, so tip the mug from side to side to cover the chocolate all over with the warm butter. Leave to stand for at least 5 minutes before starting to stir with a spatula. Leave to stand further until fully melted and smooth.
In the meantime, place the egg, yolk and sugar in a mixing bowl and mix well with electric beaters until creamy and light. Give the chocolate mixture one last stir to make sure it is completely melted, then fold it into the egg mixture.
Place the low rack in the Neochef and preheat to 160 C (press the "cook mode" button until it shows 180 C, then turn the knob down to 160 C and press "start" twice).
Add the brandy, espresso (both optional, but adds great flavour), flour and salt to the mixing bowl and fold in carefully. Divide the mixture between the two (or 4) ramekins.
The Neochef should play a tune to let you know it is heated to the correct temperature. Press the "stop/cancel" button, then turn the knob to the right until it displays 18 minutes (for smaller ramekins, turn to 12 minutes). Put the ramekins on the low rack, close the door and press "start".
When the time is up, remove the ramekins with oven mitts, run a knife along the edges and turn out carefully on 2 plates. Dust with more cocoa powder and serve with ice cream or a dollop of whipped cream. I've also added some chopped pistachios, but that is totally optional. Serve immediately to enjoy the full lava-ish effect – absolutely heavenly.
Note: Chocolate fondant is meant to have a lava-like melted interior. Do not overbake this dessert, as it won't have the same charm. If you're nervous about turning it out, rather underbake it slightly and serve inside the ramekins – no stress!
PS: If you are baking these in a conventional oven on fan mode, reduce the baking time slightly as oven fans tend to heat a little higher than regular ovens. All ovens are different, so it might take more than one take to get it perfect!
(I have received an LG Neochef as part of a collaboration project, which I am enjoying fully. All views and opions are my own.)