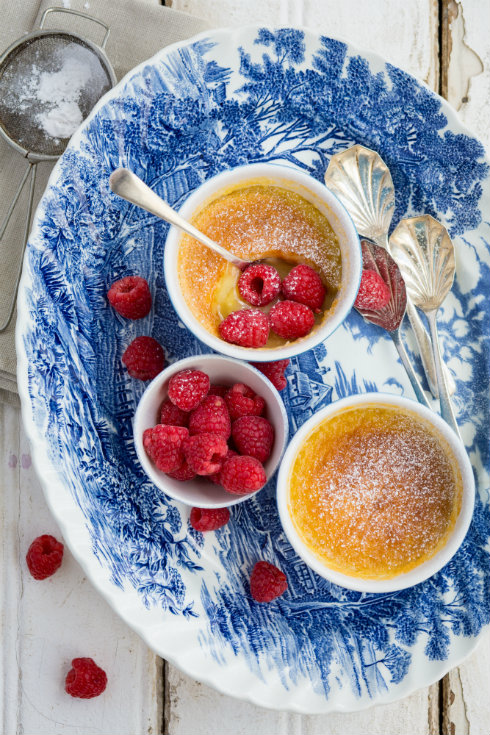 Donna uses whole lemons (yes, skins, pith and all) to create this simple pudding that almost resembles a baked lemon curd. It reminds me very much of the middle layer of a South African lemon meringue pie – tart and tangy, yet thick and indulgent. She suggests that you serve it hot or cold with vanilla ice cream – I agree, the ice cream is a must.
I found that this pudding works best when baked in smaller ramekins, preferably not too deep (I've tried baking it as one big pudding and I don't recommend it). Adjust the baking times according to what you have in your kitchen: deeper and larger ramekins will bake a bit longer.
Ingredients: (recipe from Fast, Fresh, Simple by Donna Hay)
1 medium/large thin skinned lemon
330 g (1 1/3 cup) caster sugar
30 g butter, melted
3 egg yolks (I used XL)
180 ml (3.4 cup) single pouring cream
30 ml cornstarch / corn flour (Maizena)
vanilla ice cream, to serve
Method:
Pre-heat oven to 169 C (325 F).
Cut the lemon into 8 pieces and remove any seeds. Place in a food processor with the sugar and process until very smooth.
Add the butter, egg yolks, cream and cornstarch and process until smooth.
Pour into 4 greased 1-cup capacity (250 ml) ovenproof ramekins/pie dishes. Bake for 22-24 minutes or until just set.
Serve warm or cold with vanilla ice cream.
Credits:
This post was originally written for The Pretty Blog by Ilse van der Merwe from The Food Fox.
Recipe, food preparation and text: Ilse van der Merwe
Photography: Tasha Seccombe
Styling: Nicola Pretorius