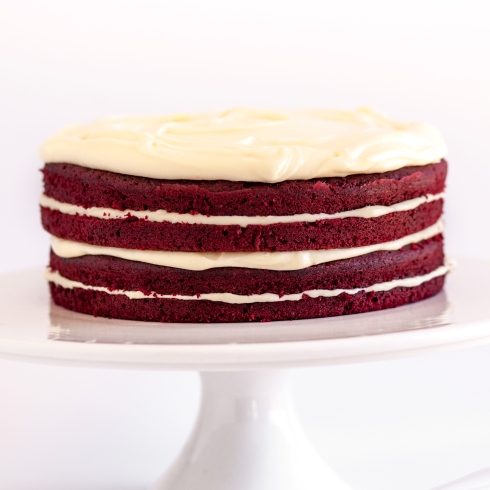 It seems that there's a red velvet cake revival every 2 years. In fact, I did a post on red velvet cupcakes exactly 2 years ago (on the 28th of March). But I'm telling you, that revival has been going on for decades. Just as you think people have forgotton the craze, they tend to get back on the wagon.
So here I am, on the red velvet wagon again. Why? Because this cake seriously is a thing of beauty.  It's not only a normal cake with a load of red food colouring – it's a fluffy, moist, velvety creation like no other. You just need to look at it to understand that this is the royal Duchess of cakes.
This recipe is slightly different to the cupcake recipe and makes 2 layers that you can sandwich together (I slice them each in half horizontally to create 4 thin layers). I prefer to use a vanilla buttercream icing that is whipped like cream, I prefer the colour and texture of this to a cream cheese icing or a mascarpone icing.
This is the perfect "high tea" cake.
Ingredients for cake: (recipe adapted from "The Ultimate Snowflake Collection" by Heilie Pienaar)

 125 butter, softened
210 g caster sugar
2 XL eggs
30 ml red food colouring (or "crimson pink")
15 ml milk
30 ml cocoa powder
280 g cake flour
2,5 ml salt
250 ml buttermilk
5 ml bicarbonate of soda
15 ml white vinegar
5 ml vanilla essence
Method:
Grease and line 2 x 20cm round cake tins, and pre-heat oven to 180 C.
Using electric beaters, cream butter and sugar. Now add eggs one at a time, beating well after each addition. Beat untill the mixture is light and fluffy.
Add the food colouring and milk, then beat well.
Sift the cocoa powder, cake flour and salt together. Add half the dry ingredients, then half the buttermilk. Mix well, now add the remaining half of the dry ingredients, then the buttermilk, and mix well.
Dissolve the bicarb into the vinegar, then add it to the mixture along with the vanilla.  Fold it in with a spatula, then pour into the greased pans. Bake for 25 minutes or until an inserted skewer comes out clean.
Remove from oven, then leave in the pans for 5 minutes before turning out to cool on a wire rack to cool completely.
Buttercream frosting:
250 g butter, very soft
seeds of one vanilla pod
500 g icing sugar, sifted (powdered confectioner's sugar)
2-3 tablespoons milk
Whisk/beat butter and vanilla seeds until very light in colour and fluffy, for around 3-5 minutes.  Add icing sugar a little at a time, and beat/whisk at low-speed untill it starts to come together, then on high-speed untill light and creamy. Add milk and whisk further Put in piping bag and pipe onto cupcakes.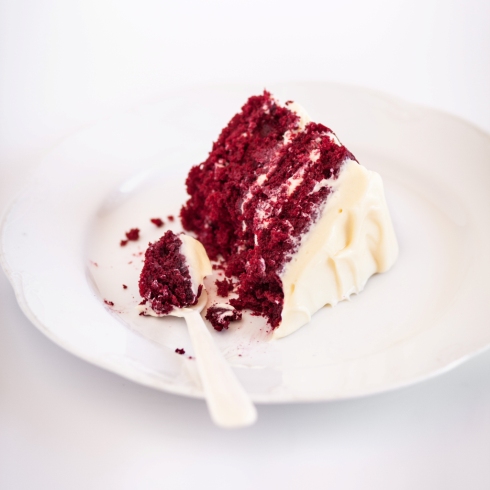 Credits:
This post was written especially for The Pretty Blog by Ilse van der Merwe.
Recipe testing and food preparation: Ilse van der Merwe from thefoodfox.com
Photographer: Tasha Seccombe
Styling: Tasha Seccombe and Nicola Pretorius