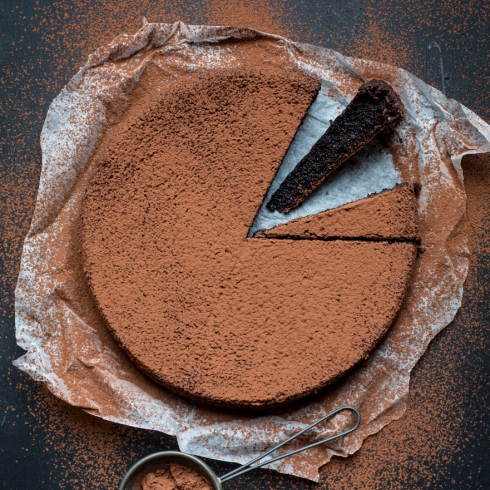 My good friend Inke Gouws Sandri shares my love for baking. We were pregnant at the same time in 2010 (our babies even had the same due date), and during that time we met up regularly for a good slice of cake or a proper French pastry at Nook Eatery in Stellenbosch.
She also sends me great recipes that she comes across, knowing that I would certainly appreciate it as much as she does. This recipe is one of them: a flourless chocolate olive oil cake by Nigella Lawson. Made with ground almonds, this gooey dark cake is perfect as a dinner party dessert, but you can also substitute the almonds for regular flour for a more economical, "lighter" cake. It doesn't really need any frosting,  but Inke told me that she has iced hers with a chocolate orange ganache and it was heavenly – even her Italian husband raved about it.
I prefer to use canola oil instead of olive oil, as olive oil can sometimes give a bitter aftertaste to the cake. Also, canola oil is much healthier with it's high Omega 3 & 6 content, and provides a fantastic moist texture to the cake.
Ingredients:
150 ml canola oil
50 g good quality cocoa powder, sifted
125 ml boiling water
2 teaspoons best vanilla extract
150 g ground almonds (or 125 g cake flour)
1/2 teaspoon bicarbonate of soda
a pinch of salt
200 g caster sugar
3 large eggs
Method:
Pre-heat your oven to 170 C. Grease a 23 cm springform cake tin with a little oil and line the base with baking paper.
Place the cocoa, boiling water and vanilla in a small mixing bowl, and whisk until you get a thick paste.
In another mixing bowl, combine the almonds with the bicarb or soda and the salt. Mix well.
Place the sugar, oil and eggs in a bowl of an electric mixer and whisk/beat for about 3 minutes on high speed until you get a thick mixture.
Add the cocoa mixture, mixing well, then scrape down the sides and add the almond mixture. Mix well, then scrape down the sides and mix for one last time.
Pour this dark liquid batter into the lined tin, then bake for 45 minutes or until the sides are set and the centre still looks slightly damp (but not runny). A cake tester should come out with a few sticky crumbs, not clean.
Remove the cake from the oven, then let it cool on a wire rack (in the tin) for 10 minutes before easing the sides with a spatula and then releasing the spring. Remove the tin and bottom, then leave to cool on a wire rack to cool completely, or eat while still warm with some ice cream. Sift lightly with cocoa powder or icing sugar, or drizzle with ganache of your choice.
Credits:
This post was especially written for The Pretty Blog by Ilse van der Merwe from The Food Fox.
Recipe, food preparation and text: Ilse van der Merwe.
Photography: Tasha Seccombe.
Styling: Nicola Pretorius & Tasha Seccombe.