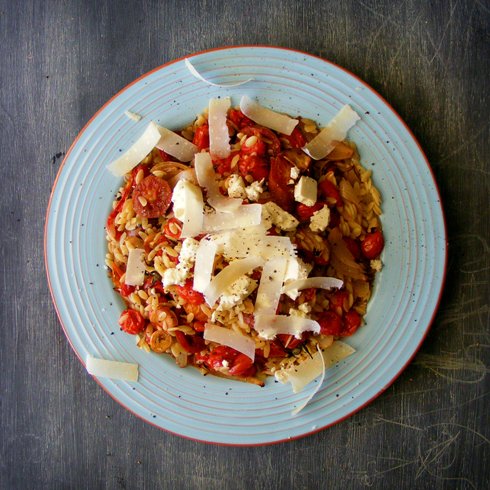 My good friend and fellow blogger Jane-Anne Hobbs recently published an outstanding recipe for a Greek roasted lamb dish with orzo, "Mike's Youvetsi". She made this dish for us at her house last year, and I have since completely fallen in love with orzo as an ingredient. It's got something to do with the mouthfeel of the orzo – to me, it is much more than flat rice-shaped pasta.
Last week I attended a function at the V&A Waterfront where we were served the most delicious buffet lunch (#DiscoverDelicious). One of the dishes included a rice dish with roasted butternut, peanuts and danish feta. It reminded me of how fabulous a meatless dish can be if served with really flavoursome roasted ingredients and just the right type of starch. I longed for Jane-Anne's orzo dish (it truly is spectacular, especially if you're a fan of lamb), but decided to go the meatless route for a quick roasted tomato & orzo dish with added leeks, onions, garlic and thyme.
The roasted tomatoes are also fabulous as a topping on freshly baked bread, but I decided to toss it with freshly cooked orzo topped with chunks of feta for a Greek inspired dish. This can certainly be a meatless main course, but I think it will be fantastic served at room temperature as a side dish on a buffet table. I used only 250 g orzo, but you can certainly use up to 500g for this recipe. It is very rich in flavour and such a satisfying dish!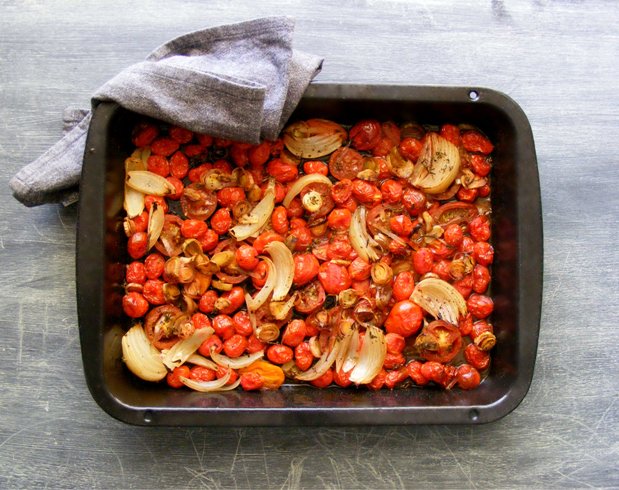 Ingredients for roasted tomatoes:
1 kg tomatoes (mixed sizes)
1 onion, sliced in thin wedges
2 leeks, sliced
2 cloves garlic, sliced
3 sprigs thyme, stalks removed
1/3 cup extra virgin olive oil
about 30 ml balsamic vinegar
30 ml soft brown sugar
salt and pepper
Method:
Pre-heat oven to 200C.
Arrange the tomatoes in a large roasting tin. Slice the bigger tomatoes, but leave the small ones whole.
Add the sliced onion, leeks, garlic, thyme, then drizzle with the olive oil and balsamic vinegar. Sprinkle with the sugar, then season well with salt and pepper.
Roast for 25-30 minutes at 200C until the tomatoes and onions are soft and slightly charred.  Remove from the oven and set aside.
Ingredients for the orzo dish:
250 g orzo (or 500 g orzo if you are serving this as a side dish in a buffet spread)
water and salt
a little extra virgin olive oil
1 x batch roasted tomatoes (see recipe above)
200 g feta, crumbled or diced (or danish feta)
shavings of parmesan cheese (optional)
Method:
Cook the orzo in a pot of rapidly boiling salted water until tender – about 7 minutes. Drain and drizzle with a little extra virgin olive oil.
Add the cooked orzo to the roasted tomatoes and mix well. Transfer the contents to a suitable platter or large bowl, then top with the feta and parmesan cheese.
Serve hot or at room temperature.