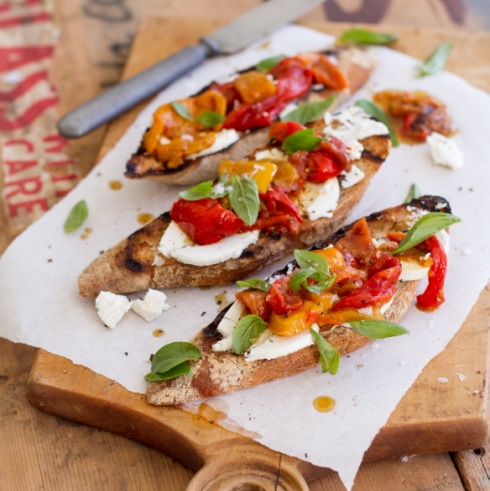 Even though most of us are snuggled up inside our cosy homes this winter, there's no reason to stop eating like you're on a Mediterranean holiday. To me, alfresco foods like grilled vegetables on bruschetta is the perfect snack all year round. And with the intensely bright red, orange and yellow hues that comes with grilling really fresh peppers, it's like a piece of sunshine on a plate.
You can certainly serve these peppers warm on a very cold day, grilling the goat's cheese to toasty perfection, but I mostly prefer to eat my marinated peppers at room temperature. Freshly toasted warm bruschetta is obligatory though, as it really soaks up the lovely sharp marinade.
Buon appetito!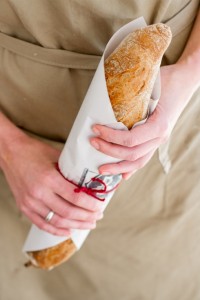 Ingredients for grilled marinated peppers:
4 large red/orange/yellow peppers (or 6 medium)
olive oil for greasing
about 1/3 cup extra virgin olive oil
about 30-45 ml cider vinegar
salt and pepper
To serve:
slices of baguette (or sour dough or ciabatta)
soft goats cheese
fresh basil leaves
Method:
Pre-heat oven to 230 C.
Remove the seeds and pith of the peppers, then slice into large flat "panels".
Grease a baking tray with olive oil, then arrange the peppers skin side up.
Roast the peppers for about 25 minutes, or until the skin starts to blister and turn black.
Remove the peppers from the oven, then place them immediately (with all the juices from the pan) in a plastic container that can seal tightly. Close the lid and leave to steam and cool for at least 15 minutes.
Now remove the skins from the peppers – they should peel off easily. Discard the skins.
Cut the soft fleshy peppers into smaller strips, then place them back into the plastic container. Add the olive oil and vinegar, then season well with salt and pepper. Mix well with a spoon, taking care not to break up the peppers.
Leave to marinate for a few hours – flavours will improve with time. Refrigerate until ready to use, then return to room temperature before serving.
Serve on slices of toasted bruschetta, topped with goats cheese, peppers and some fresh basil leaves.
Credits:
This post was written especially for The Pretty Blog.
Recipe, text and food preparation: Ilse van der Merwe from thefoodfox.com
Photographer: Tasha Seccombe
Styling: Nicola Pretorius.