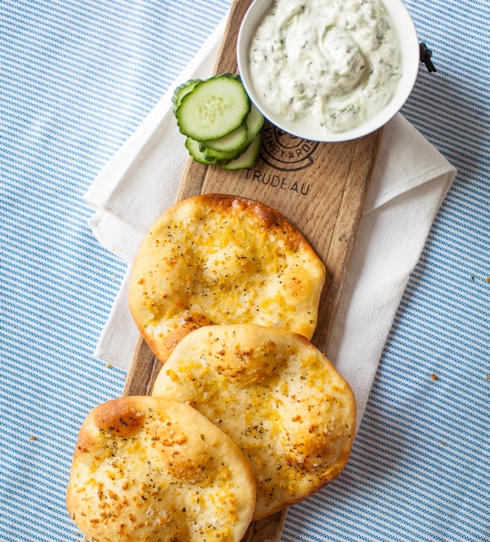 When it comes to Summer tapas, simpler is always better. And when you love Greek food as much as I do, you simply have to go with freshly baked garlic pitas dipped in thick, double-cream tzatziki.
I roll the dough out in 2 large pita bases, or make 8 small hand-size pitas. Don't be shy with the garlic – you have to commit on this one. I have to admit, after doing this shoot (eating on the job is a prerequisite) I was a walking garlic bomb for 2 days straight. It felt great – true Greek style!
For the tzatziki, I based my recipe on the authentic tzatziki that we had in Athens when we traveled there in 2010. It is very thick, almost like a cucumber and mint "salad", made with well-strained cucumbers and double-thick Greek yoghurt. Add some olive oil and I'm back in a taverna on the cobbled streets of Plaka.
Ingredients for pitas:
2 cups (500 ml) flour
2 t (10 ml) instant yeast
1 t (5 ml) sugar
1/2 t (2,5 ml) salt
3/4 cup (185 ml) lukewarm water
1 T (15 ml) olive oil
for topping: 8-10 garlic cloves, crushed, mixed with 1/3 cup olive oil
salt & pepper for seasoning
Method for pitas:
In a large bowl, mix flour, yeast, sugar and salt together. Add water and olive oil and mix until a sticky dough forms. Knead until the dough becomes soft and pliable. Cover and let it rise in a warm area for about 15-30 minutes until doubled in size.
Pre-heat oven to 240/250 C for at least 20 minutes.
Divide dough in 2 (for large pitas) or 8 (for small pitas). On a well floured surface, roll out one piece at a time into circular shapes, adding a little more flour to make sure the dough doesn't stick. Transfer to a large baking tin lined with baking paper.
Spread with garlic & olive oil topping, season lightly with salt & pepper, then bake for 5-8 minutes or until golden brown and crisp on the edges. Serve immediately on a wooden board.
Ingredients for tzatziki:
1/2 cucumber, seeds removed and coarsely grated
250 ml double-cream Greek yoghurt
2-3 T chopped fresh mint
1 T olive oil
salt and pepper
1 clove garlic, crushed
Method for tzatziki:
Spread grated cucumber on a clean tea towel over a wire rack, sprinkle with salt, and drain for 15-30 minutes. Make sure that most of the water is removed from the cucumber by wringing it lightly in the tea towel if necessary.
In a medium-sized mixing bowl, mix yoghurt, mint, olive oil and garlic. Add drained cucumber and season with pepper.
Cover and refrigerate until ready to serve.
Credits:
This post was especially written for The Pretty Blog by Ilse van der Merwe from The Food Fox.
Food & recipe: Ilse van der Merwe.
Photography: Tasha Seccombe.
Styling: Tasha Seccombe & Nicola Pretorius
Glasses and Tablecloth : Poetry