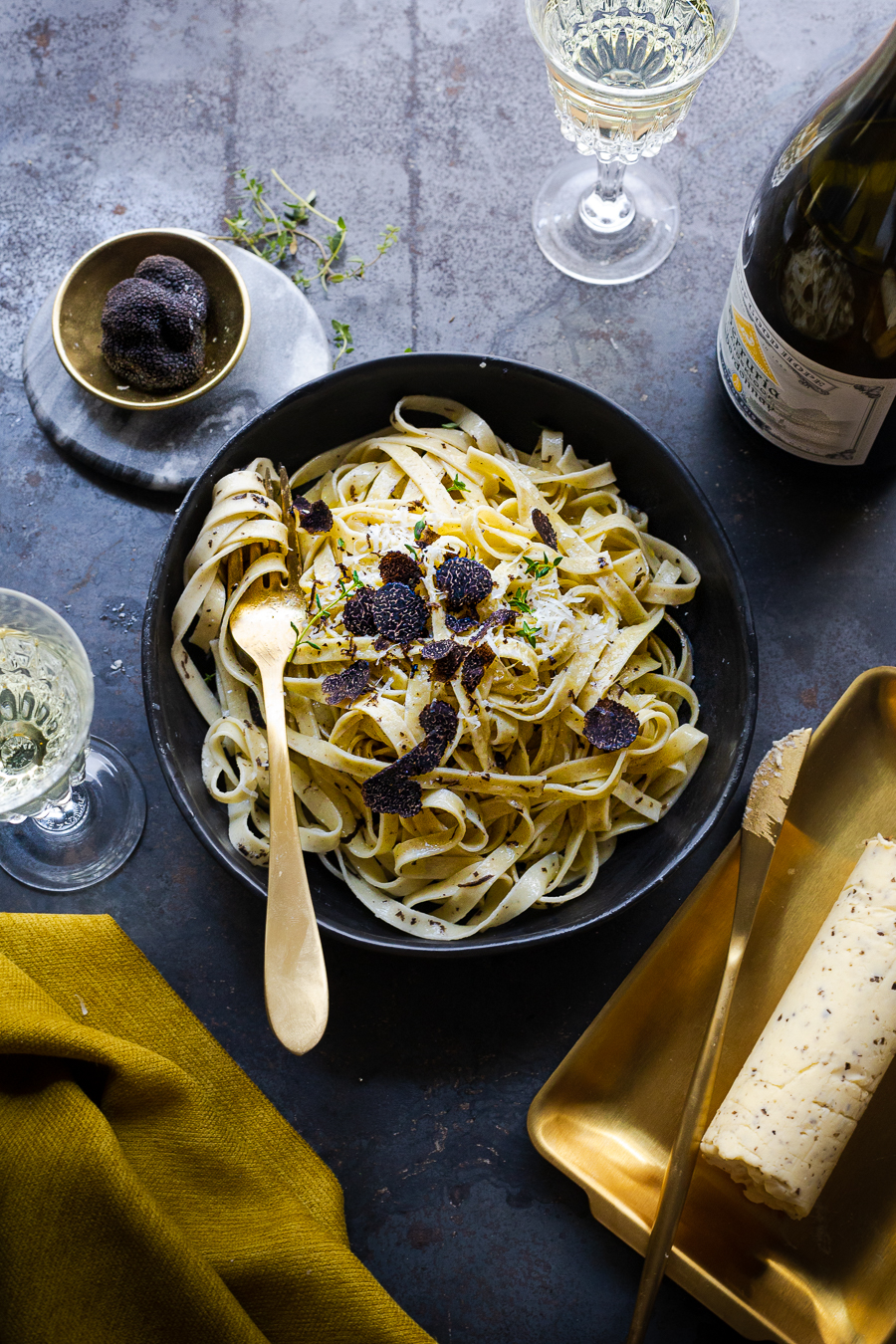 Have you ever had the privilege of cooking with fresh black truffle? My friends at Anthonij Rupert Wines recently surprised me with with a big black box filled with not only a real, locally grown fresh black Perigord truffle grown on their Altima Estate, but also some locally made truffle tagliatelle, a log of truffle butter and a bottle of Cape of Good Hope Serruria Chardonnay. Truffle season is short and unpredictable, and once harvested they have a shelf life of 4-5 days, so I really wanted to make the most of my 33g beautiful black truffle – felt like I was holding a nugget of black gold in my hand!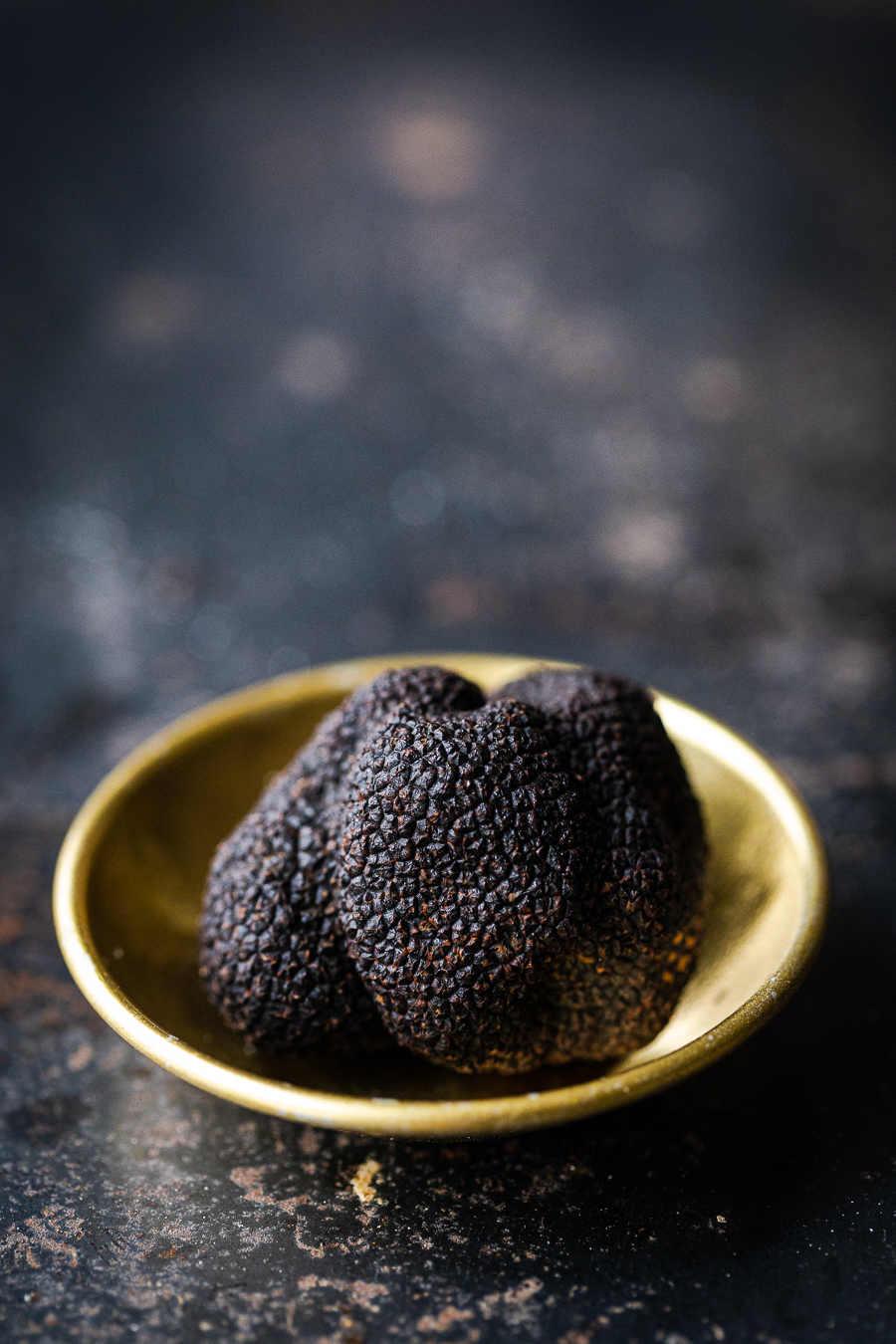 When you have access to such incredible ingredients, you just have to let them shine. So after contemplating many different recipes, I decided to keep it utterly simple and serve the cooked truffle tagliatelle with truffle butter, parmigiano and more shaved truffle. I mean, that truly is the best way to fully immerse yourself in the taste of real black truffle.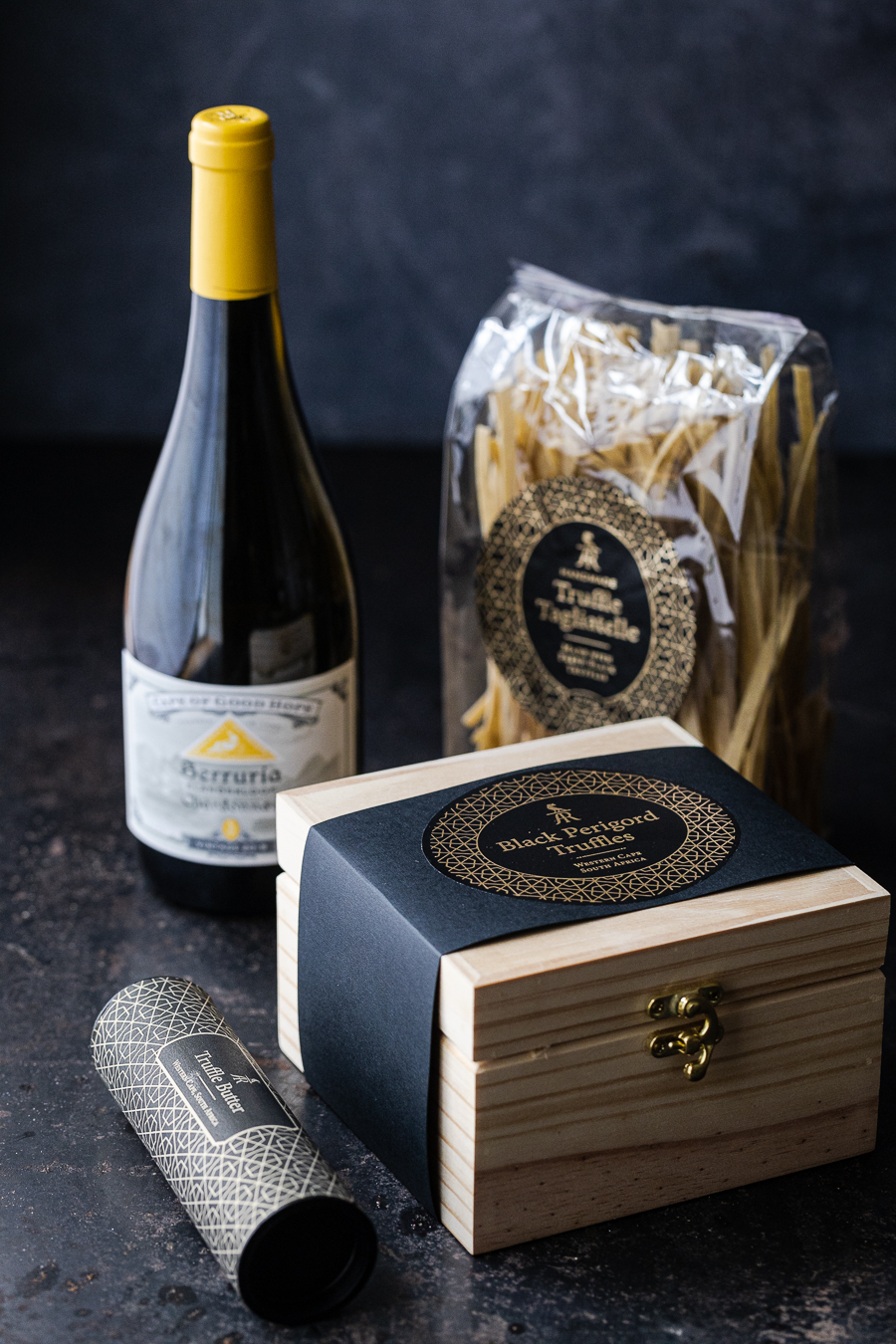 Gidi Caetano, the hospitality manager at Anthonij Rupert Wines, gave me some tips about storing and using fresh truffle at home. First up, it has a shelf life of about 4-5 days (or slightly longer when refrigerated) if you get your hands on it as fresh as possible. Store it in the fridge, wrapped in a paper towel, enclosed in a glass jar or other ceramic container with lid – if you leave it open, your whole fridge will smell like truffle in a short while, which is not a bad thing but can be overwhelming! To use the truffle, it is best at room temperature, finely grated with a microplane or fine grater, or finely shaved if you have a mandolin cutter or truffle shaver. You can use it sparingly, as a little bit really goes a long way.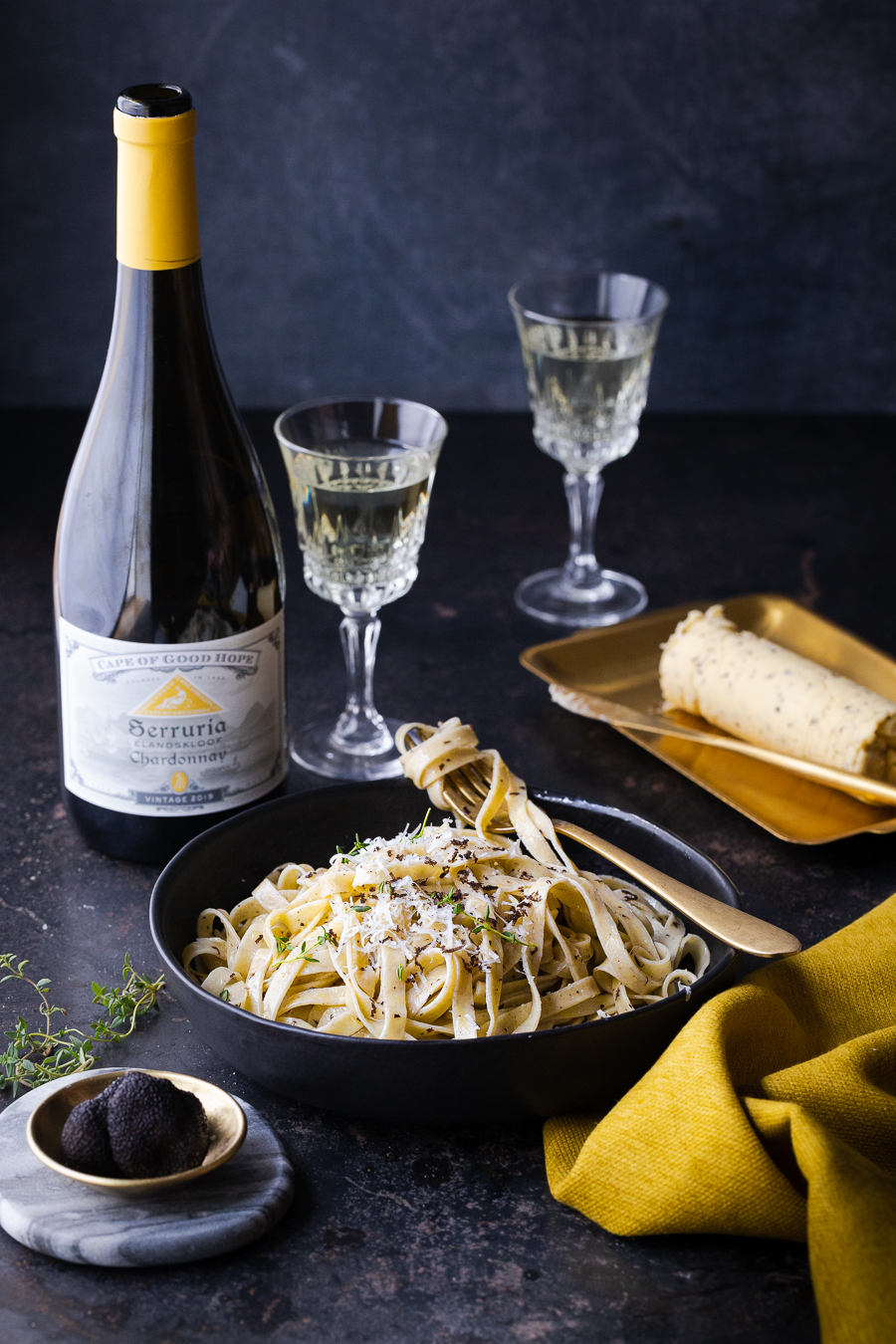 The taste of fresh truffle is quite different to that of commercial truffle oil – incredibly distinct, earthy, woody, almost "mushroomy", but the taste is quite rounded and not nearly as strong or pungent as truffle oil. It is interesting to note that most commercial truffle oils are not made with fresh truffles, but with artificial aromatic compounds that taste very different to fresh truffles. If you think you don't like truffles because you don't like truffle oil, I do hope you get the chance to taste the real thing – it is sublime. The pairing with the Serruria Chardonnay is also a thing of beauty.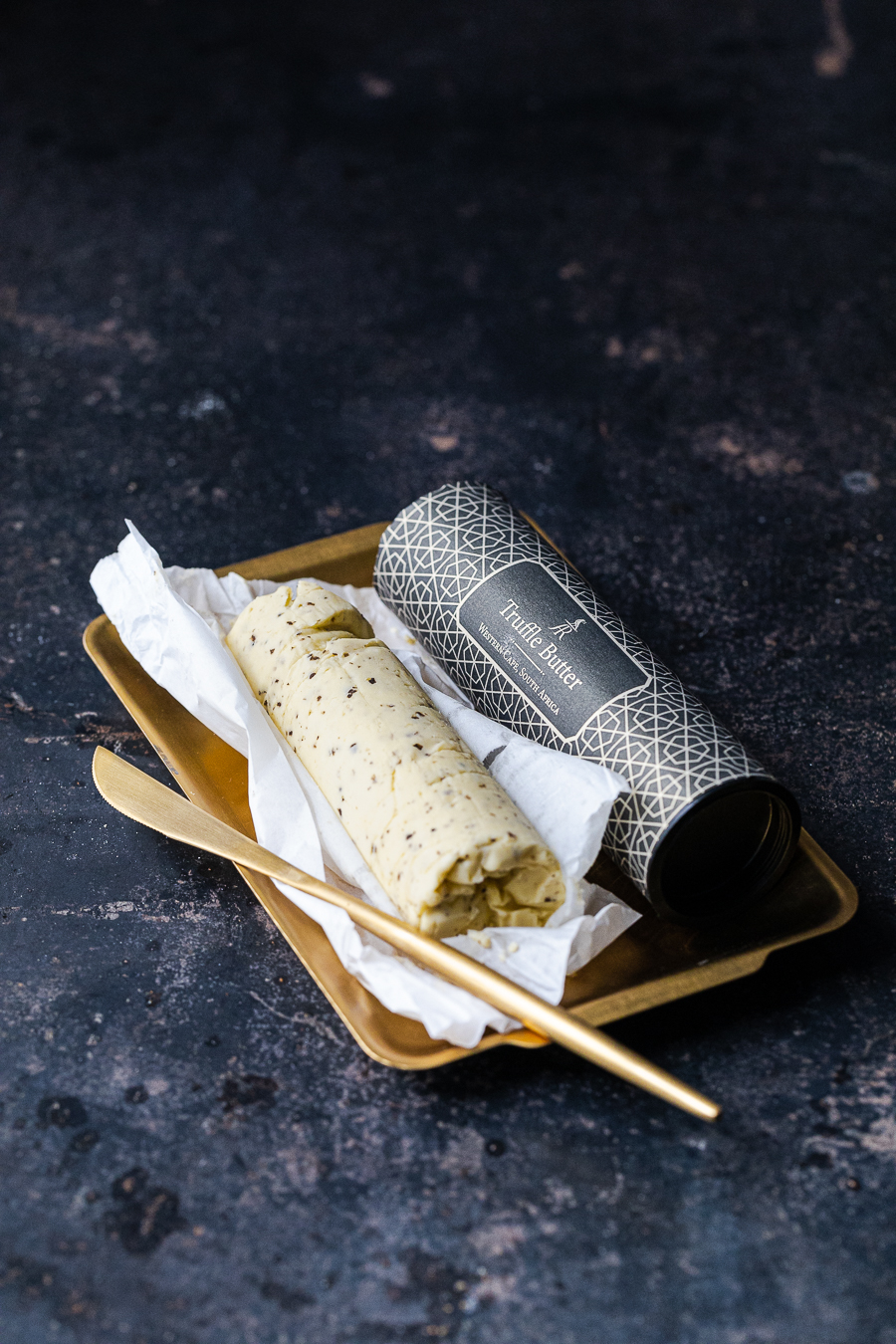 TO ORDER: You can buy fresh truffles for the remainder of the season (about 2 weeks left) directly from Gidi via email: [email protected] (or the tasting room at 021-874 9041) at R20/gram, minimum 30g per order. My truffle was 33g, to give you an idea of size. They package the truffles in the most beautiful wooden boxes, and they do deliver.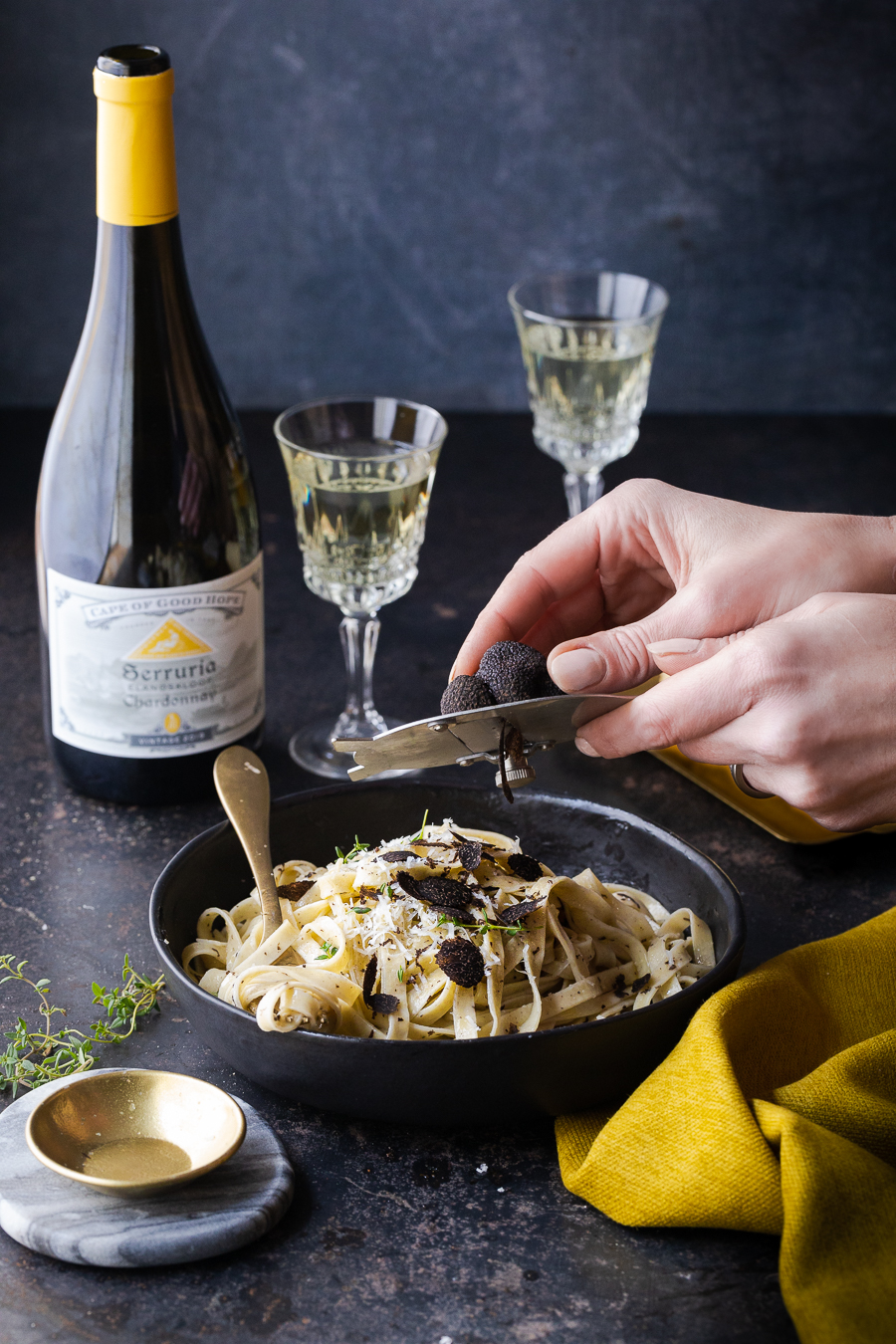 Ingredients: (serves 2)
water and salt, for boiling
250 g Anthonij Rupert truffle tagliatelle
about 30-60 g Anthonij Rupert truffle butter
fresh black Perigord truffle, finely grated or shaved (to taste)
about 1/2 cup freshly grated parmigiano reggiano
salt & pepper, to taste
Bring a large pot of salted water to a rolling boil. Add the tagliatelle and cook until al dente – 3-4 minutes. Reserve about 1/4 cup of the cooking water, then drain the pasta. Toss immediately with the truffle butter (cut into disks, it will melt into the hot pasta), adding some of the pasta water to loosen it up, then top with parmesan and freshly grated/shaved truffle. Serve at once in bowls, seasoning with more salt & pepper if needed.
Notes:
You can absolutely also make this recipe with plain tagliatelle/pasta, using the truffle butter only, or the freshly grated/shaved truffle only. Or you can use the truffle tagliatelle with plain salted butter and parmesan cheese, without the fresh truffle. If you have access to a fresh truffle, you can make your own truffle butter by melting 60g of butter in a pot over low heat, then adding some grated truffle (about 2-3 tablespoons) and a pinch of salt. Stir and toss with the freshly cooked pasta, then add generous amounts of grated parmesan and serve at once with the Cape of Good Hope Serruria Chardonnay.