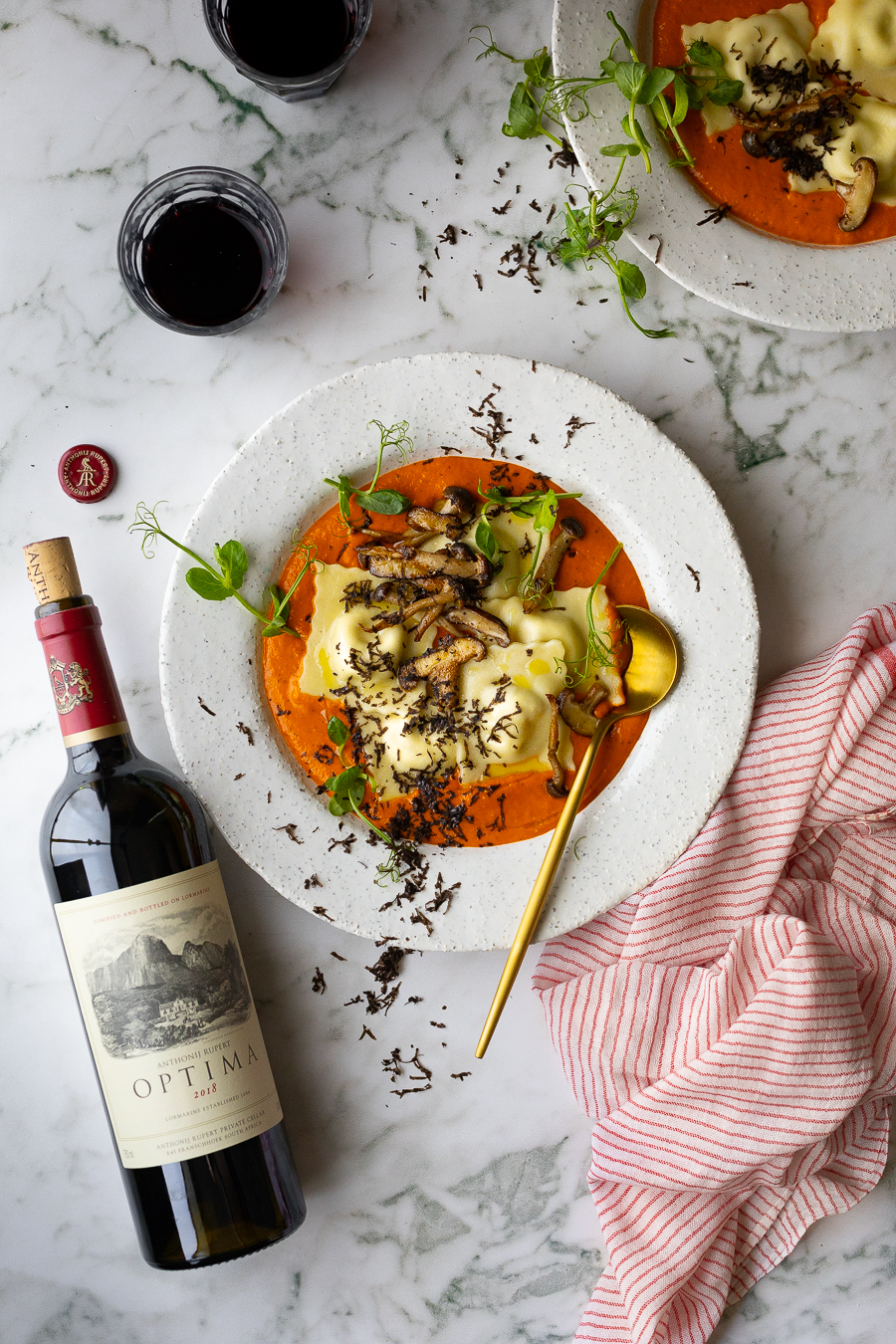 My friends at Anthonij Rupert Wines recently surprised me with with a big black box filled with not only a real, locally grown fresh black Perigord truffle grown on their Altima Estate, but also some locally made truffle tagliatelle, a log of truffle butter and a bottle of Cape of Good Hope Serruria Chardonnay. I've never cooked with fresh truffles before, and given the reputation I was totally overwhelmed by the privilege and the responsibility to really enjoy and respect it to the fullest. Truffle season is short and unpredictable, and once harvested they have a shelf life of 4-5 days, so you gotta make it count!
To start, I cooked their truffle tagliatelle (see the full post here) and served it with lashings of the beautiful log of truffle butter (with more fresh butter and grated truffle) and topped it with freshly shaved truffle – absolutely delightful if you want to experience fresh truffle to the fullest! Wow, wow, wow. Then I had more than half a truffle left, so I decided to take the slower route and make ravioli from scratch, filled with a triple cheese & grated truffle mixture containing ricotta, blue cheese and parmesan, served on a bed of roasted red pepper & tomato puree, topped with pan-fried exotic mushrooms and more grated truffle. The result: pure bliss, earthy, robust, packed with umami. I served it with a bottle of Anthonij Rupert Optima 2018 – a structured red blend with notes of forest floor that resonates with the truffle and stands up to the punchy roasted tomato. For an everyday alternative, the Terra del Capo Sangiovese or Arné will both pair beautifully.
This recipe is one that you should make when you have time on your hands, wishing to make the most of scratch cooking with beautiful ingredients. It is highly rewarding, but it requires a bit of patience.
Whatever you decide, investing in a fresh truffle from Anthonji Rupert will result in a memorable culinary event (or two of three). Their truffle season will be ending in about 2 weeks, so be sure to order yours in time.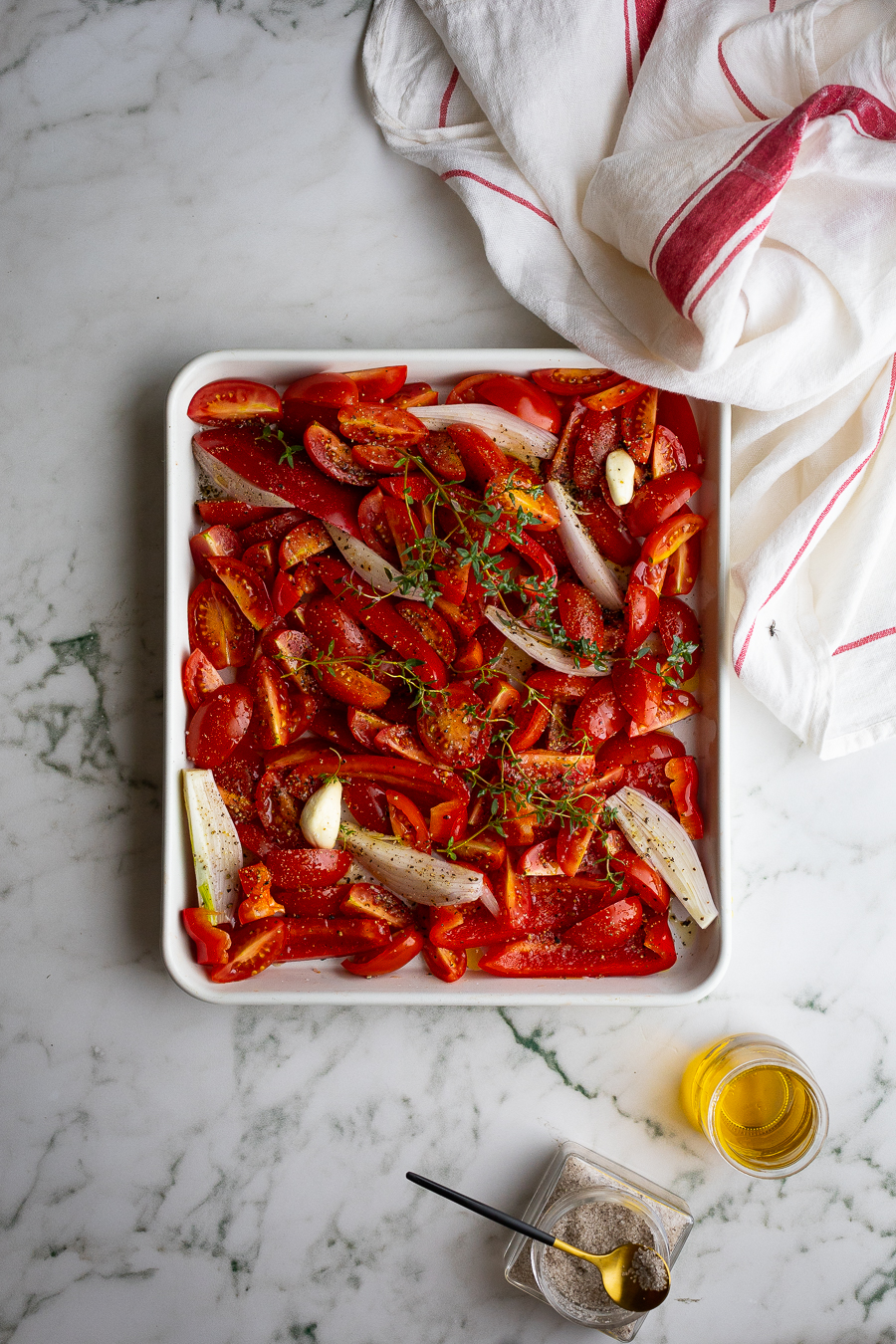 This sauce is incredibly flavourful and super easy to make. Pop the sliced tomatoes, peppers, shallots, garlic and herbs in a pan with olive oil, salt & pepper, and they'll become fragrant and soft at 160 C over the course of 1h15min. Blits in a blender with some fresh cream and there you have it.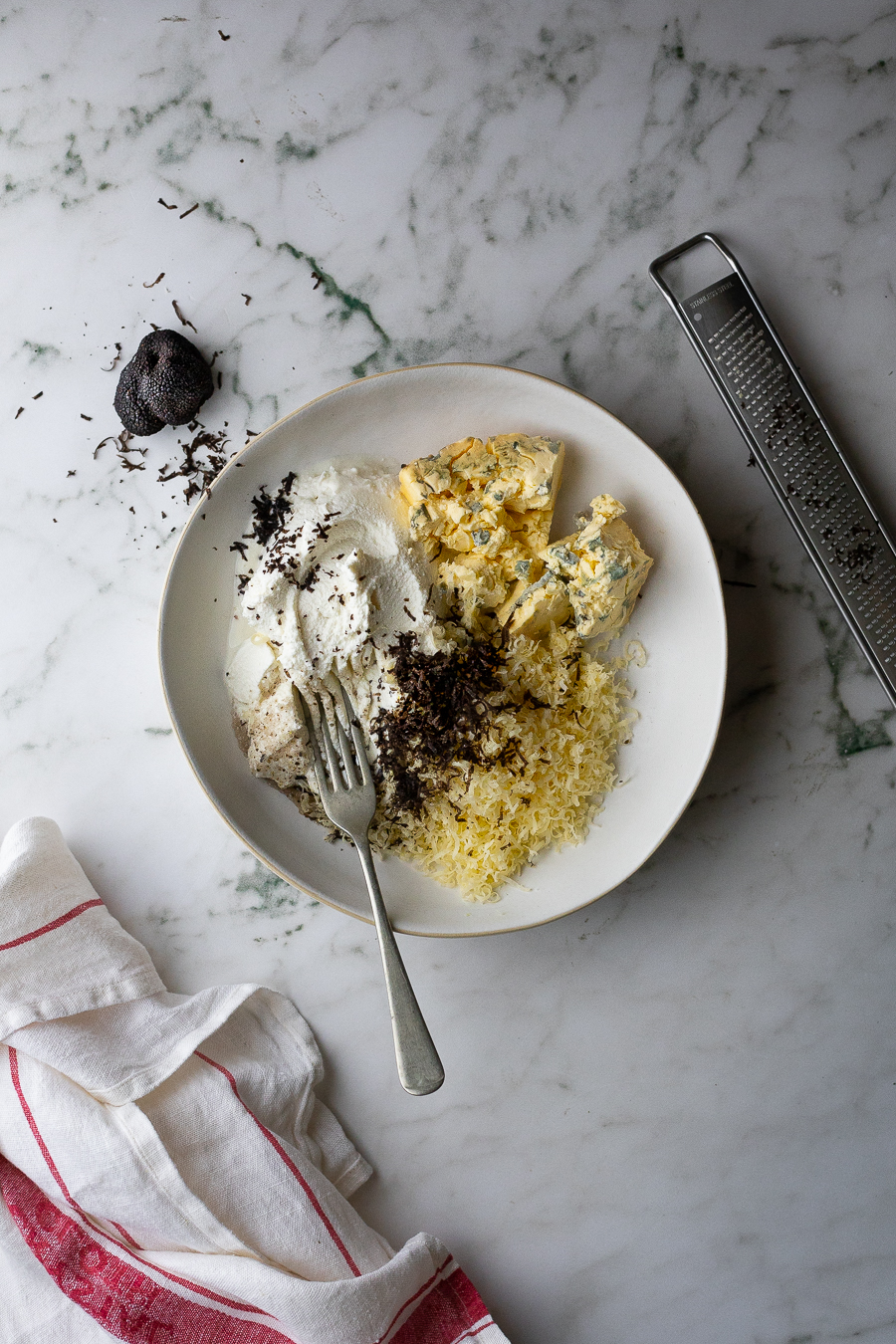 The filling is also very simple – a three-cheese mixture of fresh ricotta, blue cheese and parmesan, seasoned with salt & pepper, with the crowning glory of freshly grated black truffle mixed into it. Not too rich, not too crazy, just a highly flavourful and balanced mixture of earthy, creamy dairy with a distinct undertone of fresh truffle.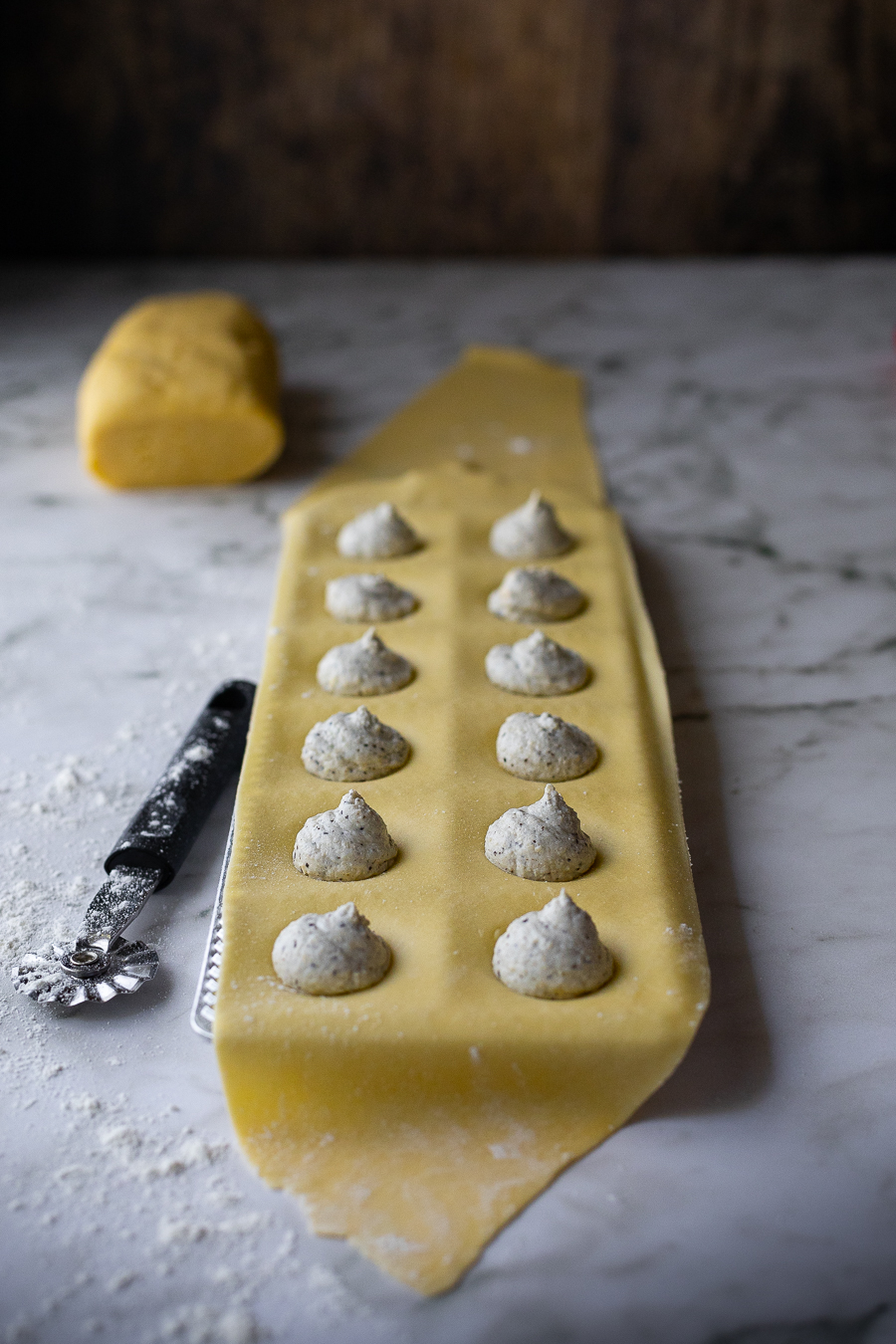 Making fresh pasta is such a therapeutic process – one of my absolute favourite ways to spend a few weekend hours and treat the people I love. I have a pasta attachment for my Kenwood stand mixer, but you can also make it with a manual machine or even with a good old rolling pin. Use a piping bag for the filling, but a teaspoon will also do the trick.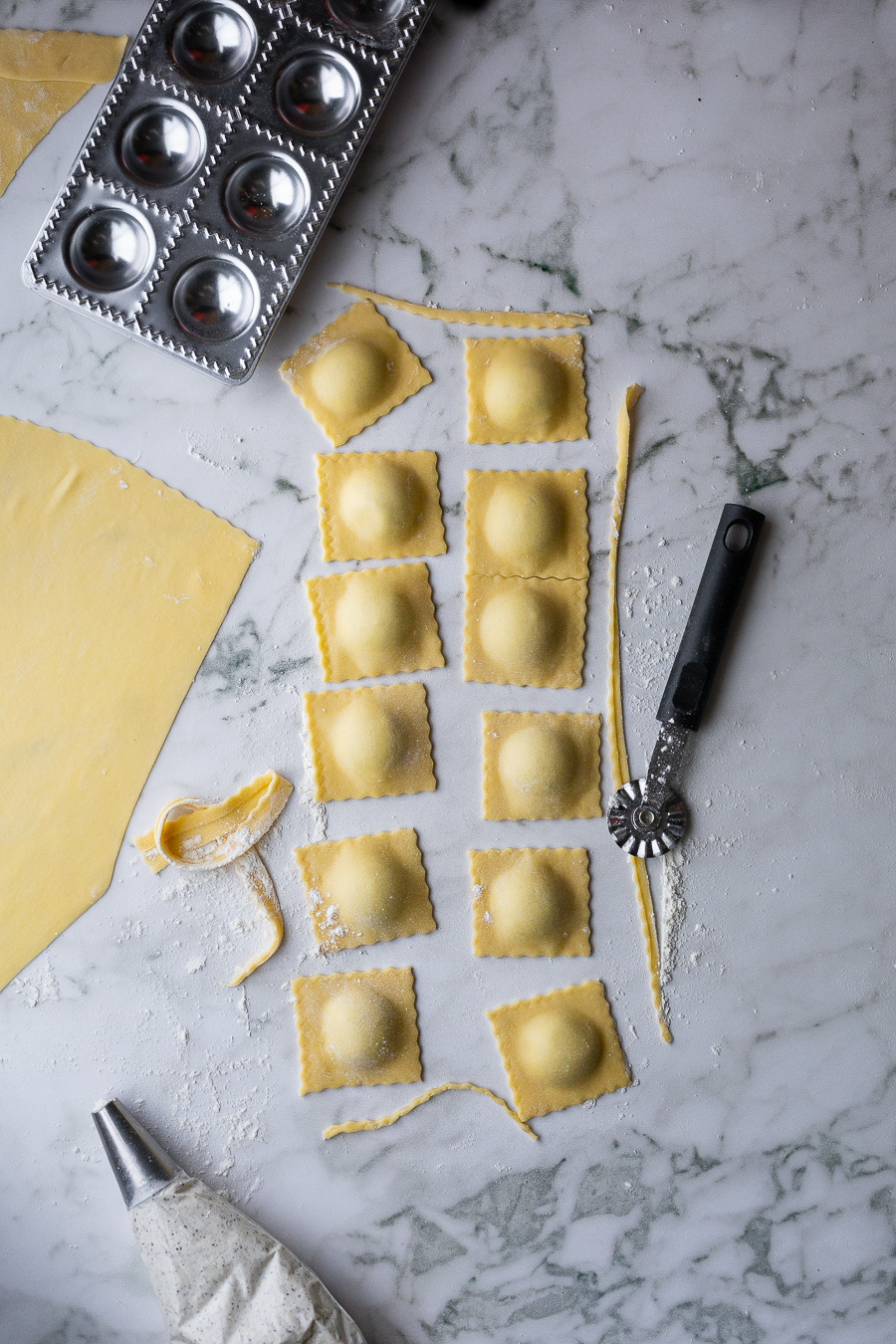 I have a ravioli mold, but I still prefer turning it out and cutting it manually with a fluted pastry cutter instead of putting pressure on the actual mold to cut it. Once you get the hang of it, it becomes an easy task – a joyful game. You can easily freeze the excess filled ravioli (before cooking) for a very simple anyday quick-boil-from-frozen indulgent dinner. Just add sauce (and yes, I've tried using store-bought roasted red pepper or tomato soups, they work just as well!).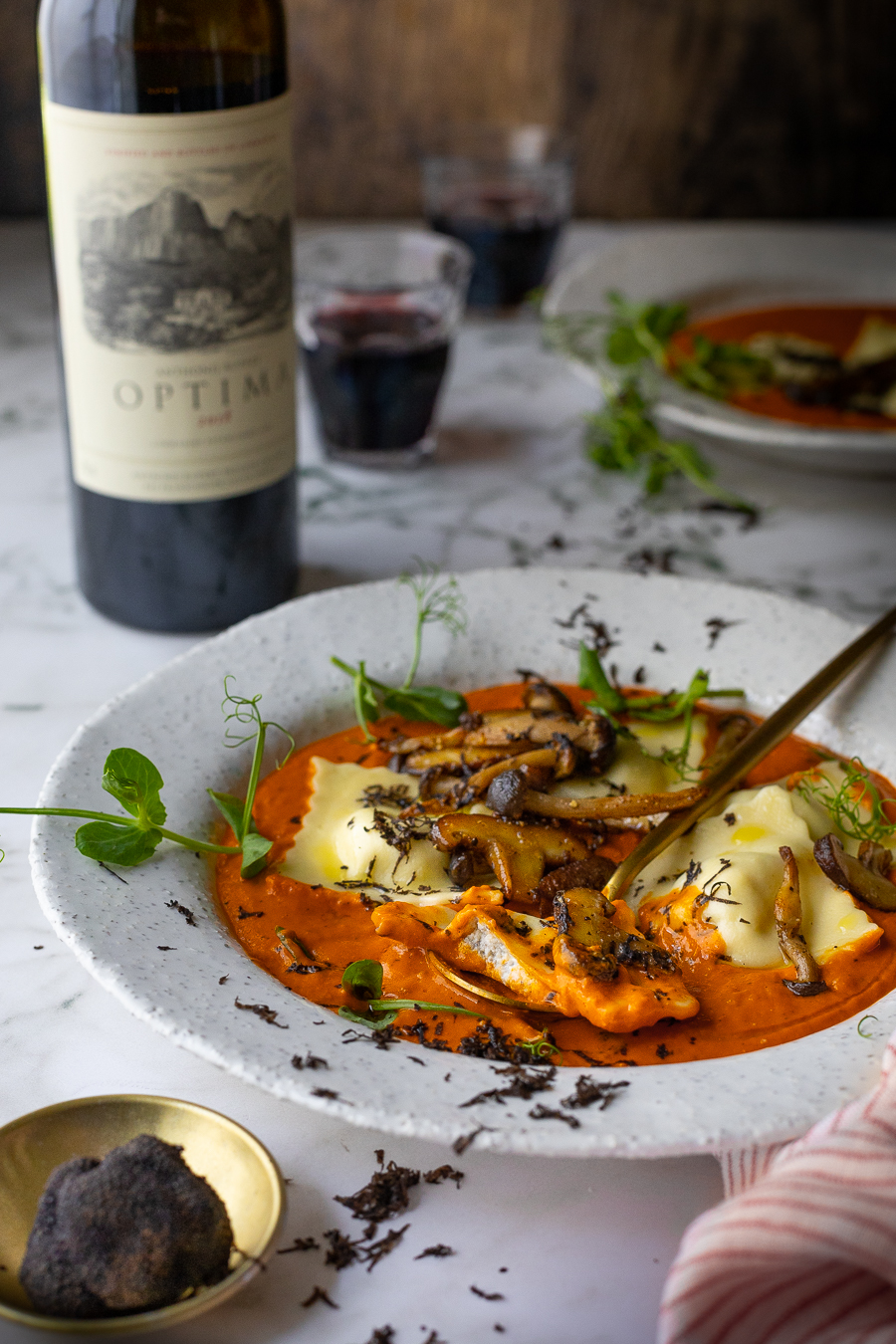 The filling is quite stable and doesn't ooze out completely because of the ricotta. So easy, decadent and a show-stopper dinner. If you cannot get hold of fresh truffles, substitute it in the filling with a few drops of truffle oil.
Ingredients: (serves 4)
For the sauce: (10 min prep, 1h15min cooking)
1kg ripe plum tomatoes, quartered (or roma/rosa/cherry tomatoes)
1 red pepper, sliced, pith & seeds discarded
1 large or 2 medium shallots, peeled & sliced
2 cloves garlic, peeled
a few sprigs of thyme
about 45-60 ml olive oil
salt & pepper, to taste
125 ml fresh cream
Preheat your oven to 160 C. In a roasting tray, place the tomatoes, pepper, shallots, garlic and thyme. Season generously with salt & pepper, then roast for 1h15min or until soft and fragrant and slightly charred on the edges. Remove from the oven and transfer to a blender (discard woody thyme stalks first, but keep the leaves). Add cream and blend to a smooth puree, adjusting seasoning if necessary. Set aside.
For the filling: (10 min prep)
Using a food processor or small blender, blend all the ingredients together to form a thick paste. (Note: You can also do this with a fork in a bowl, but the mixture will be chunkier and possibly not pipeable, so use a spoon later for filling your ravioli.) Transfer to a piping bag fitted with round nozzle and refrigerate until ready to use.
For the pasta: (10 min prep, 30-45 min rolling, filling & cutting)
400 g cake flour
4 XL eggs
10 ml extra virgin olive oil
some water, for brushing
water, for boiling
salt
In a food processor, add the flour and eggs. Pulse until the mixture resembles cous-cous grains, then turn out on a clean working surface and knead into a ball. Cover with film and leave to rest for 15 min-30 minutes. Use a pasta machine and some extra flour for dusting to roll out portions at a time into long thin sheets as wide as your ravioli mold. Place one sheet of pasta on your ravioli mold, then fill each round with some prepared filling from your piping bag. Use a pastry brush to lightly brush the edges with water (where you'll be cutting the ravioli, holding them together like glue), then top with another sheet of pasta and gently press down. Turn the ravioli mold over onto a lightly floured surface, then use a fluted pastry cutter to neatly cut the pastry into ravioli squares. Set aside on a lightly floured tray. In the meantime, bring a large pot of water to a rolling boil and heat your sauce.
For topping: (10 min)
30 ml butter
250 g exotic mushrooms, bigger ones sliced or broken apart
salt & pepper, to taste
fresh truffle, grated (about 1 teaspoon grated per plate; optional)
extra virgin olive oil, for drizzling
fresh herbs like baby rocket, pea shoots or watercress, for topping (optional)
Add the butter to a pan, then fry the mushrooms until light brown and fully cooked, seasoning with salt & pepper.
To assemble:
Drop your ravioli in the boiling water and cook for about 4 minutes, then drain immediately. Generously spoon some sauce into pasta bowls, then top with the freshly cooked ravioli, top with the fried mushrooms and herbs, and top with some grated truffle and a drizzle of extra virgin olive oil. Serve at once.
TO ORDER: You can buy fresh truffles for the remainder of the season (about 2 weeks left) directly from Gidi via email: [email protected] (or the tasting room at 021-874 9041) at R20/gram, minimum 30g per order. My truffle was 33g, to give you an idea of size. They package the truffles in the most beautiful wooden boxes, and they do deliver.