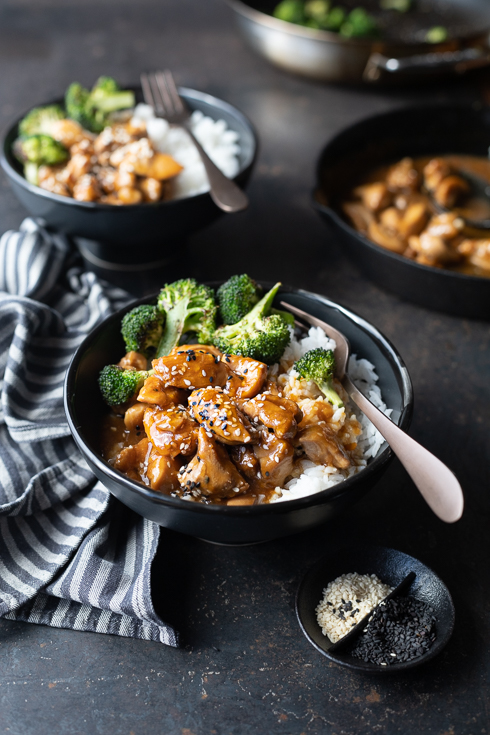 After recently making my annual batch of citrus jam (sometimes it's orange marmalade, sometimes naartjie, sometimes a combination, but this year it was a special batch of freshly picked naartjie & lemon jam from a friend's farm – less marmalade-ey, more jammy, almost no bitterness, very "sunny" flavoured), I'm thinking of all the wonderful ways to use my generous batch of beautiful orange-coloured preserves. Apart from eating jam on toast every day (which is totally not a bad idea), there are so many more ways to use marmalade. A glaze for meat is a one way to put your citrus jams to use, and this recipe uses jam ánd fresh fruit juice to make the most of citrus season.
I'm always searching for easy mid-week recipes that pack a punch and take little time to prepare, and this recipe ticks all the boxes. I love locally produced free-range deboned chicken thighs – although they've a tendancy to be quite expensive, I really believe that if you're a clever shopper, you'll be able to find them on special every now and then. There are also deboned chicken drumsticks on shelves these days – such a great cut that will work equally well. The texture of brown chicken meat is simply the best.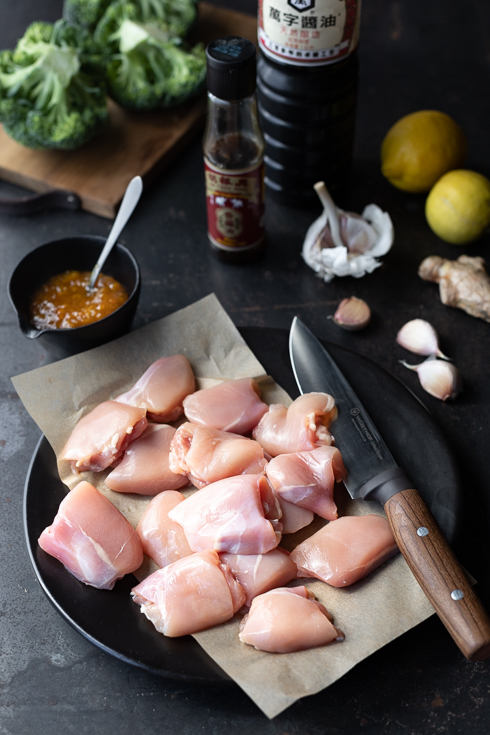 I'm a sauce lover, so this recipe needed to be saucy enough to spoon over rice. I used my naartjie/lemon marmalade plus some fresh lemon juice, soy sauce, fresh ginger and garlic, resulting in a very punchy, sweet and sour and salty end result. If you prefer something a little milder, substitute the lemon juice with naartjie or orange juice instead. I've thickened the sauce slightly with some corn flour (old-school style, I promise it's fantastic) but if you prefer a runny sauce just leave out that step. Serve warm over rice with grilled or steamed greams (broccoli is my go-to) and a sprinkle of sesame seeds. Comforting, punchy, real food – easy to make, great to eat any day of the week.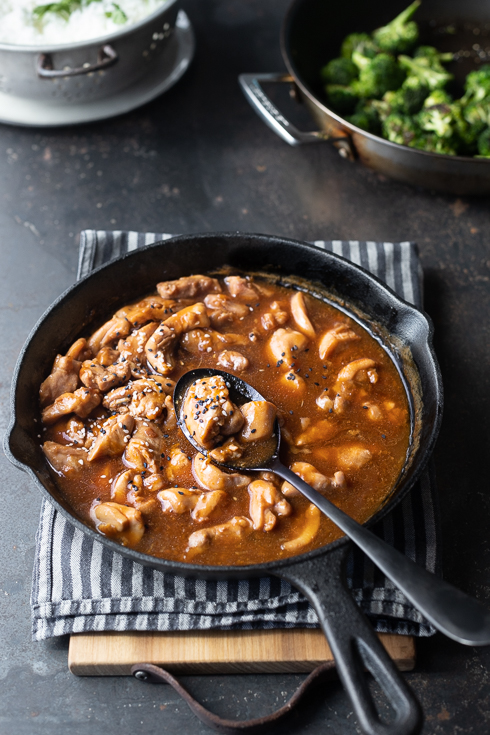 Ingredients: (serves 4)
30 ml vegetable oil
about 500 g boneless free-range chicken thighs/drumsticks, sliced into chunks
125 ml (1/2 cup) soy sauce
60 ml (1/4 cup) citrus marmalade (orange/naartjie/clementine)
60-80 ml (1/4-1/3 cup) fresh lemon juice (or orange/naartjie/clementine)
2,5 ml (1/2 teaspoon) dark sesame oil
about 15-30 ml fresh ginger, finely grated
1 garlic clove, finely grated
10 ml corn flour (Maizena), mixed with about 30 ml water
cooked rice, to serve
steamed/grilled broccoli/greens, to serve
sesame seeds, to serve (optional)
Method:
Before you start the chicken, cook your rice and greens and set aside, keeping it warm, ready to plate (the chicken cooks very quickly).
In a medium, deep pan (I used a 25 cm iron skillet), heat the oil and when the pan is hot, add the chicken. Fry for a few minutes, stirring often until you have some golden colour on some of the strips – they don't have to be fully cooked or brown yet. While the chicken is frying, add the following to a medium jug: soy sauce, marmalade, lemon juice, sesame oil, ginger, garlic – mix well. Add the mixed marinade to the pan and stir through, then bring to a simmer. After about 3 minutes, add the cornflour mixture and stir through. Cook for 5-7 more minutes or until just cooked, then remove from the heat. Plate the chicken and sauce over warm rice in bowls with broccoli/greens, and sprinkle with sesame seeds. Serve immediately.
Note: The chicken & sauce reheats superbly and make great leftovers.