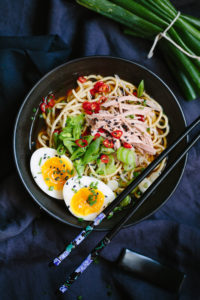 Wishing you all the best for an incredible 2017 ahead! It's such a privilege to have another clean slate in front of us – for making more beautiful memories, realizing new dreams and becoming the best we can be.
This is my first recipe for the new year: a fresh and punchy yet warm and comforting bowl of noodles with zesty greens and strands of succulent pork. It's low in fat but big in flavour, great for a quick, fresh dinner (accommodating all my new year's resolutions after an indulgent few weeks in December). It's also a fantastic way of using up leftover slow-roasted pork – actually, using leftovers is probably the best way to do this if you want to save time, money and energy.
This is my 5th recipe in collaboration with Pork 360. It's a quality assurance and traceability certification – a guarantee to both the consumer and retailing sector that the producer has a consistent production process that complies with minimum standards and ensures high-quality pork. The Pork 360 projects takes place under the guidance of the South African Pork Producers Association (SAPPO). Watch their video for more info.
In a nutshell: it's pork you can trust!
So plan ahead when you're making your next large roasted pork shoulder or a whole roasted pork neck and make these bowls of ramen the day after. It's packed with flavour and so easy to make. A boiled egg completes the picture and adds an authentic Asian touch. An inexpensive way to kick off a year of fresh feasting!
Note: Food Lover's Market stocks a great selection of Asian ingredients and pork cuts, so you'll be able to find everything you need right there.
Ingredients for the broth: (serves 4)
1 liter good quality chicken/beef stock (add some pan sauces from your roast, if you're using leftovers)
45 ml soy sauce
juice of a lime (or half a lemon)
a small knob of ginger, sliced
1 small garlic clove, sliced
1/2 small chilli, sliced (adjust according to taste)
1 star anise
1 cinnamon stick
Bring all the ingredients to a boil and simmer for 10 minutes over low heat. Taste and adjust seasoning, then strain and set aside, discarding the aromatics.
Ingredients for the ramen bowl:
1 liter broth (see above)
350-400 g quick-cook noodles
about 1,5 cups shredded cooked pork (use leftovers from your roast or use pan-fried pork steaks, cut into strips)
4 eggs, soft boiled and peeled
one bunch spring onions, finely sliced
a handful fresh basil/coriander/chives
a handful bean sprouts (optional)
sliced chilli, to garnish (optional)
black sesame seeds, to garnish (optional)
Heat the broth to boiling point, then set it aside, covered, while you assemble the bowls. Cook the noodles in water until just tender, then drain and divide amongst 4 bowls. Top the noodles with broth, shredded pork, halved boiled egg, spring onions, fresh herbs, sprouts and chilli. Serve immediately.
Save
Save