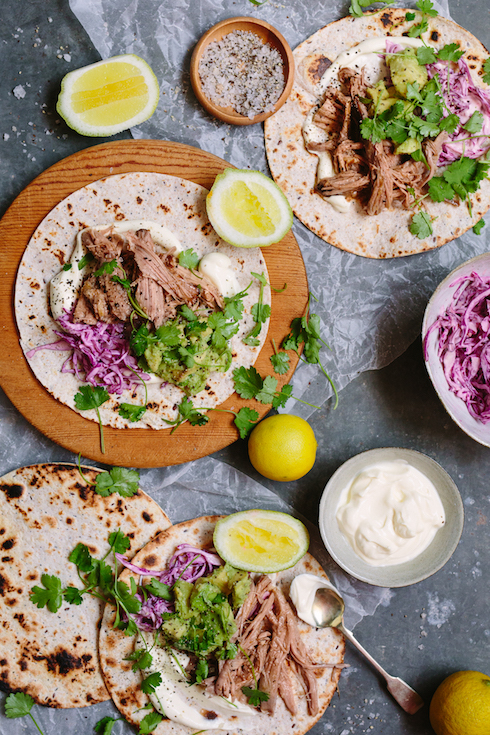 I had the privilege of recently developing 6 new recipes with my favourite type of meat: pork. As you might have seen, there's a new stamp on some pork products in your favourite butcheries: Pork 360. It's a quality assurance and traceability certification – a guarantee to both the consumer and retailing sector that the producer has a consistent production process that complies with minimum standards and ensures high-quality pork. The Pork 360 projects takes place under the guidance of the South African Pork Producers Association (SAPPO). Watch their video for more info.
In a nutshell: it's pork you can trust!
Over the next couple of weeks you can expect to see six tasty, easy, mouthwatering recipes for summer feasting, festive feasting and fresh feasting. It was a huge pleasure to cook with such great quality pork. I bought the meat (and other ingredients) from my friendly butcher at Food Lover's Market. You can find the most beautiful, fresh, whole pork shoulders, necks, bellies and legs – great choices when entertaining a large crowd. They also have great spare ribs, chops and festive gammons.
My first recipe stems from one of my favourite street food classics: BBQ pulled pork. I've chosen a whole pork neck, bone-in – it is a lean and tender cut of meat that cooks to perfection for flaking purposes. Serve the saucy meat on toasted flour tortillas with avocado, red slaw, sour cream and lots of coriander. The best meal for a hot summer's evening!
Ingredients: (serves 6)
2,5 kg pork neck, bone-in
30 ml olive oil
salt & pepper
250 ml BBQ sauce / spare rib sauce
250 ml water
6 large flour tortillas, toasted in a hot, dry pan
2 ripe avocados, roughly chopped
250 ml sour cream
3 cups red cabbage slaw (shredded slaw mixed with mayo & a squirt of lemon juice)
a bunch of fresh coriander
fresh lemon wedges, to serve
Method:
Pre-heat oven to 180 C.
Place the pork in a medium size roasting tray. Drizzle with oil, season generously with salt & pepper, then pour the BBQ sauce all over. Pour the water in the bottom of the tray, then cover with foil and roast for 3 hours.
Remove the pork from the oven and use 2 forks to roughly shred the meat into strands. Remove any bones, then stir the meat to cover all over with the pan sauce.
Serve hot on toasted flour tortillas with extra avo, sour cream, red cabbage slaw, fresh coriander and a squirt of lemon juice.
Tip: Add some freshly chopped chillies or jalapenos if you like it spicy!
Save