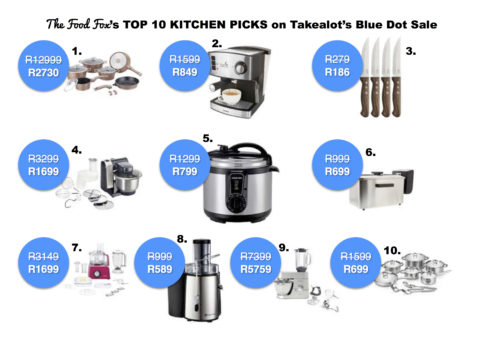 Takealot.com, South Africa's largest online store, is preparing for the start of the Christmas shopping season with the launch of their annual Black Friday sale at midnight on Thursday 24th November. Known as the "Blue Dot Sale", it is Takealot's biggest sale of the year. With over 10000 products on offer, consumers can expect to find hundreds of their favourite brands (including Russell Hobbs, Kenwood, NUTRiBULLET, Jamie Oliver, George Foreman, Philips & Hoover) at marked down prices of up to 60% off.
Here are my TOP 10 KITCHEN PICKS from the Blue Dot Sale: #blueisthenewblack
Royalty Line 15-Piece Die Cast Marble Coating Cookware Set With Glass Lid – Copper: was R12 999, now only R2730 (78% off)
Mellerware – Trento Espresso Coffee Maker – Silver: was R1499, now only R849 (43% off)
Jamie Oliver – 4 Piece Steak Knives: was R279, now only R186 (33% off)
Bosch – Powerful Kitchen Machine – 600 Watt: was R3299, now only R1699 (48% off)
Green Caters Electric Pressure Cooker: was R1299, now only R799 (38% off)

Russell Hobbs – Digital Deep Fryer – 3 Litre: was R999, now only R699 (30% off)

Bosch – Styline Food Processor – Red & Silver: was R3149, now only R1699 (46% off)
Russell Hobbs – Juice Maker – 1.8 Litre: was R999, now only R589 (41% off)
Kenwood – Titanium Chef Kitchen Machine: was R7399, now only R5759 (22% off)
15-Piece Satin Finish Stainless Steel Induction Ready Cookware Set: was R1599, now only R699 (56% off)
The Blue Dot Sale will take place over four days from the 25th to the 28th November with fresh new deals being added onto the site each day. Shoppers should look out for the blue dots across the site to find the deals they are after – a process known as "Shop the Dots". Prices are being kept under wraps until midnight on the 24th of November.
Previews of special deals are being released this week (from 22 November) exclusively to those with the free Takealot mobile shopping app, giving app shoppers the opportunity to shop the exclusive deals first.
New to their offering this year is the launch of a VIP Facebook Events Page which is already featuring teasers of their biggest brands and best deals on offer every day leading up to Black Friday – but only for those who RSVP 'Going' or 'Interested' on the event page.
Customers who make purchases via the app between the 15th and 23rd November will also automatically be entered into a draw to win R5,000 in store credit, which they can then use to shop during the Blue Dot Sale or until their limit has been reached. The winner will be announced on Takealot's Facebook and Twitter pages on the 24th November.
*Prices are subject to change. Prices correct at time of publication.
(This post is featured in collaboration with Takealot.com. My Top 10 Kitchen Picks are my own choices and not influenced by anyone.)
Save
Save
Save
Save
Save