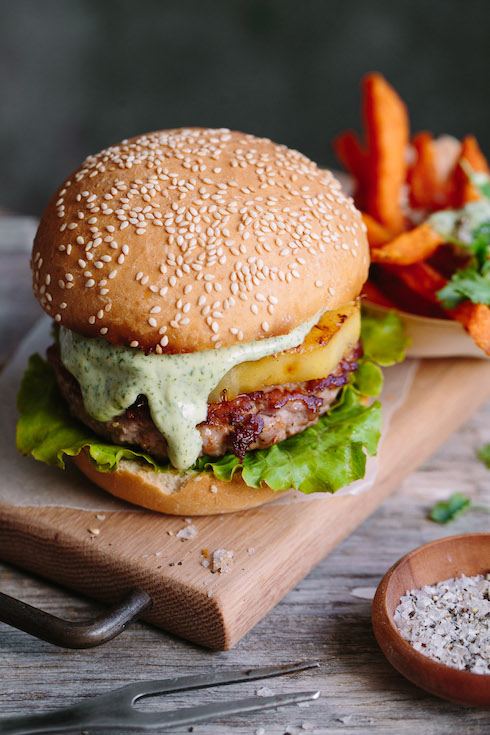 If you love great burgers, you're in for a treat. Making patties out of great quality pork mince results in a much softer patty than ground beef, delivering a really awesome texture that's almost marrow-like. They're seasoned with smoked paprika and ginger, paired with a slice of grilled fresh pineapple and topped with a dollop of creamy coriander mayo. Add some crispy iceberg lettuce and a buttery, golden, toasted sesame bun. This might be one of the best tasting burgers I've ever made.
This recipe is the last in a series of six that I've developed in association with Pork 360. It's a quality assurance and traceability certification – a guarantee to both the consumer and retailing sector that the producer has a consistent production process that complies with minimum standards and ensures high-quality pork. The Pork 360 projects takes place under the guidance of the South African Pork Producers Association (SAPPO). Watch their video for more info.
In a nutshell: it's pork you can trust!
You will find all of the listed ingredients at your local Food Lover's Market. Look out for the Pork 360 mark/logo on the pork products.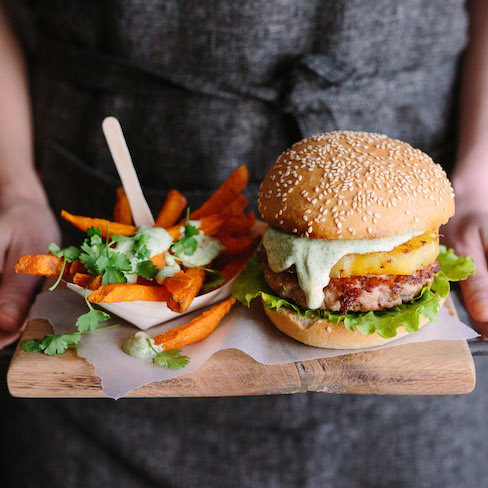 Ingredients: (makes 4)
600-700 g pork mince
salt & pepper
5 ml smoked paprika
15 ml fresh ginger, finely grated
1/2 small onion, coarsely grated
for the herb mayo:

1 cup creamy mayonnaise
a handful fresh coriander, finely chopped
a squirt lemon juice

4 sesame burger buns, halved and buttered
4 large iceberg lettuce leaves, washed & drained
30 ml olive oil
4 slices fresh pineapple
Method:
For the patties: In a mixing bowl, add the pork and season generously with salt & freshly ground black pepper. Add the smoked paprika, ginger and onion and mix well using clean hands (or a fork, if you prefer). Divide the mixture into four and shape into flat disks. I like placing them on pieces of grease-proof baking paper for an easy transfer to the pan later. Always remember that meat will shrink and pulls to its center in the pan, so make each pattie a little wider and flatter than you think you should. Set aside.
For the herb mayo: mix the mayonnaise, coriander and lemon juice together with a fork (for a smooth result, process in a food processor). Set aside.
Toast the buttered insides of the buns in a hot pan until golden and crunchy. Transfer to plates, then top the bottom halves with lettuce.
Add olive oil to the hot pan and fry the patties on both sides until golden brown and cooked. Remove from the pan to rest while you fry the pineapple.
In the same pan, quickly fry the pineapple slices in a very hot pan until charred on either side.
Place the rested patties on top of the lettuce, then top with a slice of fried pineapple and a dollop of herb mayo. Place the sesame bun halves on top. Serve immediately with or without fries.
Note: the patties firm up quite a bit when cooked, so don't worry about adding an egg to the mixture – it's not needed.