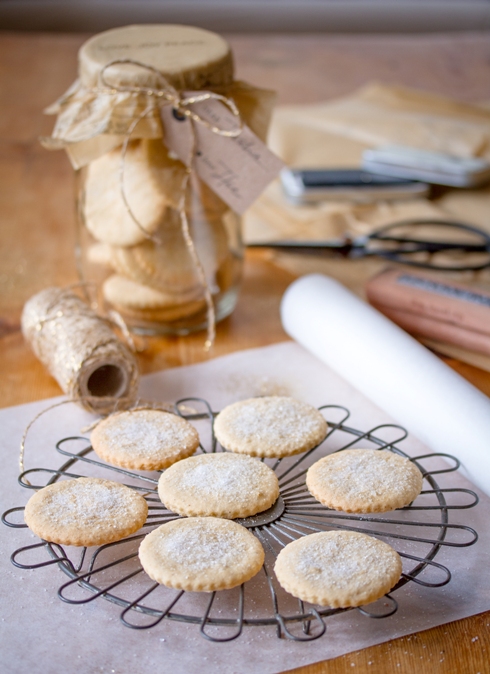 The taste of these old-fashioned sweet buttery biscuits takes me straight back to my childhood home in Stellenbosch, where I baked several batches of these each year before our annual Christmas holiday in Keurboomstrand. They are delicately spiced with nutmeg and cinnamon, and they're just heavenly dipped in warm tea.
Soetkoekies are traditional Afrikaans biscuits, especially loved by older generations in SA. There are hundreds of different recipes available (same with melktert and koeksisters), some even containing soft lard and sweet wine. I found this beautiful recipe many years ago in a magazine when I was about 12 years old, then cut it out and stuck it in my Mother's recipe book. At the time I didn't consider that I might write about it 23 years later,  so the cut-out doesn't contain the name of the magazine! That means that I unfortunately cannot credit the original source.
These cookies keep very well in airtight containers for several weeks.
Ingredients:
250 g butter (at room temperature)
750 ml (600 g)  sugar
5 eggs (specifically large)
825 g (6 x 250 ml) cake flour
30 ml baking powder
10 ml ground nutmeg
5 ml ground cinnamon
2.5 ml salt
100 ml milk (for brushing)
extra sugar (for sprinkling)
Method:
Pre-heat oven to 200 C.
In a large bowl using electric beaters, beat butter with  sugar and eggs until light and fluffy – about 5 minutes.
In another large bowl, sieve flour, baking powder, spices and salt together.
Add butter mixture to dry ingredients, and mix to form a soft dough.
On a well-floured surface, roll out small batches of dough at a time, sprinkling more flour on top of the dough if necessary (the dough can be quite soft and sticky). The thickness should be about 5mm. Press out circles with a cookie cutter, then arrange on a lined/greased baking tray, with at least 2cm of space between each cookie.
Bake for 8-10 minutes until pale and slightly golden (not too dark), remove from oven and cool on wire racks.
Store in an airtight container – it keeps well for several weeks.
Credits:
This post was especially written for The Pretty Blog by Ilse van der Merwe from The Food Fox.
Food & recipe: Ilse van der Merwe.
Photography: Tasha Seccombe.
Styling:  Nicola Pretorius & Tasha Seccombe