Living in the gourmet capital of South Africa, I am so very spoilt for choice when it comes to restaurants, bistros, bakeries and coffee houses. At dinner time in the height of summer, the centre of Stellenbosch's historic Church Street is alive with energy, the restaurants and sidewalks bustling with locals and tourists alike.
I was invited to dinner at Helena's Restaurant at Coopmanhuijs Hotel and Spa, situated on 33 Church Street – maybe the most wanted address in all of Stellenbosch if you are talking location. They are a 5 star boutique hotel with 16 luxury rooms, the building dating back to 1713 (one of the oldest original residential buildings in town) and recently fully renovated. With the status of an African National Monument, Coopmanhuijs is already worth a visit just for admiring the building.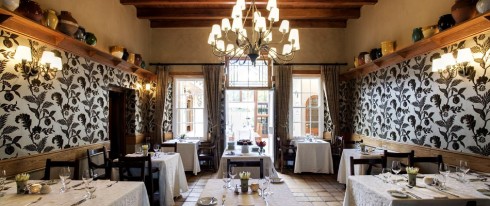 Helena's Restaurant is located in two adjoining areas within Coopmanhuijs, one part situated in the dining room underneath an antique yellow wood ceiling, the other located in the charming conservatoire next door with a glass ceiling, which opens onto the courtyard. Another option for diners is to sit on the stoep on the bustling Church Street. On arrival we opted for the stoep, as it was a perfect evening in Stellenbosch.
The menu at Helena's reflect the history and character of the building, yet gives a fresh spin on the Cape classics that we all know and love. The dinner menu is seasonal and is limited to 4 starters, 6 main courses and 5 dessert options. It wasn't easy to make a choice, as all of the options sounded truly delicious! We opted for the mezze platter (Helena's signature roasted peppers, crispy aubergine sticks, lightly toasted baguettes, smoked snoek paté, pork rillettes and roasted turnips with a warm caper dressing), which is large enough for two people to share, and also had a taste of the iced mango & coriander soup with a saffron poached chicken shank. Both starters were delicious, but it was the mezze platter that completely bowled us over – what a delightful plate of snacks and nibbles! And at only R75 for 2, it is such great value for money. This is also a perfect light lunch for two.
For main course, I had the springbok medallions on a large grilled black mushroom with grilled apple slices, beetroot pickled simeji mushrooms and a pomegranate jus. Schalk had the cinnamon lamb rib chops with a peach Tarte Tatin with smashed peas and a light mulled wine jus. Both our main courses were prepared exceptionally well, celebrating the flavours of the Cape that we love, yet succeeding in making the familiar spectacular.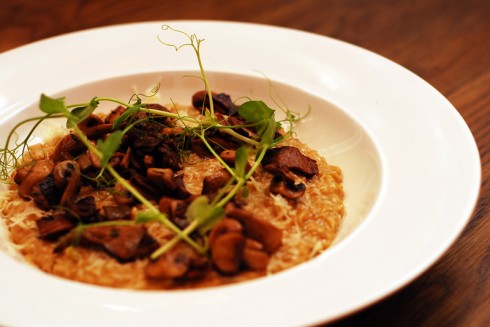 For dessert, I had the fresh fig and butterscotch Crème Brûlée with pecan nut biscotti and fresh berries – one of the most memorable desserts I've had in a long time. The pale toffee colour of the crème brûlée, the perfectly smooth texture, the added baked figs – it was just perfect. If you're a fan of custard desserts, this one is a must.
Schalk had the Chef's Petit Four Plate – an assortment of delicately made sweet bites. Everything on the plate was just delightful, and the perfect ending to a truly unforgettable night.
The service at Helena's is friendly, personal and attentive. The staff members are well informed and well trained, and made us feel very much at home. Helena's is highly recommended on my list of must-visit restaurants in and around Stellenbosch, for a light lunch or for a very special dinner. Dinner menu prices range from R65-R75 for starters, R95-R175 for mains and R55-R65 for dessert. They also have a beautiful selection of wines on their wine list.
For more information, visit www.coopmanhuijs.co.za or phone +27 (0)21 883-8207.
All images courtesy of www.coopmanhuijs.co.za. Thank you very much to everyone at Coopmanhuijs for a spectacular dinner experience.