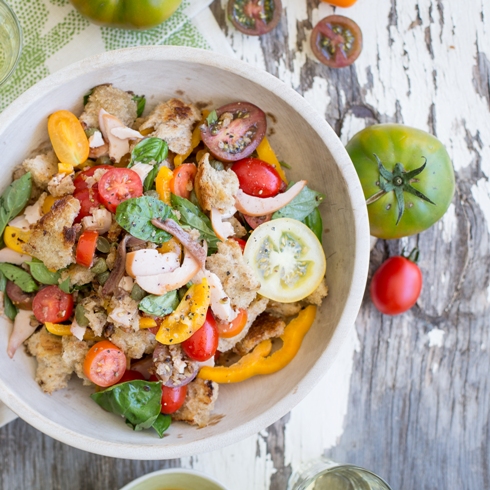 These days, most of us have access to great bread. Here in my hometown of Stellenbosch I can buy a large loaf of freshly baked sour dough bread any day of the week at Schoon de Compagne, and I use it in so many ways.
On the first day, I just eat it on its own, drenched with great quality olive oil or topped with a thick slab of cold Ayrshire butter. On day 2, I eat it toasted as bruschetta with various toppings: slow roasted tomatoes with garlic, marinated peppers, baked aubergines with feta, the list is endless. On day 3, I use it to make croutons or process it to make breadcrumbs for toppings and stuffings. The uses are infinite and the bread just keeps on giving. (For more ideas, check out Saveur's 40 favourite recipes with stale bread.)
The Italians have great ways of using stale bread. They make fantastic soups, salads, meat dishes and even puddings with it – economical and oh so tasty. One of my favourite Italian inspired ways of using a stale loaf is to make panzanella, a traditional summery Tuscan salad of bread and tomatoes. There are many versions of panzanella, but mine contains tomatoes, yellow peppers, capers, basil, red onion and smoked chicken.
And here's a handy tip: if you want to give your panzanella an authentic Italian look, don't cut the bread, rather break it into chunks. This way the salad has so much more character. It's a meal on its own, but don't be afraid to serve it as one of many dishes on a lazy, extended, weekend lunch with lots of great wine in a shady spot under the trees.
Ingredients: (serves 4 as a main meal, or 6 as a side dish)
For the "croutons":

 about 3 cups of stale torn bread chunks (preferably sour dough or ciabatta)
60 ml olive oil
For the dressing:
60 ml (1/4 cup) extra virgin olive oil
60 ml (1/4 cup) red wine vinegar
1 clove garlic, minced/crushed
salt and black pepper for seasoning
For the salad:
3 cups toasted croutons (see above)
2 small smoked chicken breasts, sliced or torn into smaller chunks
250 g mixed small tomatoes, sliced in half or in smaller slices
1 yellow pepper, seeds and pith removed, sliced
50 g capers (drained)
1/4 cup of finely sliced red onion (optional)
a handful of fresh basil leaves
Method:
For the croutons: In a large pan over medium-high heat, add the oil and then toast the bread chunks until they are golden brown on all sides. Toss often until ready, then remove from heat and set aside to cool.
For the dressing: mix all ingredients together in a cup, using a fork to whisk. Set aside.
For the salad: in a large mixing bowl, add the croutons, chicken breast chunks, sliced tomatoes, sliced pepper, capers, red onion and basil. Pour half the dressing over the salad, then mix well. Add more dressing according to taste – I like it when the bread absorbs a lot of the dressing, resulting in a softer tangy chew. Transfer the mixed salad to a beautiful salad bowl, and serve immediately.
Note: If your loaf of stale bread has a very hard crust on the outside, cut it off before tearing the bread into chunks.
Credits:
This post was originally written for The Pretty Blog by Ilse van der Merwe from The Food Fox.
Recipe, food preparation and text: Ilse van der Merwe
Photography: Tasha Seccombe
Styling: Nicola Pretorius