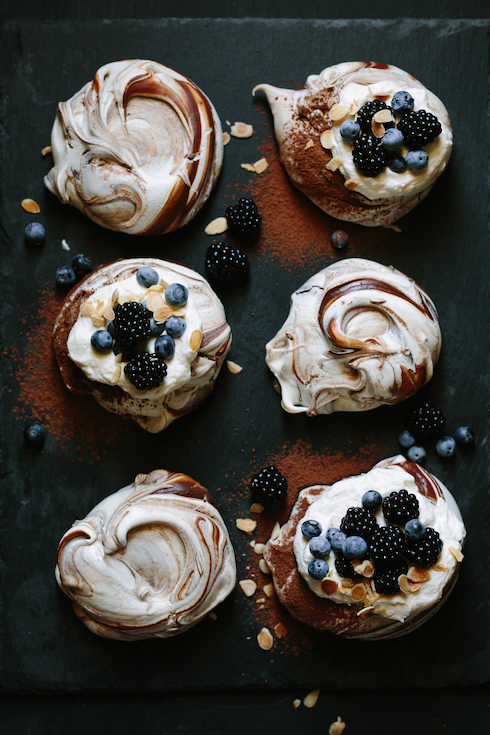 This is a recipe that I originally created in 2017, but failed to ever publish here. I've created so many different recipes for pavlova on my blog – it never disappoints when ending off a celebratory feast in style. So let's make room for yet another one: chocolate swirl individual pavlovas with cream and dark berries. It covers all the bases of a great dessert in one go: chocolatey, crunchy, gooey, creamy, tangy, sweet and indulgent.
Now that we live on a berry farm on the outskirts of Stellenbosch, it seems only apt to be celebrating the fruit of our neighbours' labour. We see their teams working in the berry orchards often, pruning and plowing in the winter mud to get ready for a new season. The recipe was created during January some years ago, so those dark berries might not be locally in season right now (although I've seen some amazing berries in some local supermarkets recently). Keep this one up your sleeve for when you find nice big batch of fresh seasonal berries in store. The chocolate meringues are decadently sweet and indulgent, so they definitely need an unsweetened whipped cream or double thick yoghurt topping, and some tart berries. A sifting of dark cocoa powder makes them mysteriously dreamy.
Ingredients: (makes 6)
4 XL egg whites at room temperature
1 cup (250 ml) caster sugar
5 ml white vinegar
10 ml corn flour (Maizena)
80 ml 50-70% dark chocolate, melted
250 ml fresh cream, whipped to soft peaks (or thick double cream plain yoghurt)
about 2 cups fresh mulberries and blue berries
about 1/4 cup flaked almonds, toasted
cocoa powder, for dusting (optional)
Method:
Pre-heat oven to 150 C. Line a standard baking tray with non-stick baking paper.
Place the egg whites in the bowl of a stand mixer. Whisk until white and foamy (soft peaks).
Start adding the caster sugar, one tablespoon at a time every 30 seconds or so, whisking on high speed. When the sugar is well combined and the mixture is stiff and glossy, add the vinegar and corn flour and whisk until well mixed.
Turn the mixer off. Add the dark chocolate to the bowl and use a spatula to quickly swirl it into the meringue mixture. Do not mix too much, one or two quick turns will be enough as you want to keep the dark chocolate swirls visible (and it will continue to mix when you spoon it onto your baking tray).
Spoon the mixture onto the prepared baking tray in 6 individual round shapes. Place in the oven and immediately turn the heat down to 120 C. Bake for 50 minutes, then turn the oven off and leave the pavlovas in the oven without opening the door to cool for at least 3 hours (or overnight).
When completely cool, serve dusted with cocoa powder, topped with whipped cream, fresh berries and toasted almonds. Serve at once. (Unassembled meringues can me stored in an air tight container for up to 3 days.)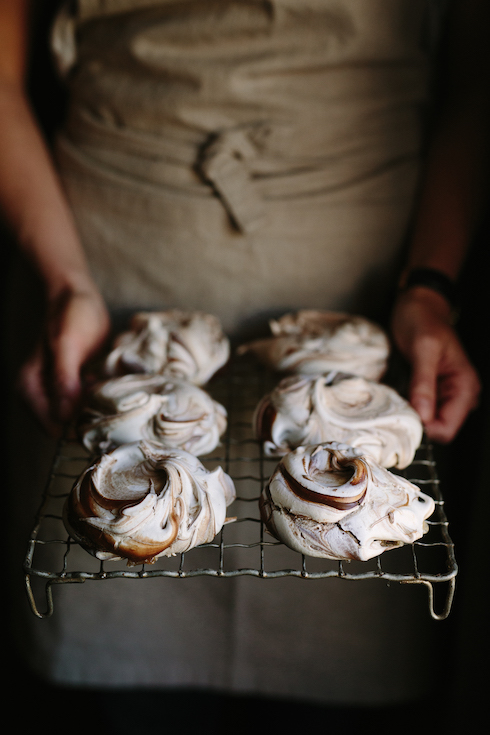 Note: Your can store the pavlovas (without toppings) in an air tight container for a day. After this, they will still be edible for another day or two, but they will lose some of their crunch and might collapse in the middle. If you want to pack them for a picnic dessert, opt for double cream yoghurt instead of whipped cream, and assemble them on location instead of ahead.
Also check out a few of my other pavlova recipes: