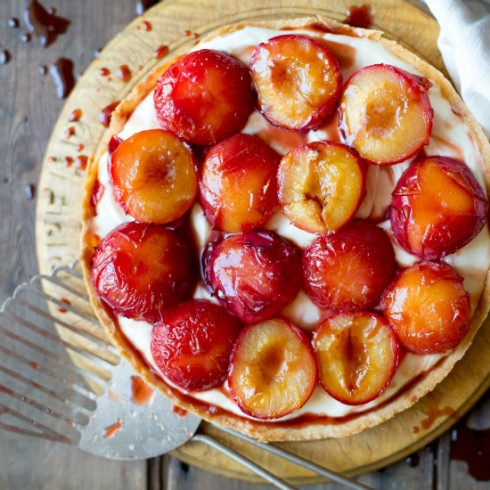 There is nothing more beautiful than a perfectly ripe plum, its silky matt skin dark and red and tender. Inside, the flesh reveals a golden, juicy, tart, fibrous treasure. I could stare at plums for hours – such astonishingly pretty fruit.
This simple tart is easy to make and – with its rustic charm – a dream to look at. The roasted fruit needs some time to cool, so don't be rushed.
Note: This tart also looks beautiful when assembled in smaller jars. Just substitute the baked pastry for buttery cookie crumbs (200g digestive or tennis biscuits mixed with 80 g melted butter). Just spoon the crumbs into individual 250 ml capacity jars without compressing it. Top with the creamy filling & roasted plums, then refrigerate. Mobile desserts fit for a royal picnic.
For the pastry:
1 ½ cups (250g) cake flour
125g cold butter, chopped in cubes
1/3 cup caster sugar
1 egg yolk
1 tablespoon iced water
For the roasted plums:
1 kg ripe, firm plums (halved, pits removed)
¼ cup soft brown sugar
juice of 1 orange
For the filling:
1 can condensed milk
½ cup freshly squeezed lemon juice
250 g plain cream cheese
To make the pastry: Place the flour, butter & sugar in a food processor. Pulse until it resembles fine breadcrumbs. Add the yolk and pulse again. Now add the iced water and process until it starts to come together in a ball. As soon as it does, remove from the processor, then knead briefly to form a smooth ball. Shape into a disc, cover with cling wrap and refrigerate for 30 minutes. Roll out on a lightly floured surface (about 0,5 cm thick). Transfer to a greased tart tin (about 20-23 cm diameter), then press gently into the corners and trim the top. Line with baking paper, then fill with dry beans or rice. Pre-heat oven to 200 C, then bake for 15 minutes. Remove paper and beans, then bake for another 5-10 minutes until golden. Remove from oven and leave to cool.
To make the roasted plums: Place halved plums on a baking tray (alternate cut-side up and down), then sprinkle with sugar & drizzle with orange juice. Bake at 200 C for 15-20 minutes, then remove and leave to cool. Note: you want the plums to be tender, but not too soft – they must still be in tact.
To make the filling: Using electric beaters, beat the condensed milk with the lemon juice until smooth. Add the cream cheese, then beat until well mixed. Pour into the prepared cooled pastry case, then refrigerate for at least 1 hour before serving. When ready to serve, top with cooled roasted plums, then slice and serve.
Note: This assembled tart can be refrigerated and enjoyed within 2 days. The pastry will however be best served on the first day.
Credits:
This post was originally written for The Pretty Blog.
Text & recipe: Ilse van der Merwe
Assistant: Elsebé Cronjé
Photography : Tasha Seccombe
Venue for shoot: the demo KITCHEN