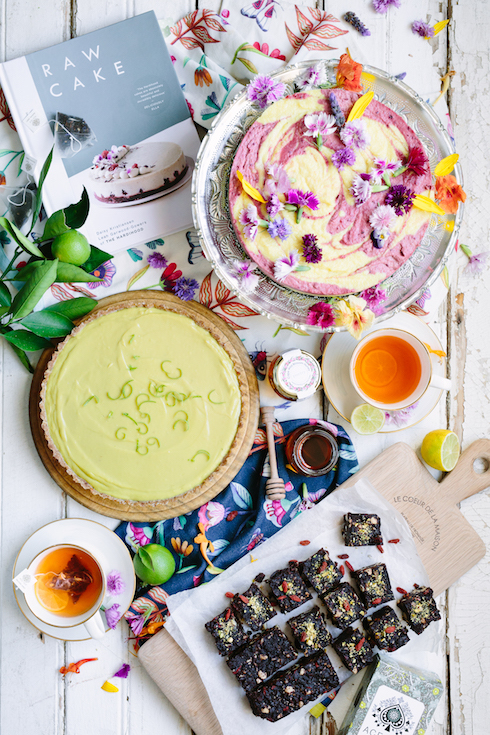 You're never too old to learn something new. I am turning 40 years young this year, and it is one of my goals to try as many new ingredients and food types as I possibly can. Earlier in 2017 I became a fan of tofu after being a skeptic for way too many years. It's never a good idea to judge a book by its cover…
For this Mothers Day feature, I had the opportunity to cook three recipes for a special tea table spread from Daisy Kristiansen and Leah Garwood-Gowers' new book Raw Cake, available from Poetry Stores. They are the duo behind The Hardihood in London – raw, handcrafted, superfood confectioners. Products by The Hardihood are plant-based and free from gluten, refined sugar, dairy and soy. Conveniently vegan and often raw, they use organic, sustainable ingredients to craft "clean candy".
Being a self-confessed French pastry addict, it was hard for me to imagine a world of cakes without butter or sugar (or flour or eggs, for that matter). So I chose two recipes that really reminded me of the "good stuff" like rocky road and berry swirl cheesecake, as well as a recipe that tickled my fancy for the strange combination of ingredients like avo, mango & lime tart.
It was an absolute revelation to make these recipes. For one, there were many ingredients that I've never heard of, like maca powder and rice malt syrup. The dairy-free "cheesecake" was made by blending desiccated coconut with soaked raw cashews, rice malt syrup, lemon juice, fresh berries and coconut oil (you need a pretty powerful blender to achieve the right consistency). The rocky road consisted mainly of superfoods like goji berries, dried apricots, pitted dates, organic cacao powder, coconut oil and lots of raw nuts. And the avo mousse tart with mango & lime had the most incredible texture that you can imagine.
Unfortunately, most of these ingredients are not mainstream yet, but you'll find them in good quality health stores with a relatively high price tag. The more familiar ingredients are easy to find, yet also expensive. If you don't have serious budget constraints and want to reap the benefits of super healthy, raw food in the tastiest ways imaginable, this book is for you!
Here's to all the mothers out there aiming to feed their families the best. Happy Mothers Day!
Tip: Shop your nuts at a weigh-and-pay shop – this way you only buy what you need, especially when a recipe calls for only 40 g of walnuts, etc.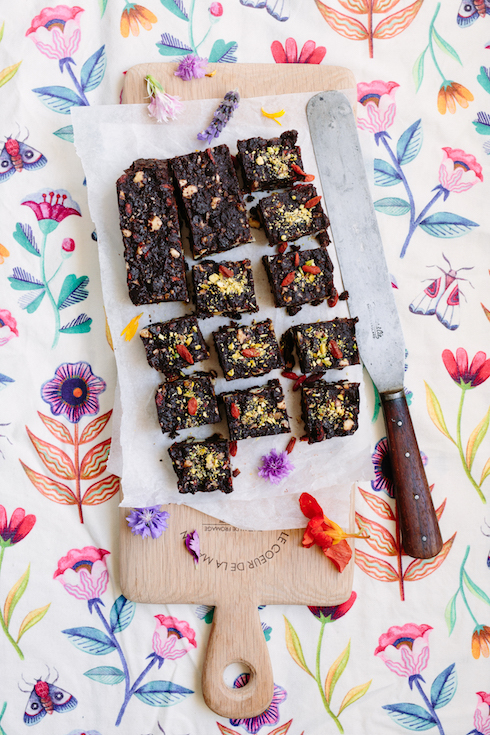 Rocky Road (makes 9-12 pieces)
155 g ( 1 cup) dried apricots (sulphur free)
40 g (1/2 cup) walnuts
60 g (1/2 cup) hazelnuts
80 g mixed currants or raisins
55 g (1/2 cup) goji berries
For the chocolate mix:
150 g (3/4 cup) coconut oil, melted
60 g (3/4 cup) cacao powder
30 g (1/4 cup) coconut sugar
170 g (1/2 cup) rice malt syrup
60 g (1/2 cup) pitted dates, soaked for 30 min
Line a 15 cm square baking tin with baking paper. Place all the dry mix ingredients in a high-powered food processor and pulse on high until just broken up and mixed together but still chunky. Transfer to a large mixing bowl and clean out the bowl of the food processor.
Next, make the chocolate mix. Add the coconut oil, cacao, coconut sugar and syrup to the clean food processor and blend on high, then add the dates and blend until smooth and combined. Make sure you don't over-mix the chocolate or it can separate. If this happens and there is a lot of extra oil, add in some more cacao powder and malt syrup until it becomes smooth.
Pour the chocolate mix over the dry mix and stir together with a large spoon until well combined. Scoop into the baking tin, pressing the mixture down to ensure it is compact. Place in the fridge for 3-4 hours or the freezer for 1 hour until it has completely set, then cut into 9-12 pieces. They will keep well in the fridge for up to 7 days.
My notes: My food processor wasn't powerful enough to pulse the dried apricots, so I opted to cut them by hand instead. Also, I used a 20 x 13 cm baking dish and got 18 medium size squares – remember to really put pressure on the mixture when you compact it, otherwise it will be very crumbly.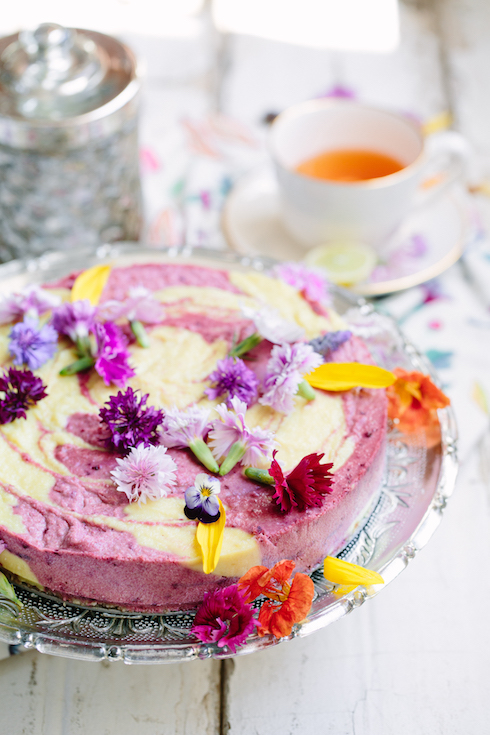 Blueberry Lemon Swirl Cheesecake (serves 8-12)
For the base:
130 g (1 cup) cashews
50 g (1/2 cup) pecans
60 g (1/2 cup) pitted soft dates
2 tablespoons rice malt syrup or alternative liquid natural sweetener
1 tablespoon maca powder (optional)
pinch of Himalayan salt
For the filling and topping:
60 g (3/4 cup) desiccated coconut
390 g (3 cups) cashews, soaked in warm water for 2 hours then drained
340 g (1 cup) coconut oil, melted
125 ml (1/2 cup) lemon juice
zest of 1 lemon, plus extra to decorate
1/2 teaspoon turmeric powder
200 g ( 2 cups) fresh or frozen blueberries (I used a mixture of blackberries and blueberries)
edible flowers and coconut flakes, to decorate
Line a 20 cm round springform cake tin with baking paper. For the base, place the nuts in a high-powered food processor and blend on high until coarsely ground, then combine with the remaining ingredients until well mixed. Press into the cake tin.
For the filling, place the coconut in a high-powered blender and blend on high until fine, then add the cashews, syrup and coconut oil and blend again until the mixture is as smooth as possible, scraping down the sides to incorporate all the mixture. Transfer half the mixture to a bowl and set aside. Add the lemon juice, zest and turmeric to the mixture left in the blender and blend until smooth. Taste, and add more lemon juice if it needs more flavour, and more sweetener if it's too tart. Pour into a second bowl, setting aside a few tablespoons of this lemon cream in a piping bag to chill for later. Add the other half of the mixture to the blender with the blueberries. Blend until combined and add more sweetener if needed. Pour it back into the bowl so that you now have two bowls with two colours mixture.
Spoon equal sized dollops of the purple mixture and the yellow mixture at random onto the cake base, alternating between colours, until you have used it all up. Wiggle the tin from side to side to settle the mixture, and swirl through the mix using a knife or a chopstick, to create a pattern. Transfer to the fridge overnight or the freezer for 3-4 hours until firm. Remove from the tin and decorate with the lemon cream, edible flowers, coconut flakes and lemon zest. Chill until ready to serve.
My notes: Use a very powerful food processor / blender to achieve a smooth texture for the cheesecake mixture. Use the turmeric powder with caution, as it can tint the mixture very bright yellow.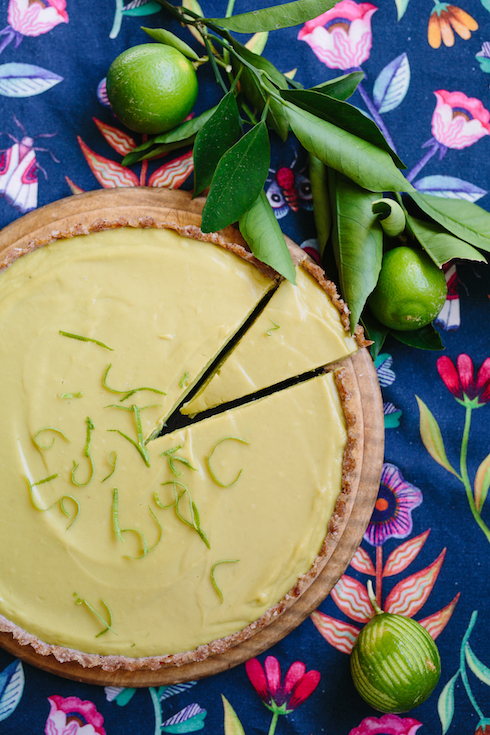 Mango, Lime & Avocado Mousse Tart (serves 8-12)
For the crust:
130 g (1 cup) macadamias
100 g (1 cup) pecans
95 g (3/4 cup) pitted dates, soaked for 30 minutes or until soft
1/4 teaspoon vanilla powder
pinch of salt
For the filling:
3 small avocados, stoned
zest and juice of 1 lime
100 g (1/2 cup) coconut oil
1 large mango, peeled and destoned
170 g (1/2 cup) rice malt syrup or coconut syrup
pinch of Himalayan salt
Line a 20 cm round pie tin with baking paper.
First make the crust. Place the nuts in a high powered food processor and blend on high until broken up. Add the remaining ingredients and blend again until well combined and the mixture sticks together. Press into the pie tin, and clean out the bowl of the food processor.
For the filling, blend the avocados in the clean food processor until smooth. Add the remaining ingredients and blend until everything has been broken down and the mixture is silky smooth. Pour over the base and place in the fridge for 2-3 hours to set.
My notes: I used a fluted pie tin which is very difficult to line with baking paper. I used a non-stick baking spray instead.
This post was written in collaboration with Poetry Stores. All homeware, linen and the cookbook available online and in store at Poetry Stores.