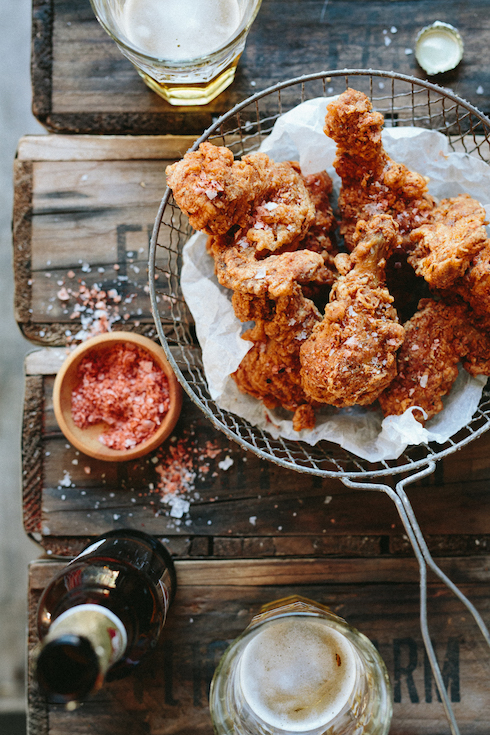 This recipe is unapologetically delicious, influenced straight from the bold South of America. And no, you won't get the same results in the oven. This is a good ol' deep-fryin' job. Double dredged in my not-so-secret spice & herb flour mixture, crispy fried and finger-licking awesome.
You sure won't eat this every day (or even every week), but when it's time for Kentucky-style fried chicken, you need to do it properly. Keep an eye on your oil temperature and you're in for a treat: these golden beauties need to cook from scratch in the oil – they need 12-15 minutes at 180 C to work their magic.
Give them a quick drain on kitchen paper and you're ready to rumble. No sauce, no condiments, no side dishes. Just fried chicken done right.
Ingredients: (serves 4)
1 liter canola oil
1 cup cake flour
5 ml salt
2,5 ml freshly ground pepper
10 ml paprika
5 ml mixed herbs
2,5 ml chilli powder (adjust according to your needs)
2,5 ml celery seeds (optional)
5 ml garlic powder (or use garlic salt and reduce salt quantity accordingly)
4 XL egg whites
8-12 medium size chicken pieces (legs, wings, thighs)
Method:
Place the oil in a large heave-based pot over high heat. While it is heating, prepare the chicken.
In a wide mixing bowl, mix the flour, salt, pepper, paprika, herbs, chilli powder, celery seeds and garlic powder.
Place the egg whites in a wide bowl and whisk lightly.
Take each chicken piece, dip it in the egg white, then in the spiced flour mixture, back in the egg white and again in the flour mixture. Place on a tray and repeat process until all the chicken is double-dredged.
In the meantime, keep an eye on the oil. You're looking for a temperature of 180 C. If you don't have a thermometer, test a small piece of chicken skin to see if it bubbles when it hits the oil. When the oil starts to smoke, you've heated it too high – this can be dangerous, so remove it carefully from the heat (using heat protective mitts) and let it cool before adding the chicken.
Add the dredged chicken pieces to the hot oil, but don't crowd the pot. Fry for 12-15 minutes, turning them over half way through. Adjust the temperature if the chicken browns too quickly – it should spend at least 12 minutes in the oil for the meat to be cooked properly, so give the bigger pieces more time if needed.
Drain on kitchen paper and serve immediately (with or without extra salt and lemon wedges).
Note: Always be extra careful when cooking with large amounts of oil. Don't leave it unattended and don't let children near it. These days I prefer deep-frying on my induction cooker where there are no flames near.