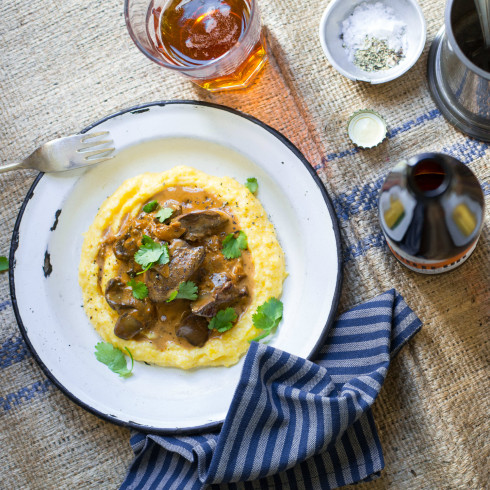 Although mealtimes are mostly considered occasions of togetherness and sharing, there are some things that I love to eat when I'm all on my own. One of these companionless meals include a sticky cinnabon at Meraki in Stellenbosch (I love having sweet pastries for breakfast or lunch) – a messy affair that includes inherent licking of fingers. That leaves no space for talking or sharing, of course, so I choose to go there on my own.
Another solitary eating preference is take-away burgers. I am convinced that they taste better in my car, parked outside the burger joint, with the radio on. The other dish is pan-fried chicken livers. My husband doesn't like them, so I always make them when he's away on business, when I can have the pan of creamy goodness all to myself without making any substitute dishes for him.
So if you also love chicken livers, here's my recipe for one of the best ways to enjoy them: in a creamy, spicy sauce, on a bed of creamy polenta. If you don't like polenta, just get some crusty bread and dip away. This is a dish best enjoyed without any guilt or time limits – company optional.
Ingredients: (serves 1 very hungry person, or 2 people as a light meal)
For the creamy polenta:
500 ml (2 cups) water
2.5 ml (1/2 teaspoon) salt
125 ml (1/2 cup) polenta
60 ml (1/4 cup) fresh cream
1/4 cup finely grated parmesan cheese
salt & pepper to taste
Method:
Heat the water & salt over high heat to boiling point, then add polenta and stir well. Lower heat to a slow simmer, then cook for 5-10 minutes until it starts to thicken, stirring often to prevent burning.
 Add cream and parmesan cheese, then stir until the cheese has melted. Season with salt & pepper. Polenta will thicken on standing, so if yours solidifies after leaving it for too long, just add a little boiling water and stir well.
For the spicy chicken livers:
30ml (2 tablespoons) olive oil
1 onion, finely chopped
250 g chicken livers
5 ml (1 teaspoon) garam masala
5 ml (1 teaspoon) paprika or smoked paprika
15 ml (1 tablespoon) tomato paste
45 ml (3 tablespoons) Worcester sauce
180 ml (3/4 cup) fresh cream
salt & pepper for seasoning
a handful of chopped coriander leaves (or parsley)
Method:
In a medium size pan on the stove top, heat oil over medium heat then fry onion until soft and translucent.
Add chicken livers, then fry until for about 5 minutes until it is golden brown outside.
Add masala, paprika, tomato paste and Worcester sauce and stir well. Add cream and bring to the boil. Cook for about 3-5 minutes uncovered until the cream has thickened. Season to taste with salt & pepper. Serve immediately on a bed of polenta, or with crusty bread. Top with some chopped coriander leaves.
Credits:
This post was originally written for The Pretty Blog by Ilse van der Merwe from The Food Fox.
Recipe, food preparation and text: Ilse van der Merwe
Photography: Tasha Seccombe
Styling: Nicola Pretorius