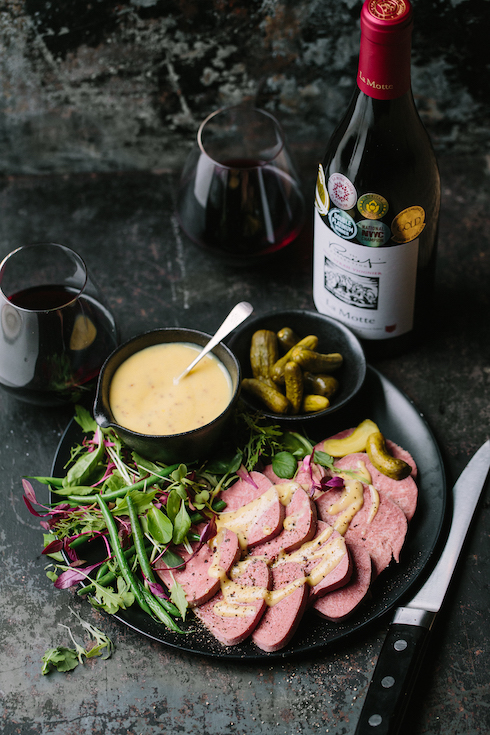 La Motte Wines are all about celebrating South African food traditions, whether they are old traditions or new. The team at La Motte asked me to contribute a story of my own, starting with memories about festive entertaining during the summer holiday seasons as a child. I knew exactly what I wanted to share, so here is #myfoodstory.
As a young child, we spent most of our summer festive holidays camping in Keurboomstrand. We were a large family of six, so we sometimes drove with a station wagon connected to a rented caravan connected to a jam-packed trailor, driving during the night so the kids would sleep (and probably cause less havoc). Every second year, we drove from Keurbooms to Buffels Bay on Christmas day to spend time with my father's parents, ouma Naomi and oupa David Uys. Back then, they still resided in Blue Water Bay (PE) and spent their festive holidays camping in Buffels. My grandparents were super stylish, especially my ouma Naomi. She was well traveled and an exceptional cook that introduced me to many exotic dishes as a child, and she still is one of my main food icons. They had a stunning large new caravan complete with flushing toilet and real kitchen – kitted out to the max. In the adjacent tent, she poured bitter gin and tonics (no-one at our house drank anything but muscadel or beer shandy) while my Kalahari-born oupa carved biltong with his pocket knife. From this tented kitchen ouma Naomi generated the most incredible cold meat spread for Christmas that I'd ever seen: stuffed leg of springbok, turkey, various hams and beef tongue – all served at room temperature with an array of sauces and salads. It was the first time I'd ever seen beef tongue and I was fascinated by the dark pink rounds with the peculiar texture. I remember returning for seconds and thirds of these meaty rounds, proud of myself for really liking something that most other kids would cringe at.
I've since cooked quite a few tongues for Christmas – mostly getting the same "either you hate it or you love it" reaction from guests. Those who love it, usually swoon with special memories of their own. Served with a sweet and tangy mustard sauce, this is food fit for kings. Although I prefer serving tongue cold, you can definitely also serve it warm, smothered in a slightly creamier warm mustard sauce.
I am so grateful for a gran like ouma Naomi for teaching me to discover new ingredients, flavours and cuts. She would have been so proud of my food journey – something that I only seriously started cultivating years after she passed. I know the rest of our family feel that a part of her is living on in what I'm doing today, and I couldn't be more honoured.
La Motte's cellar master Edmund Terblanche suggested two different pairings for my recipe – La Motte's double platinum Pierneef Collection 2016 Syrah Viognier red blend, and La Motte's  Pierneef Collection 2018 Sauvignon Blanc. Both work really well, but I've chosen to go with the red blend for the photograph.
May your own food stories also be a reason to celebrate this festive season!
WIN:
WIN La Motte wine for your festive table! Some of our most memorable food stories are from festive times and family holidays. Share your favourite food memory in the comment section on a La Motte #myfoodstory Facebook or Instagram post and you can win big! https://www.la-motte.com/blogs/news/my-food-story 
Beef tongue ingredients:
1,2 – 1,4 kg pickled beef/ox tongue
cold water
5 ml whole black peppercorns
3 whole star anise
2 bay leaves
1 large onion, halved
2 large carrots, cut into chunks
Place the tongue in a large pot and cover with cold water. Leave to stand for 1 hour, then drain. Cover again with cold water in the pot, then add the peppercorns, star anise, bay leaves, onion and carrots. Cover with a lid and bring to a boil, then turn down the heat to a simmer and cook slowly for 2 hours. Remove from the heat, then remove the tongue from the liquid (don't discard the liquid yet). Let it cool for 15 minutes, then remove the outer skin of the tongue. Return the tongue to the liquid and leave to cool completely. Cut into slices and serve at room temperature, with a sweet mustard sauce, pickles and salad. (Keep covered and refrigerated until ready to serve.)
For the sweet mustard sauce: (makes about 1 cup)
1/2 cup light brown sugar
1/3 cup apple cider vinegar
2 XL eggs
30 ml Dijon mustard
15 ml wholegrain mustard
salt & pepper to taste
5 ml (1 teaspoon) corn flour dissolved in 60 ml cold water
Place all the ingredients in a sauce pan and whisk vigorously to mix. Place over medium heat, stirring often until the mixture thickens and comes to a boil. Remove from the heat and leave to cool. Refrigerate in a glass jar, covered.