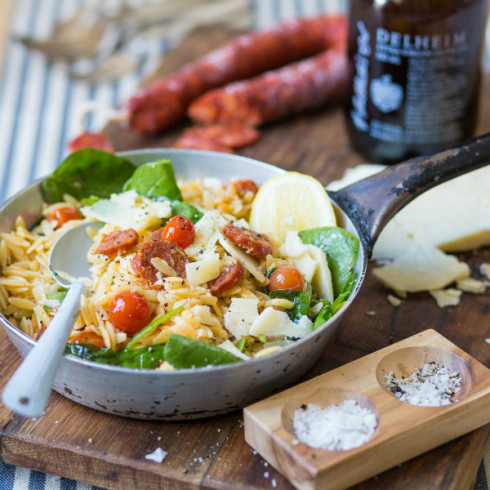 Orzo (also called risoni or rosmarino) is a type of short cut pasta, shaped like a long flat grain of rice. While my mother served it to us plain as a substitute to rice with meaty stews, I only really started enjoying cooking with orzo in recent years. It's the strangely delightful mouth-feel that I love most – something that works very well in stews, soups and salads.
In this recipe, I've combined a few ingredients that I just adore. First and foremost I chose the king of preserved sausages: chorizo – in my opinion one of the best ways of creating bold flavours in an instant. Smokey, spicy slices of chorizo will trump everyone's favourite crispy bacon any day, in my opinion. But the flavour will only be as good as the product, so choose wisely. The other ingredients that make this dish magnificent are smoked paprika, baby spinach leaves, ripe cherry tomatoes, shavings of Parmesan cheese and some grated lemon rind.
This is an easy and comforting meal for anytime of the year – winter or summer. Serve warm or at room temperature.
Ingredients: (serves 4-6)
 a large pot of salted water, suitable for the stove top
500g orzo pasta
roughly 225 g of good quality chorizo sausage
45 ml olive oil
2 cloves garlic, finely chopped
250 g ripe cherry tomatoes
5 ml (1 teaspoons) smoked paprika
1/3 cup of dry white wine
juice and finely grated zest of one medium size lemon
salt & pepper
200 g baby spinach leaves
Parmesan cheese, shaved with a vegetable peeler (add as much as you want)
Method:
Place the pot of salted water on the stove and bring to the boil. Add the orzo, stir, and set your timer for 7 minutes.
Remove the skin from the chorizo sausage, then cut the chorizo into fine slices/discs (if the skin is not too hard you can leave it on)
In a large frying pan over medium-high heat, add the oil, sliced chorizo & chopped garlic. Fry for about 5 minutes until the chorizo has turned slightly brown on all sides. Be careful not to burn the garlic.
(When the timer for the orzo goes off, drain the orzo in a colander, stir through a splash of olive oil and set it aside.)
Add the cherry tomatoes and paprika to the pan with chorizo, and stir-fry for another minute.
Now add the wine to deglaze the pan, cooking until the wine has reduced by half. Remove from the heat.
In a large mixing bowl, add the cooked orzo and the contents of the frying pan. Also add the lemon juice and zest. Stir with a large spoon to mix thoroughly. Season with salt & pepper.
Now stir through the fresh spinach leaves (they will wilt slightly from the heat of the orzo – that's perfect), and top with shaved Parmesan.
Credits:
This post was originally written for The Pretty Blog by Ilse van der Merwe from The Food Fox.
Recipe, food preparation and text: Ilse van der Merwe
Photography: Tasha Seccombe
Styling: Nicola Pretorius