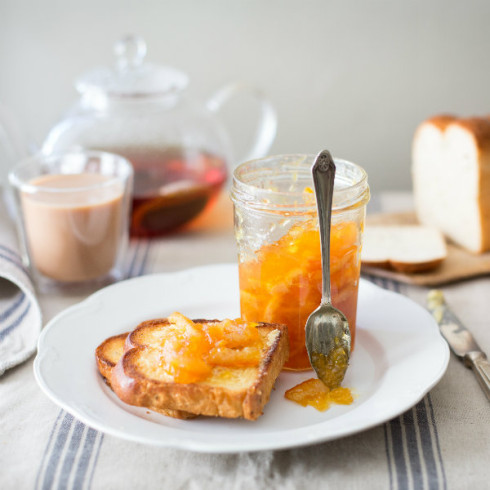 I would love to say that I grew up with marmalade and loved it from the start, but I didn't. I grew up with sweeter-than-sweet apricot jam, and didn't like the bitterness of marmalade at all.  When friends talked about their classic love of marmalade on toast, I simply did not share their view.
That was until recently when I decided to make my own. For this shoot, I wanted to focus on Winter produce, and something that adventurous food lovers could make at home. Citrus fruit are currently abundant in Stellenbosch, so I bought a bag of oranges and looked up a few recipes for reference. I sliced them thinly with my mandolin, cooked the slices in water until tender, then added sugar and aromatics to make a really fragrant marmalade (I added cloves, star anise, cinnamon stick and some cardamom). The texture of my marmalade resembled candied orange, and the taste was just out of this world…
We chose to shoot the marmalade on buttered mosbolletjie toast, and it was the most amazing flavour discovery – the aniseed taste of the mosbolletjies are a match made in heaven for the marmalade! Simply heavenly. Mosbolletjies are readily available in most advanced supermarkets, so give it a try if you find some.
These jars of marmalade make excellent gifts! Buy some beautiful glass jars (or re-cycle used jars), then label them with your own creative design. If properly sealed and stored, marmalade will keep for at least a year.
Ingredients:
2 kg oranges
grated zest and juice of 1 lemon
1,5 liters (6 cups) water
2 kg white granulated sugar
1 clove
1 star anise
1 cinnamon stick
2 cardamom pods
Method:
Using a mandolin cutter or very sharp knife, slice the oranges in 3mm slices, discarding the ends.
Add the sliced oranges, lemon zest and juice and water to a large stock pot (or jam pot), then heat to boiling point. Reduce to a slow simmer, then cook for 40 minutes until soft.
Add the sugar & spices, then cook for another 30 -60 minutes (depending on size of pot and temperature) until soft setting point. Skim off any scum forming on the top layer. For soft setting point, test a teaspoon of the boiling liquid on a cooled saucer for reaching a jel-like texture. Don't let the mixture get too dark.
When the desired texture is reached, transfer the marmalade to sterilized* glass container, then seal.
*Note: To sterilize your glass containers and lids, place them in a large pot filled with water (covering about 2m above the top level), then bring to a boil. After 5 minutes, remove from the heat, then transfer to a drying rack using tongs. Dry upside down, then fill with warm jam/marmalade  and replace lids immediately.
Credits:
This post was originally written for The Pretty Blog by Ilse van der Merwe from The Food Fox.
Recipe, food preparation and text: Ilse van der Merwe
Photography: Tasha Seccombe
Styling: Nicola Pretorius
Save