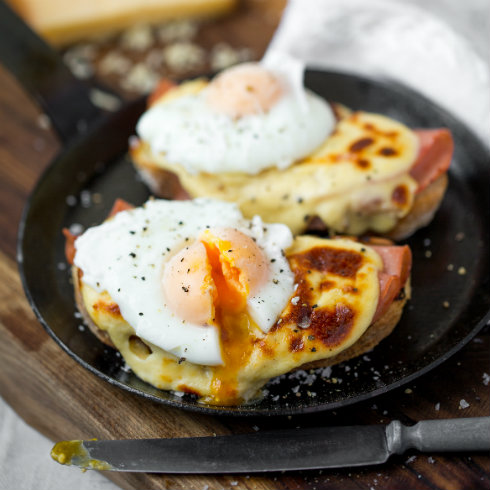 Still wondering what the big difference is between a croque madame and a croque monsieur? An egg. And the egg is placed on top of the croque madame – not the monsieur.
I was quite surprised by this bit of information mentioned above. In my mind, a so-called monsieur's breakfast is usually bigger than a so-called madame's breakfast, not the other way around. Come to think of it, I actually love the fact that the madame get to have the bigger meal. Anything is better topped with a poached egg, especially if it's all golden and gooey.
Next to the classic eggs benedict, this is my second favourite breakfast in the world. It's probably because I'm a sauce person. And I love rich breakfasts with butter, cheese and runny poached eggs. Top it off with really great toast, like the sourdough from Schoon de Compagne, and I'm a happy camper.
Ingredients for the Gruyere sauce: (serves 2)
2 tablespoons (30ml) butter
2 tablespoons (30ml) cake flour
1/2 cup full cream milk
2 teaspoons (10ml) Dijon mustard
about 1/2 cup grated Gruyere cheese
salt & pepper
Method:
In a small saucepan over medium heat, melt the butter and add the flour. Stir well to form a smooth paste and cook for about 2 minutes. Then add the milk and stir to form a smooth, thick sauce. Turn down the heat to very low, then add the mustard, cheese and seasoning. Remove from the heat and set aside.
Ingredients for the croque madame: (serves 2)
4 slices of sourdough bread, toasted
4 slices of best quality smoked ham (I used hickory ham)
2-4 eggs, poached in water for 3-4 minutes
Place the slices of toast on a baking tray. Top with slices of ham and Gruyere sauce, then place under a hot grill to turn golden brown (watch carefully, it only takes a minute). Remove from the oven, then top with a freshly poached egg. Serve immediately.
Credits:
This post was originally written for The Pretty Blog by Ilse van der Merwe from The Food Fox.
Recipe, food preparation and text: Ilse van der Merwe
Assistant: Elsebé Cronje
Photography: Tasha Seccombe