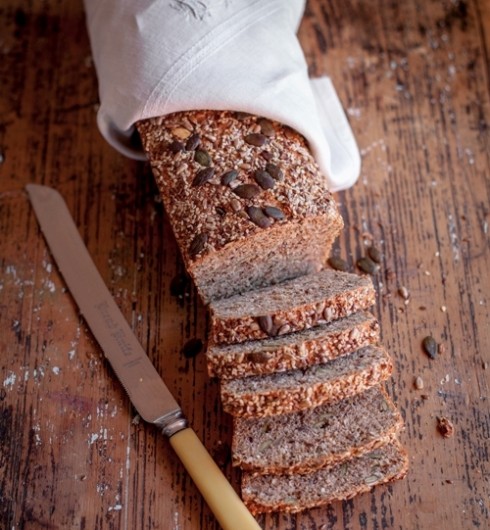 On a recent trip to the Eastern Cape, we visited my Mother in law in Port Elizabeth. We have not spent much time at her home before, as she usually prefers to visit us in Stellenbosch – that way she can also see most of her other family that live in the Cape.
While making sandwiches in her kitchen, I noticed the most beautiful old bread knife. When I asked where it came from, she told me that it was her Mother's bread knife that she had bought during the war with coupons that she found in cigarette boxes. The knife had been their household bread knife since before my Mom in law's birth, which makes it in the region of 70 years old. It was such a beautiful knife – so beautifully preserved although it had been used every day for decades.
At the end of our visit, my Mom in law gave me the knife as a present! She knew how much I loved cooking and baking, and how well I would look after this special knife in our young family. I wanted to feature it in a beautiful picture as soon as I had the chance, so I chose this recipe from Phillippa Cheifitz's book: "Lazy Days". As Phillippa puts it, it's a "real meal of a loaf", roughly textured and full of seeds and other whole wheat goodness. It reminded me of the wholesome history of the knife, and the unpretentious role it had played in slicing bread for my husband's family all these years.
I look forward to passing it on to my daughter one day.
Ingredients:
3 cups (750 ml) whole wheat flour
1 cup (250 ml) oats
1/2 (125 ml) cup bran
1 cup (125 ml) mixed seeds (like sesame, poppy, sunflower, pumpkin and/or linseeds)
1 T (15 ml) dried yeast
1 T (15 ml) honey
2 cups (500 ml) warm water
2 t (10 ml) salt
1 T 15 ml) sunflower oil
a mix of seeds from sprinkling over the top
Method:
Mix the flour, oats, bran and seeds in a bowl.
Stir the yeast and honey into half a cup of the warm water and leave for about 10 minutes to froth. Add the salt, oil and the frothy yeast to the flour mixture.
Stir in the rest of the warm water, then pour into a 25-30 cm loaf pan, well oiled or sprayed with non-stick cooking spray. Sprinkle liberally with mixed seeds and gently press in with your fingertips.
Leave in a warm place until risen to the top, or almost to the top of the tin (it takes about 30 min). Bake at 200 C for an hour, then cool on a wire rack, covered with a tea towel to soften the crust.
Credits:
This post was especially written for The Pretty Blog by Ilse van der Merwe from The Food Fox.
Food: Ilse van der Merwe from The Food Fox.
Photography: Tasha Seccombe.
Styling: Tasha Seccombe & Ilse van der Merwe.