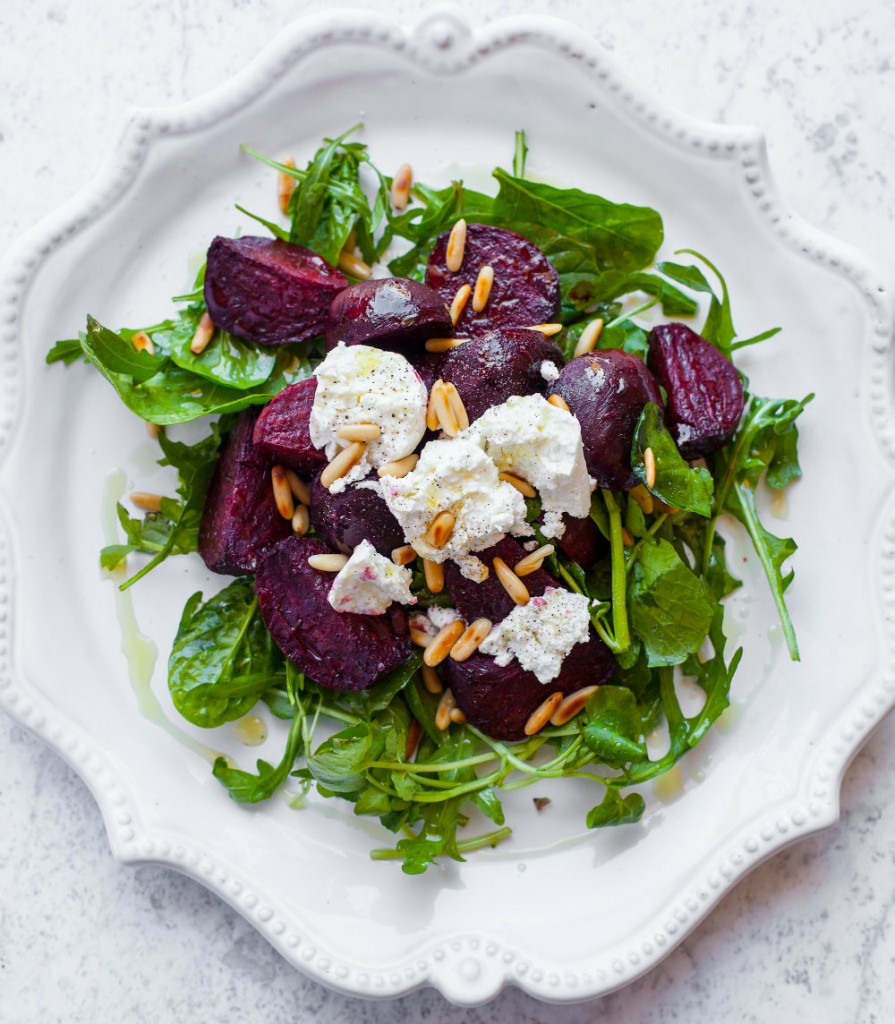 Beetroot can be the most boring thing on your plate, or the most magnificent. As a child, I used to hate beetroot. We always had the store-bought grated version, and I couldn't stand it. As I got older, I discovered that beets could taste so different if you just cook it properly and serve it simply.
One of my favourite combinations for beetroot, is to serve it with goats cheese. The roasted beetroot is so sweet and fragrant, and the goats cheese is ultra creamy and tangy. Coupled with peppery rocket leaves and crunchy nuts it is such a fantastic starter or side salad, and it really looks breathtaking.
Don't be afraid to get your hands all purple – it comes off after a few washes. Otherwise use rubber gloves.
Ingredients:
roughly 10 medium-sized beets (or 15 small beets)
2-3 sprigs fresh thyme
80-100 ml olive oil
45 ml balsamic vinegar
juice and rind of a lemon
salt and pepper to taste
100 g soft goats cheese (I used a log of Fairview Chevin)
a bunch of rocket/baby spinach/watercress leaves
a handful of pine nuts, toasted (or cashew nuts)
Method:
Pre-heat the oven to 220 C.
Peel the beetroot, and cut off the ends. Cut in halves, or leave whole if they are small.
Arrange peeled beetroot in a roasting tray, then sprinkle with thyme leaves, olive oil, balsamic vinegar, lemon juice & rind. Season well with salt and pepper. Toss to coat the beetroot well.
Bake for 40 minutes, then add about 1/2 a cup of water and cover with foil. Return to the oven at 180 C and bake for a further 20 – 30 minutes until the beets are tender (test with a small, sharp knife). Remove from oven and cool in the pan. Do not discard juices.
In a large salad bowl, arrange green leaves (I like to dress the leaves in a little olive oil and lemon juice with a pinch of salt & pepper). Slice the beetroot in smaller wedges if necessary, then coat in their juices before arranging them on the leaves. Top with crumbled chevin and toasted nuts. Serve with extra olive oil and balsamic vinegar.
Credits:
This post was especially written for The Pretty Blog by Ilse van der Merwe from The Food Fox.
Food: Ilse van der Merwe from The Food Fox.
Photography: Tasha Seccombe.
Styling: Tasha Seccombe & Ilse van der Merwe.