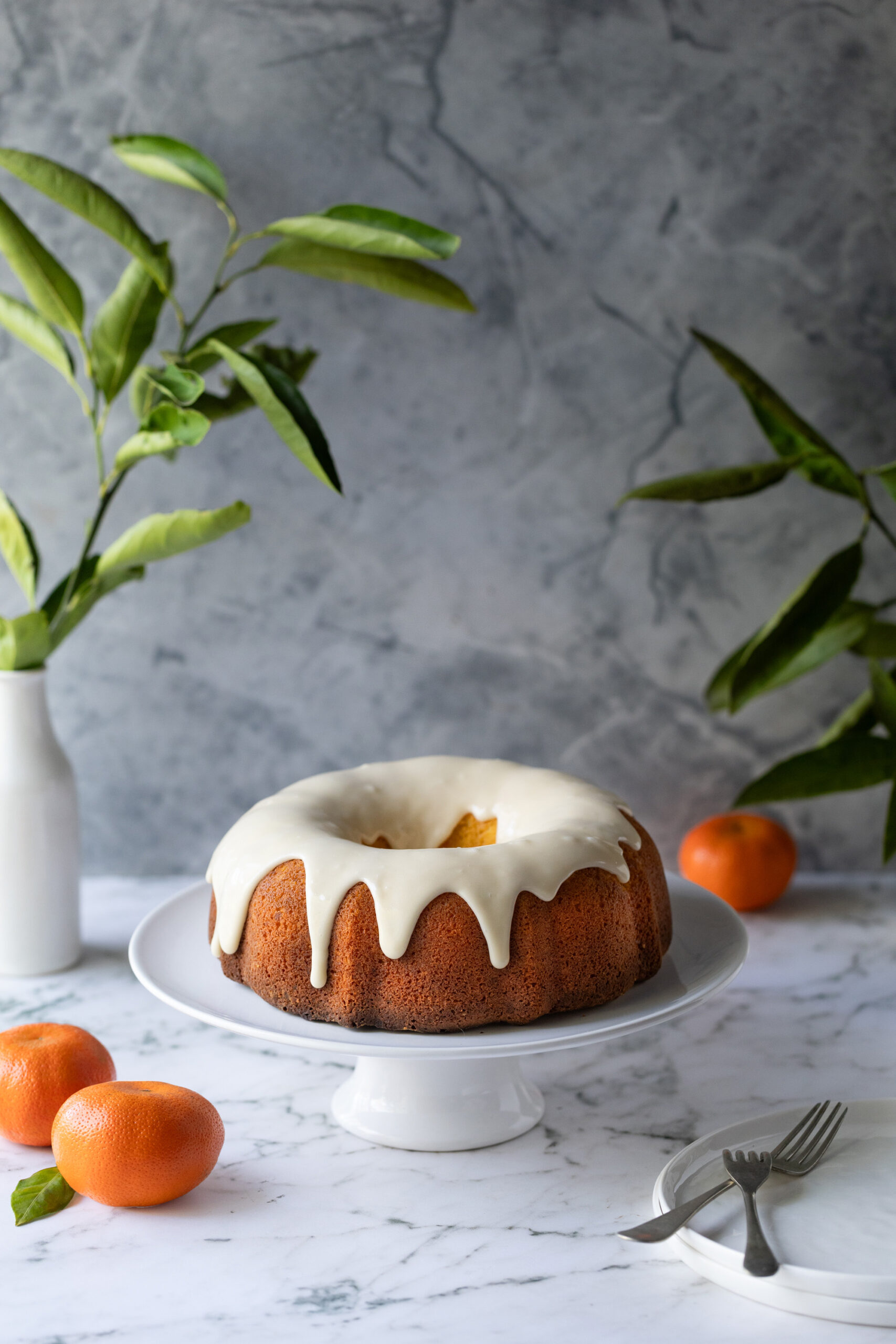 This golden ring cake makes the most of bright ClemenGolds with all the flavour of whole fruit – they're seedless mandarins, so you can use the whole fruit skin-and-all after removing the end stubs. The texture is similar to a pound cake, only needing a thin layer of sweet and tangy glaze – perfect with a cup of coffee or tea. The cake gets better on standing, so don't be afraid to make it ahead. Notes: 1) The instructions might seem tedious, but if you follow them to a tee, you'll get a fool-proof result, every time. 2) Depending on the size of your ClemenGolds, 400 g of whole fruit might be equal to 3-4 medium size ClemenGolds.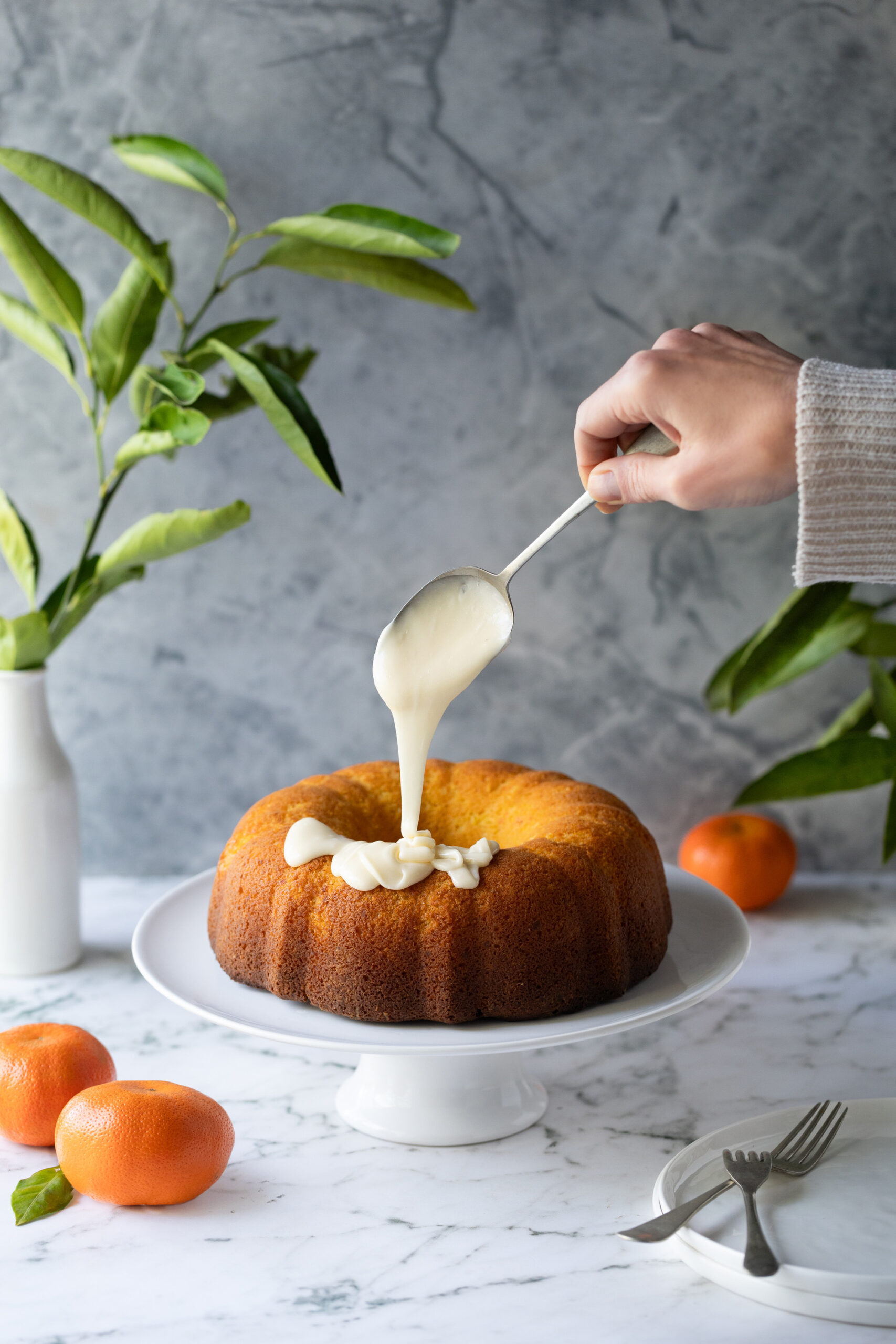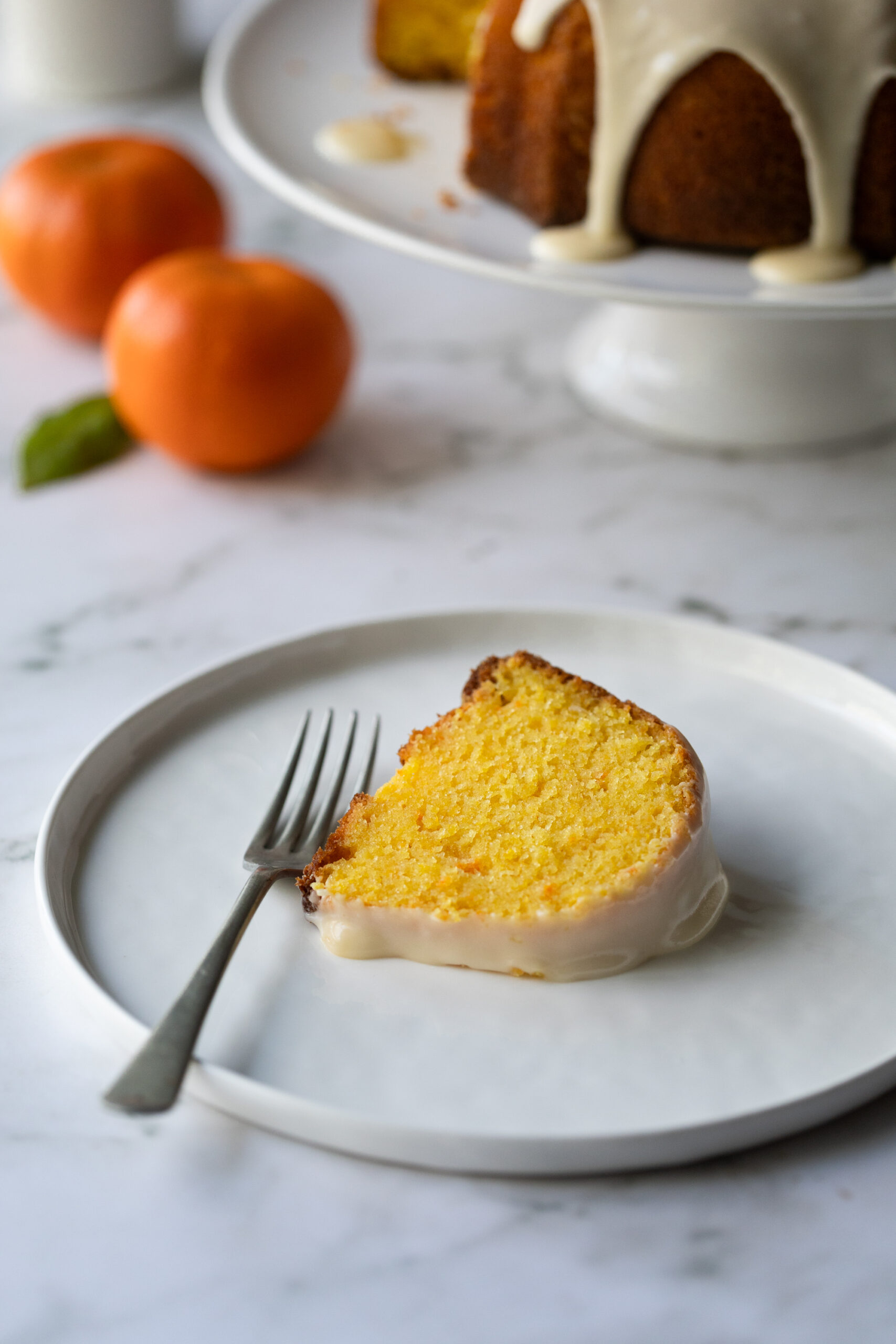 The team from ClemenGold asked me to create a video with the theme "Love" in mind, so I had to include my 12-year old daughter, Valki, whom I love fiercely! She, by chance, loves ClemenGolds more than any other fruit and eats at least four of them daily. I made her this cake, but it turns out she loves fresh ClemenGolds even more than she loves cake. True story!
View the video on my Instagram reel feed.
Ingredients: (makes 1 medium cake, serves 12)
For the cake:
2½ cups (350 g) cake flour
10 ml (2 teaspoons) baking powder
5 ml (1 teaspoon) salt
400 g whole ClemenGolds, end stubs removed
½ cup (125g) sour cream, room temperature
5 ml (1 teaspoons) vanilla extract
2 cups (400 g) white sugar
225 g butter, softened
4 XL eggs, room temperature
For the sour cream glaze:
250 g (2 cups) powdered icing sugar
30 ml (2 tablespoons) ClemenGold juice
30 ml (2 tablespoons) sour cream
Method:
Preheat the oven to 180 C and place an oven rack in the lower third of the oven. Thoroughly spray a 23cm bundt cake pan or ring cake pan with non-stick spray (or brush with a mixture of melted butter and flour) and set aside.
Place the flour, baking powder and salt in a medium-sized bowl and stir with a whisk to combine. Set aside.
Slice the whole ClemenGolds (stubs removed) into quarters and place in the bowl of a food processor fitted with the metal blade. Process for a minute until you have a pulp. Scrape down the sides and process again to make sure there are no larger bits remaining. Transfer the pulp to a 500 ml measuring jug – you should have 375 ml (1 ½ cups) pulp. Add the sour cream and vanilla, stir and set aside.
In a stand mixer with paddle attachment, add the butter and sugar and mix on medium speed for 3-4 minutes until light and creamy. Add the eggs one at a time, beating after each addition until each egg is fully incorporated. Scrape the sides and bottom of the bowl after mixing.
Add 1/3 of the flour mixture, mix briefly on low speed until just incorporated. Add half of the ClemenGold mixture and mix on low speed until just incorporated. Add the second ⅓ of the flour mixture, mix on low speed, add the remaining ClemenGold mixture, and end with the last ⅓ of flour mixture. Mix until just incorporated, then scrape the sides and bottom of the bowl and mix for 10-15 seconds to fully incorporate all the ingredients.
Scrape the batter into the greased pan in large spoonfuls. Smooth the surface with a spatula and tap lightly against the work surface to edge the mixture into the Bundt pan's edges.
Bake the cake for 60 minutes at 180 C, or until the mixture is fully cooked, medium-dark brown on top and bounces back when you press it with a finger tip. Remove the cake from the oven and leave to cool in the pan for 15 minutes before carefully turning out on a cooling rack lined with baking paper. Let it cool completely before adding the glaze.
Preparing the glaze:
Sift the icing sugar into a medium mixing bowl. Add the juice and stir, then add the sour cream, stirring after the addition of each tablespoon. The glaze should be completely smooth and quite thick. Spoon it over the top of the cake, allowing it to naturally drip down the sides. Serve at once, or store covered in a cool place on the counter for up to 4 days, covered in an airtight container. (During warmer months, store in the fridge, covered, for up to a week. Best served at room temperature.)
(This recipe was created in proud collaboration with ClemenGold.)