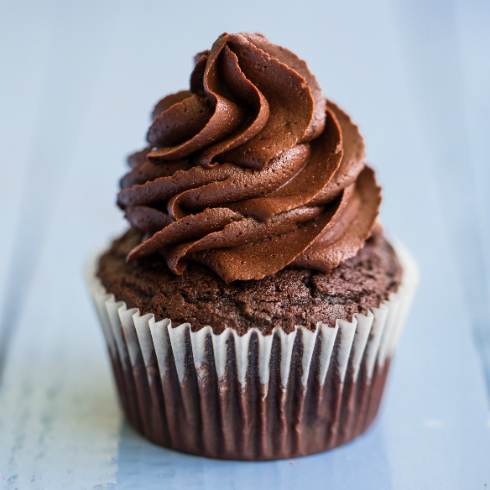 A few years ago, before I even considered changing careers from music to food, I was already a huge fan of food TV. I watched Nigella, Jamie and Bill religiously on BBC Food (now BBC Lifestyle), and made notes now and then to remember some of their recipes.
One of the recipes that survived in my scribbled recipe notebook, was a basic cupcake recipe from Nigella Lawson. While she was demonstrating the easy steps, I was trying to write it down – only getting cryptic notes of ingredients and some of the method. Not knowing back then that I could have just checked the full recipe online, I tried to make sense of my scribbles later that day. The great thing is, the recipe is so very simple and absolutely fool proof that I have made dozens of batches of these over the years. For chocolate cupcakes, I just substitute two heaped tablespoons of flour for two heaped tablespoons of cocoa powder.
More recently, I looked up the original recipe. Nigella uses royal icing for her cupcakes, but I prefer a rich and fluffy buttercream frosting. Use whatever you prefer.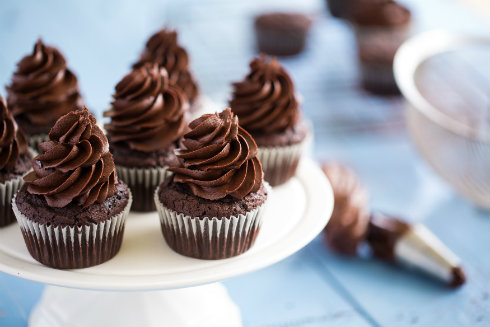 Ingredients: (makes 12)
Note: Make sure all of your ingredients are at room temperature before you start. It makes a big difference to the texture. Also, a digital scale will make your life a lot easier for this recipe.
75 g cake flour
50 g cocoa powder (for vanilla cupcakes, leave the cocoa powder out and just use 125 g of cake flour in total)
125 g sugar
125 g soft butter
2 XL eggs
5 ml baking powder
2.5 ml baking soda (bicarbonate of soda)
a small pinch of salt
5 ml vanilla extract
30 ml milk
Method:
Pre-heat oven to 180C. Line a 12 hole cupcake tin with cupcake liners.
Place all of the ingredients except the milk in a food processor, and pulse to mix thoroughly. Scrape down the sides.
With the motor running, add the milk and process for a further 1 minute until the mixture becomes very smooth. Now use 2 dessert spoons to drop the batter into the cupcake tin holes, spreading the mixture to fill all 12 holes (it always looks like it's not enough, but trust me – it is).
Bake for 15-18 minutes until cooked and golden on top (an inserted skewer should come out clean). Remove from the oven and transfer the cupcakes to a wire rack to cool completely.
For the chocolate buttercream frosting:
125 g soft butter (very soft, but not melted)
200 g icing sugar, sifted
50 g cocoa powder, sifted (or less if you don't like it to be too dark)
5 ml vanilla extract
15-30 ml milk
Method:
Place the butter in a large mixing bowl (or bowl of a stand mixer), then use an electric whisk to beat it until pale and creamy (takes about 2-3 minutes).
Add the sifted icing sugar and cocoa powder a little at a time, mixing until it is thoroughly incorporated. Add the vanilla and a little milk and whisk to get a light and fluffy texture, but don't add too much milk or the mixture won't hold shape.
Transfer the icing to a piping bag fitted with a nozzle of your choice, then pipe the icing on top of the cupcakes. Don't refrigerate them, as the icing will become hard and unpleasant to eat. Enjoy immediately, or store in an airtight container for up to 3 days.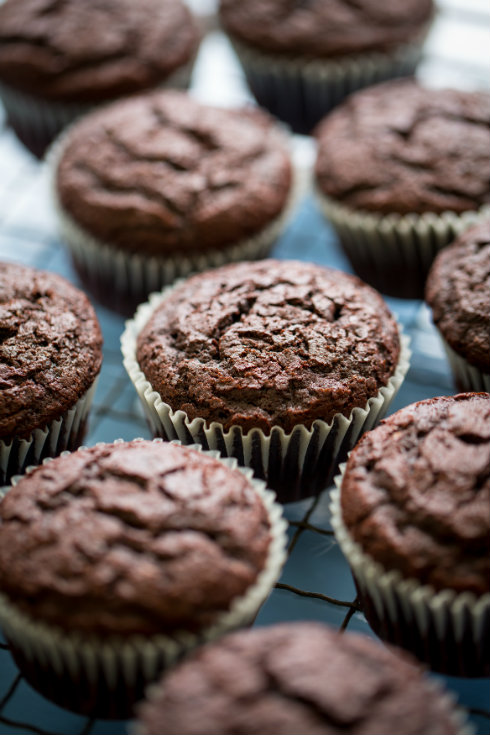 Credits:
This post was originally written for The Pretty Blog by Ilse van der Merwe from The Food Fox.
Recipe adaptation, food preparation and text: Ilse van der Merwe
Photography: Tasha Seccombe
Styling: Nicola Pretorius