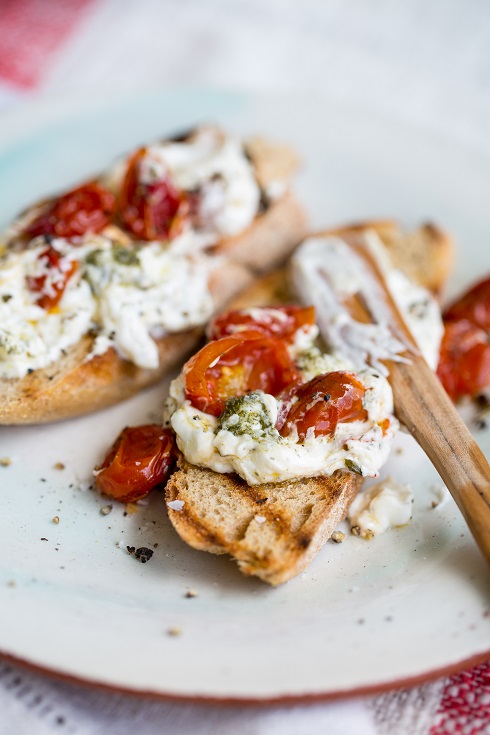 A few weeks ago, I had the privilege of joining labneh cheese maker Shelly Zaidman at Fairview for a look behind the scenes at their manufacturing plant, and a taste of this new product range. Fairview Labneh is a soft white, medium fat Mediterranean style cheese made from strained yoghurt (100% Jersey cow's milk), which gives it a fresh acidic taste and a smooth consistency, much like smooth cottage cheese.
Shelly is originally from Israel, but moved to Cape Town with her husband and three young kids a few years ago. She started making labneh for her family after not finding a suitable soft fresh cheese in SA for their household use. After some friends tasted it, she realised how popular it was with locals alike, and started selling it on a small scale. Soon, she hooked up with the people at Fairview to start producing it on a bigger scale, and her labneh is now available in many large retail stores.
In December last year, I had the pleasure of working with The Pretty Blog team on an official recipe development project for Fairview Labneh. Although labneh is such a versatile dip on its own, the sweetness and texture of Mediterranean-style slow roasted tomatoes just enhances all of the creamy and tangy qualities of the cheese. This simple recipe is my favourite way of enjoying labneh: spread generously on bruschetta, topped with these slow roasted tomatoes.
Fairview's labneh is available in two flavours: 1) Garlic & Herbs and 2) Za'atar. Woolworths also stocks a version with red pepper pesto. Very delicious!
Ingredients: (serves 4 people as a snack/starter, served with bread)
400g cherry/rosa tomatoes
2 cloves garlic, finely sliced
30 ml olive oil
15 ml apple cider vinegar (or sherry vinegar)
2 sprigs thyme
15 ml light brown sugar
salt and freshly ground black pepper
200 g Fairview

Labneh

, Garlic & Herb flavour
sliced ciabatta/baguette, toasted (to serve)
Method:
Pre-heat oven to 180 C.
In a small/medium size roasting tray, add the tomatoes & garlic. Drizzle with olive oil & vinegar, then sprinkle with thyme, brown sugar, salt & pepper. Toss to coat.
Roast for 50-60 minutes, or until the tomatoes at the edges start to turn dark and sticky.
Remove from the oven and leave to cool completely. Remove any hard thyme twigs.
Place the

labneh

in a medium size dip bowl. Add the tomatoes and swirl slightly. Serve with good quality bread.