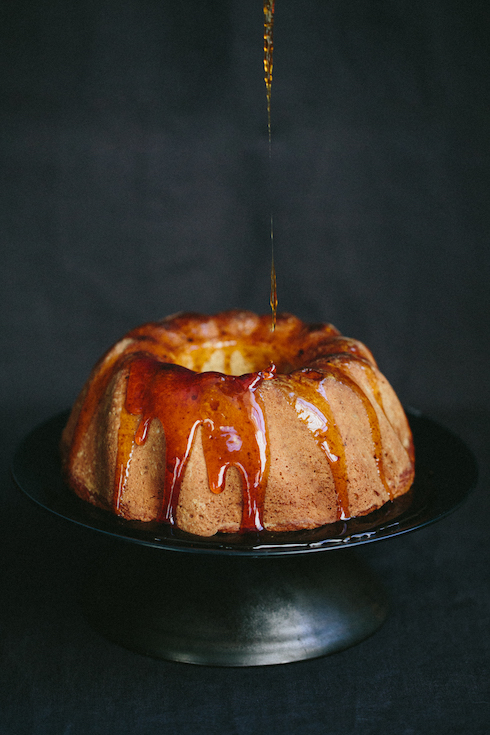 It's finally citrus season and I've already made a huge batch of marmalade with the abundance of oranges all around me. I adore citrus flavours in cakes, so this recipe was a delightful experiment after doing lots of research on olive oil cakes (did you know that baking with olive oil instead of butter can extend the shelf life of a cake with up to 2 weeks?).
Where many olive oil cakes call for a very mild olive oil, this one needs the very best extra virgin olive oil that you can find. The flavour should be medium-intense to intense, to create a cake that is very moist in texture but also smells richly fragrant of the essence of olives and orange. It is a cake that can be eaten on its own, very much like a cake bread, but can also be dolled up with a syrup and some whipped cream or even a cream cheese frosting for a decadent dessert or tea-time treat.
Note: Although my recipe has been featured before on The Pretty Blog, they have since shut down their website and I've had a few requests for republishing it. Here it is:
Ingredients:
2 medium size oranges
125 g white sugar
125 g soft brown sugar
2 cups cake flour
1 cup fine semolina
10 ml baking powder
5 ml baking soda (bicarbonate of soda)
15 ml ground Chinese 5-spice
2,5 ml salt
3/4 cup extra virgin olive oil
3 XL eggs
5 ml vanilla extract
Method:
Place the oranges in a small saucepan filled with water and bring to a boil. Cook until soft – about 30 minutes. Remove from the water, slice in quarters, remove the seeds, then puree (with skins) and set aside.
Pre-heat oven to 180 C. Grease a bundt tin thoroughly with non-stick cooking spray.
Place the white and brown sugar in a food processor and process for about 1 minute.
Add the flour, semolina, baking powder, baking soda, 5-spice and salt. Process to mix.
Add the orange pulp, olive oil, eggs and vanilla and process until just mixed. Scrape the sides and pulse one last time.
Transfer the batter into the bundt tin and use a spatula to smooth the surface evenly.
Bake for 50-55 minutes until an inserted skewer comes out clean, then remove from the oven and cool in the tin.
When cool, carefully tap the tin from side to side to make sure that the cake does not stick to the tin. Turn the cake out on a plate or rack.
For the caramel orange syrup: (optional)
1 cup sugar
1/4 cup water
1/2 cup freshly squeezed orange juice
juice of a small lemon
Place the sugar and water in a small saucepan and bring to a boil over high heat, tipping the pan from side to side (do not stir). Boil until the syrup starts to turn golden in colour, then add the orange juice and lemon juice – be careful as it will splatter. Remove from the heat and stir to combine. You can carefully pour the syrup over the cake immediately if you prefer for it to be fully absorbed by the cake (and will make it deliciously moist), or you can let it cool first for a thicker glossy syrup that will "sit" on the cake.
Serve with whipped cream (optionally).