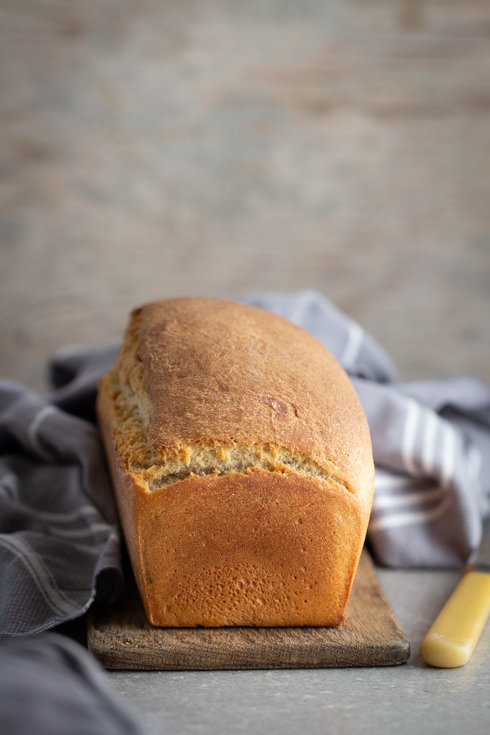 I've had many requests for posting a simple bread recipe, so here it is. A simple white bread loaf that doesn't need any special tools (other than a mixing bowl and spoon, baking tins and your oven – and yes, you can also bake it on a fire in a pot). You're going to have to knead it, so if you've never done it before, just give it a try. It's quite therapeutic – anyone who's done it before will agree. Then the dough simply rises in the tins, so you're not going to have to knead it a second time.
Here are a few handy tips to keep in mind when baking this bread:
What type of flour works best? I've listed white bread flour (I prefer stoneground), but you can also use cake flour, wholewheat flour etc. for a variety of end results. Remember, stoneground white bread flour can "take" more water than regular commercial white bread flour or cake flour, so adjust your liquid quantities accordingly (less water for fine cake flour). If your mixture is very sticky after adding the liquid, just keep adding a little flour while kneading until your dough is soft and not sticky.
Why milk? Milk will keep your loaf softer for longer, but you can certainly substitute the milk for more water of the same quantity.
What if I don't have bread tins? You can bake the shaped dough free-form on a roasting tray, or you can bake it in cleaned canned-food tins (those large 800g food tins work well), or you can bake it in in a ceramic or glass baking dish (like the one you use for lasagne etc.). You can also bake it in an oven-safe pot (no plastic handles allowed). For very large pots, use all of the dough, and increase the baking time to 1 hour (cover the pot with a lid for the last 20 minutes).
Should I grease the tins? Absolutely yes. The bread will stick to the tins if you don't, and it will break when you try to turn it out. Use oil, butter or non-stick spray.
Can I bake this bread on a fire? Yes, in a cast iron pot, over mild coals, with a lid on (coals on the lid as well), for about 1 hour.
Can I half the recipe to only make 1 loaf? Yes you can, but while you're taking the time to make one loaf, it makes sense to make a second one for tomorrow, or for the freezer (and bread flour gets sold in neat 1kg packets). Frozen bread can be thawed on the counter, and then refreshed in the oven at 180 C for about 10-15 minutes – as good as freshly baked.
For a softer crust: If you prefer a softer crust, wrap your freshly baked loaves in a clean cloth while they're cooling. This way the crust will steam and soften while cooling. Don't try to slice the bread when it's straight from the oven, give it at least 15-20 minutes to cool (otherwise it will make dense "clots").
How to store: Wrap in a plastic bag and keep in a cool, dry place. The bread is always best on the day it was baked, served warm, but it will last for a few days on the shelf, and tastes great when toasted.
Ingredients: (makes 2 medium loaves, or one extra large loaf)
1 kg white bread flour, plus a little extra for kneading (I prefer stoneground unbleached white bread flour, see my tips above)
1 x 10g packet instant yeast
1 tablespoon (15 ml) sugar
1 tablespoon (15 ml) salt
1,5 cups (375 ml) warm water
1,5 cups (375 ml) milk (use a little less milk if you're using cake flour or commercial bread flour)
vegetable oil, for brushing
Method:
In a large mixing bowl, add the flour, yeast, sugar and salt. Stir to mix. Add the water and milk, then stir with a wooden spoon until you have a sticky mixture. Turn it out on a lightly floured surface, then start folding the dough over, and over, and over (see video). Keep on kneading for at least 5 minutes (up to 10 min), adding a litle more flour if the dough is too sticky, kneading until the mixture is smooth and elastic and not sticky at all. Cut the dough in half, shape into oblong loaves, and place in two greased tins (brush with oil or spray with non-stick baking spray). Cover loosely with plastic, then leave to rise in a warm place for about 40 minutes or until doubled in size. In the meantime, preheat your oven to 220 C. Remove the plastic, then bake the loaves for about 40 minutes, or until golden brown and cooked. Remove from the oven, turn out of the tins (be careful, very hot!), wrap in a clean cloth and leave to cool at least 15-20 minutes before slicing. Serve warm or at room temperature with your choice of butter/jam/cheese etc, or dip into soups and stews.