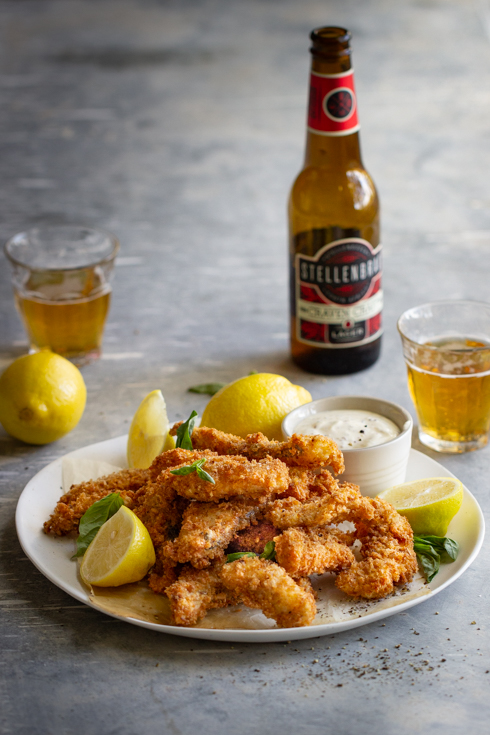 If you're wondering what to do with that packet of frozen hake fillets in your freezer, this is a pretty good call. It's the same recipe than what I'd usually do with chicken strips (my daughter loves it), and it's a great way of stretching a fillet into a satisfying crunchy snack for everyone. You can for sure also do larger fillets, just cook it a little slower to make sure the thicker fillets are all cooked through before the crumbs turn too dark.
I always use wholewheat bread to make crumbs for frying snacks like these – they add a wonderful extra layer of texture and it's a great way of getting more fibre into the younger ones. Of course you won't eat deep fried fish every day (there are many other ways to enjoy hake, like this recipe for baked fish with harissa), but it's a very satisfying and delicious treat that the whole family will love.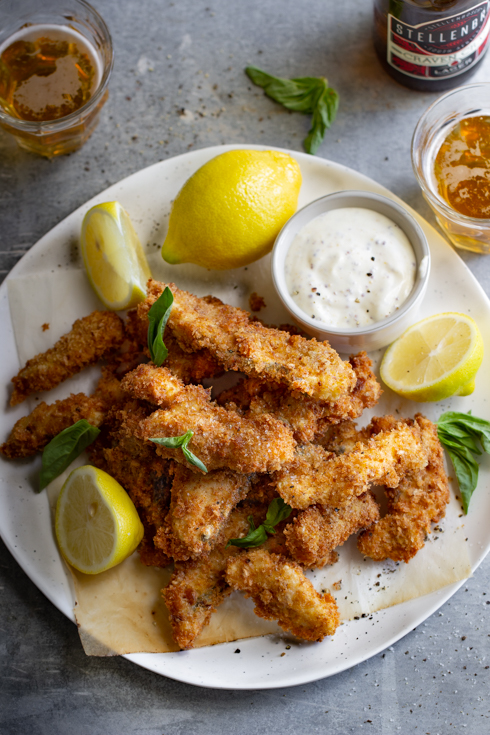 If you're living in Stellenbosch, you can order frozen hake fillets from Wild Peacock during the lockdown period – they deliver. Otherwise, most supermarkets should stock them in the frozen isle.
Note: The fillets are easier to cut and handle when they're not completely thawed – hake can be very tender and might fall apart, especially if you handle it with a blunt knife. Slice and crumb them while they still have a slightly frozen centre. And don't bother trying to remove the thin layer of skin, it holds the flakes together and is undetectable when eaten.
Tip: If your hake is very soft, try slicing it lengthways into fingers, rather than widthways.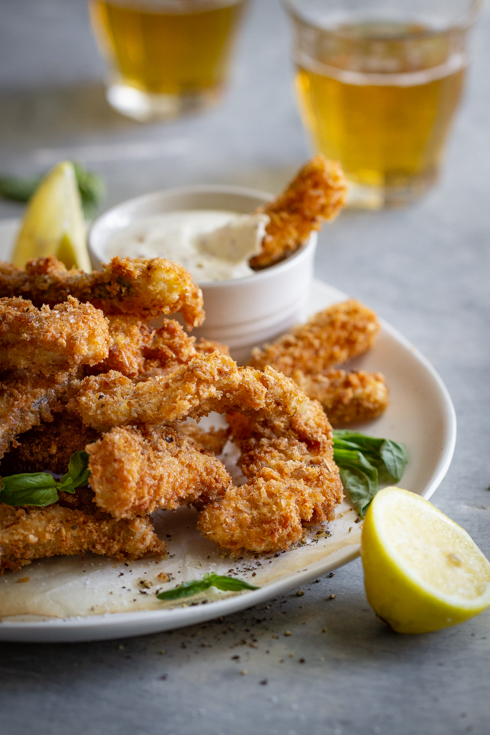 Ingredients: (serves 4)
about 6 slices wholewheat bread, processed to crumbs in a food processor
1/2 cup flour (cake flour or white bread flour)
1/2 teaspoon paprika (optional)
salt & pepper, to taste
5 XL eggs
about 800 g hake fillets, sliced into fingers of about 1cm thick
canola oil, for frying (or sunflower oil – you'll need about 3-5 cm deep oil in your pot)
a few lemons, sliced, for serving
Method:
Prepare a prep station for crumbing your hake: Place the sliced hake strips in a bowl. In a second wide bowl, mix the flour and paprika and season generously with salt & pepper. In a third bowl, whisk the eggs. Keep a clean tray handy for placing the crumbed strips on. Now start crumbing: using clean hands, dip each piece of hake into the seasoned flour, then into the egg, then into the crumbs (I place it on the crumbs, then pat more crumbs on top of it). Note: This is messy business, so you might want to wash your hands every now and then because it will build up – but I promise you it's fun. Line up a dedicated helper at each station if you want to.
Place each crumbed fish finger on the tray and continue until all the strips are crumbed. Let them dry out slightly for about 15 minutes while you make the dipping sauce (see below). When you're ready, carefully heat the oil over medium high heat until hot but not smoking (test a small piece of crumbed fish, if it sizzles, it's ready). Keep a plate handy topped with kitchen paper for draining the excess oil (rotate with fresh sheets every now and then). Fry the fish in batches until golden on both sides (turn them using 2 forks). Remove with a slotted spoon and drain on kitchen paper. Serve hot with the dipping sauce and slices of fresh lemon.
For the dipping sauce: (optional – you can also just serve it with mayonnaise or tomato sauce)
1/2 cup (125 ml) mayonnaise
1/2 cup (125 ml) plain yoghurt (I prefer double cream)
2 teaspoons (10 ml) wholegrain mustard (or just use Dijon, if you don't have wholegrain)
2 teaspoons (10 ml) honey
Method:
Mix all the ingredients together and serve with the hot crumbed hake fingers.