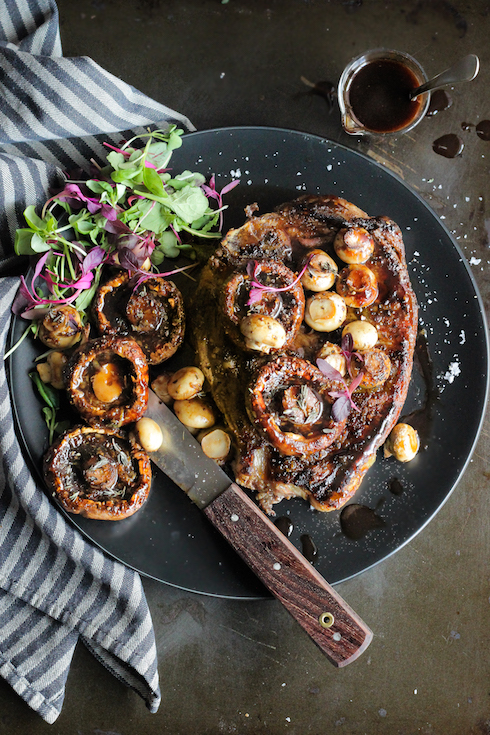 These whole roasted mushrooms, marinated in Teriyaki sauce with garlic, ginger & thyme, will take your next grilled steak or baked potato to a new level – perfect for festive entertaining. Teriyaki sauce is a magical thing – just the right combination of sweet and salty – that will add even more umami to your already umami-rich mushrooms. No cutting or stirring involved, just shake them in a bag with the marinade, spread out on a baking tray and roast on a high temperature.
This recipe is a welcome alternative to a creamy mushroom sauce. Juicy and packed with flavour, these teriyaki roasted mushrooms are a crowd-pleasing favourite every time.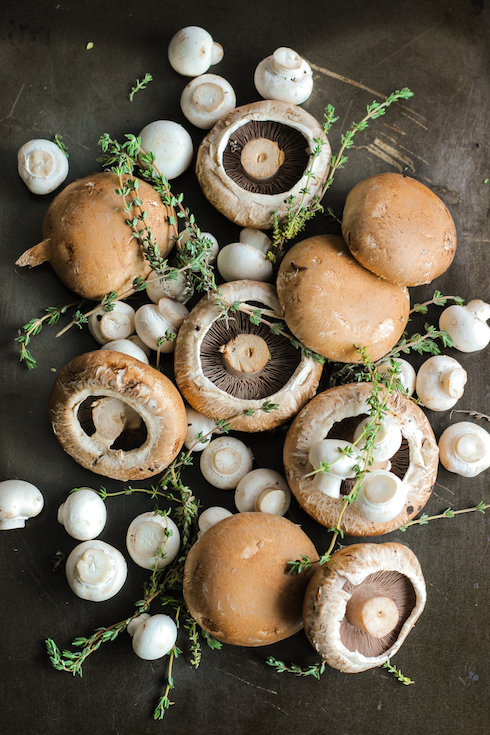 #FestiveMushrooms
Cooking time: 25 minutes
Ingredients: (serves 4)
1/2 cup (125 ml) Teriyaki sauce
2 cloves garlic, finely grated
1 tablespoon (15 ml) fresh ginger, finely grated
3-4 thyme thyme sprigs, leaves only
400 g whole mushrooms (I used 250 g big brown mushrooms and 150 g small button mushrooms)
about 4 x 200 g beef steak (I used aged sirloin)
45 ml olive oil
salt & pepper to taste
Method:
Line a standard baking tray with foil and pre-heat oven to 230 C.
Pour the Teriyaki sauce into a large zip-sealing bag. Add the grated garlic, ginger & thyme, seal and give it a shake.
Add the mushrooms, press out the excess air, seal and shake well to cover the mushrooms all over.
Pour the marinated mushrooms out on the lined tray and arrange in a single layer, stem-side up for larger mushrooms. Roast for 20 minutes at 230 C until caramelized & tender.
While the mushrooms and roasting, brush the steaks with oil on both sides and season generously with salt & pepper. Heat a large pan (preferably an iron skillet) over high heat until it reaches smoking point. Pan-fry the steaks to your preferred liking – I prefer medium-rare, which is about 3,5 minutes a side. Don't fuss too much over the steaks, just let them do their thing and turn once – they will generate a lot of smoke, so open a kitchen window.
When the steaks are done, transfer them to a plate/platter and cover with foil to rest for 5 minutes at room temperature.
Remove the mushrooms from the oven once they are brown and tender with sticky darker bits on the edges of the pan.
Serve the steaks immediately after resting, topped generously with the whole roasted mushrooms and served with a side salad.
Note: These Teriyaki roasted mushrooms are an excellent topping on fluffy baked potatoes, creamy polenta or risotto, but also work so well at room temperature in a salad with rocket, avo and feta. Not all Teriyaki sauces are the same – taste yours and adjust seasoning if necessary.