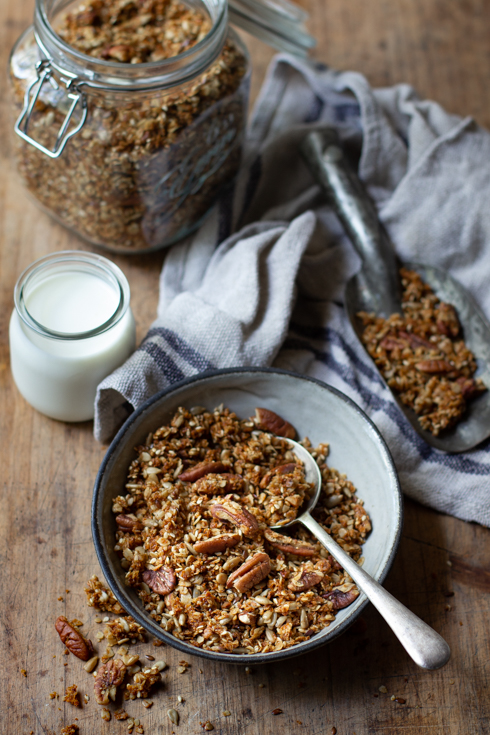 Since my husband started following an almost wheat-free lifestyle more than a year ago, his breakfast choices changed from regular toasted bread and wheat cereal to other options like rye toast, cooked oats and wheat-free granola. I'm usually apprehensive to make granola, because it somehow always feels like a very luxurious and expensive thing to make. I do, however, believe in knowing what's in your food (keeping it real and keeping it simple) so when I stumbled upon Food 52's legendary granola made with extra virgin olive oil, I realized that most of the ingredients overlapped with my recipe for all-in-one breakfast rusks (sans the buttermilk, brown sugar, eggs, flour and bran flakes). With a few simple substitutions from Food 52's original recipe, the following ingredients are mostly always in my pantry: oats (regular, not rolled), sunflower seeds, linseeds (instead of pumpkin seeds), sesame seeds, desiccated coconut (instead of coconut flakes), pecan pieces (much cheaper than whole pecans), maple flavoured golden syrup (because my daughter loves this on her pancakes, and it is a fraction of the price of real maple syrup), extra virgin olive oil and salt. I left out the addition of brown sugar completely, because the syrup adds more than enough "dark" sweetness on its own.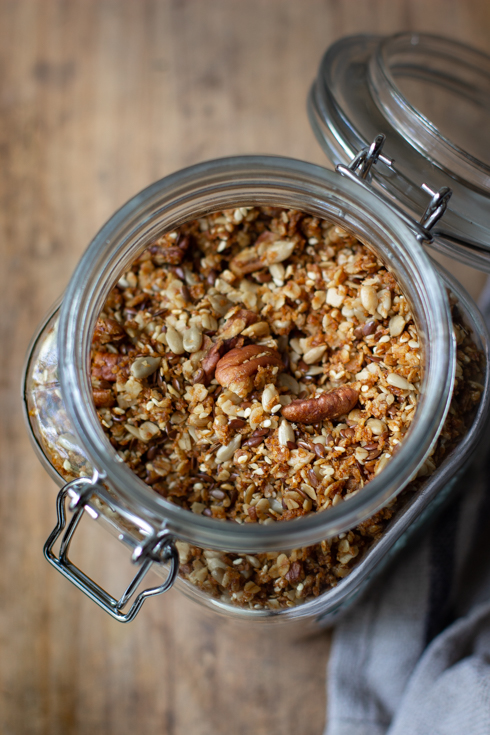 The result is a deeply flavourful, nutty, crunchy and slightly salty granola with a sultry savoury note and a comforting mouthfeel from the olive oil. The recipe fills just more than a 3 liter container, lasting quite a long time in our household. It is easy to make and it smells heavenly too.
Have a look in your pantry and see what you can come up with in terms of combinations – I'm sure most other nuts will also work instead of pecans (or leave them out completely) and you can also use other seeds if you prefer to. Regular golden syrup or honey will also work instead of maple flavoured syrup (or if you're lucky to have some real maple syrup – go ahead!).
It sure is a very luxurious breakfast, with a slur of milk and a few slices of banana, but this batch just came straight from my basic pantry stock and it feels like I hit the jackpot.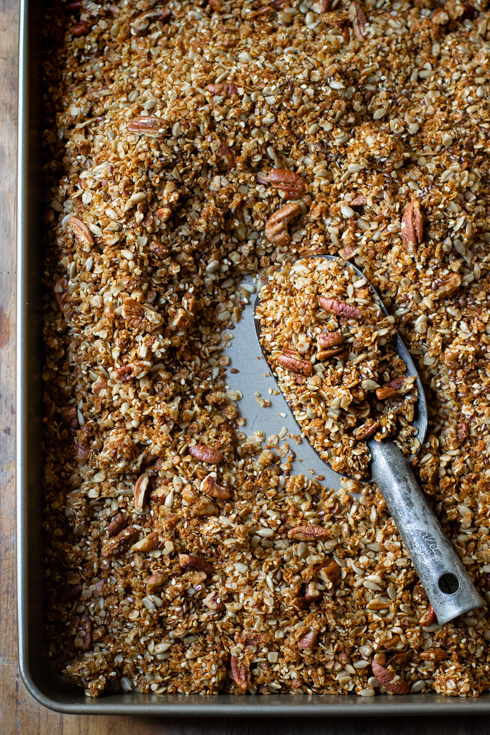 Ingredients: (recipe adapted from Nekisia Davis's Olive Oil & Maple Granola via Food 52)
3 cups

regular oats (or rolled oats)

1 cup

hulled raw sunflower seeds
1/2 cup linseeds
1/2 cup sesame seeds

1 cup

desiccated coconut

1 cup (100g) 

raw pecan pieces (or whole pecans, coarsely chopped)

1/2 – 3/4

cup maple-flavoured golden syrup, depending on how sweet you like yours (or honey / maple syrup / golden syrup)
1/2 cup extra-virgin olive oil
1/2 teaspoon salt
Method:
Preheat your oven to 150 C. In a large mixing bowl, add all the ingredients and mix well until coated all over. In a large deep roasting tray, spread out the mixture evenly and bake for 15 minutes x 3, removing the pan after each interval and stirring the granola well. After 45 minutes, the granola should be well toasted and fragrant. Leave to cool completely in the pan, stirring now and then to prevent too much clumping (a few smaller clumps are always welcome). Store in an airtight container for up to 1 month. Serve in bowls with a splash of milk or yoghurt, with or without sliced fresh fruit.