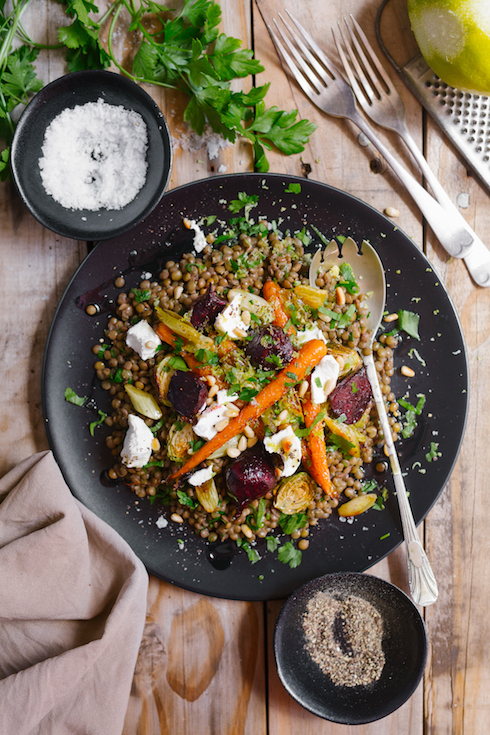 When I heard the word "lentils" when I was in my twenties, I immediately associated it with people who go over-the-top on health foods. Lentils sounded boring, brown and tasteless. My mother never cooked it for us as kids, so I had no frame of reference in terms of moorish lentil dishes at all. I saw lentils only as a poor substitute for meat – like a lentil patty on a burger bun. How horrible.
Then I discovered dhal – an Indian lentil side dish with as much flavour as the best meat curry that you'll ever have (if it's proper dhal). Glorious dhal, with a side of naan bread and lots of extra coriander leaves. It's a close contender for my "last meal" choice – after my first choice of fresh ciabatta with extra virgin olive oil and a nugget of extra mature gouda.
So then I began experimenting with lentil soup, lentil bobotie en even lentil salad. As Autumn settled into Stellenbosch with its magnificently milder days and cooler nights, I longed for food that is more nourishing than a crisp, leafy salad. That is how my earthy lentil salad was born.
I absolutely love roasted vegetables (above steamed, boiled or fried). Together, the lentils and the veg and the goats cheese make for a super satisfying, wholesome and nourishing meal. Add glugs of extra virgin olive oil and freshly squeezed lemon juice to taste and serve with toasted pine nuts – the perfect meatless Monday dish or the perfect side dish to your larger feast. It's going to be on my go-to list all Autumn and Winter long.
Note: Always remember that vegetables will shrink in the oven when roasted. Start with more than you think you'll need.
For the lentils: (serves 4 as a main meal)
250 g brown lentils (half a packet)
water, to cover
45 ml extra virgin olive oil
juice and finely grated rind of a medium lemon
salt & pepper
a handful parsley, chopped
Method: Place lentils in a large pot and cover with cold water (about 5 cm above the lentils). Cook for about 30 minutes until tender, then drain and rinse well. Transfer to a large mixing bowl, then add the olive oil, lemon juice & rind and season generously with salt & pepper. Add the parsley and stir well.
For the roasted vegetables:
an assortment of your favourite vegetables, peeled and cut into bite size chunks (I've used beetroot, carrots, brussels sprout and leeks – enough to fill a standard roasting tray in a single layer)
45 ml olive oil
salt & pepper
Method: Roast at 220 C for 30 minutes or until golden brown and tender.
To assemble:
100g plain goats cheese (chevin)
a handful of pine nuts, toasted
more parsley to scatter over
Method: Add the roasted veg to the cooked lentils, add chunks of goats cheese, then scatter with more parsley. Serve warm or at room temperature.