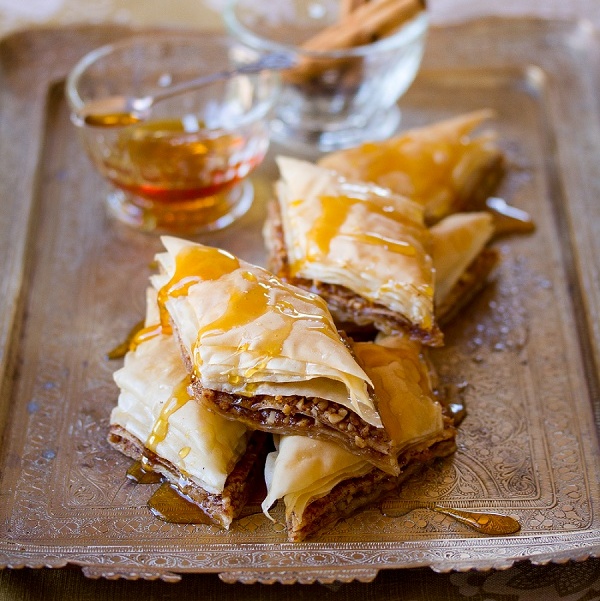 If you have a serious sweet tooth like me, I can recommend a culinary trip to Greece. These people really know their confectionery, and baklava is only one of many amazing delights that you will find at the bakeries and tavernas all over the country.
In Greece, you will specifically find a lot of baked goods made with filo pastry. They love to fill it with chunky, nutty, syrupy goodies, but also sometimes a fantastic almond paste. Many times these pastries are also topped with Nutella – there are just no limits to the decadence!
Baklava is such a classic Greek delicacy, although you would also find fabulous baklava all over the Mediterranean and Middle East, especially in Turkey (where baklava has it's origins). Traditionally, Greek baklava is made with 33 layers of filo pastry, but any commercial 500g packet of filo will suffice. In this recipe, I used crushed walnuts and almonds, but you can use almost any nuts of your preference. Pistachios also work very well, and the green specs look spectacular. The syrup is infused with cloves, cinnamon and lemon rind – such a fragrant addition to the richness of the nuts and the pastry.
The baklava will keep, unrefrigerated, for at least a week (covered).
Ingredients for syrup:
500 ml sugar
500 ml water
2 whole cloves
15 ml lemon juice
 2 strips of lemon rind
30 ml honey
Ingredients for pastry:
500 g filo pastry sheets (phyllo)
200 g butter, melted
200 g crushed walnuts (finely chopped, but with some texture)
100 g crushed almonds (finely chopped, but with some texture)
60 ml castor sugar
10 ml ground cinnamon
a pinch of ground cloves
Method:
For the syrup: place all ingredients in a saucepan/pot and stir over medium heat until sugar has dissolved. Do not boil before sugar has dissolved. Now, bring to the boil for 10 minutes, then remove from heat, strain and cool.
Pre-heat oven to 160 C.
Unwrap filo sheets, then spread them flat on a slightly damp tea towel. Cover the top with another slightly damp tea towel while working.
Using a buttered baking dish that is roughly the same size as your filo sheets, place one sheet of filo inside and brush all over with melted butter. Continue placing about half of the filo sheets on top of each other, buttering each sheet (I used 6 layers).
Mix nuts with sugar and spices, then spread half the mixture over the buttered filo stack. Cover with 2 layers of buttered filo, then spread remaining half of nut mixture over buttered filo sheets. Cover with remaining filo sheets (I used another 6), buttering each layer. Make sure to butter the top layer as well.
Using a sharp knife, cut layers into diamond squares. Sprinkle with a little water over the surface to keep the pastry flat while baking.
Bake in the centre of the oven for 60 minutes. If the top is browning too quickly, cover with foil for the last 30 minutes of baking time, but do not reduce baking time.
Spoon syrup over baklava as soon as it comes from the oven. Allow to cool before serving. Serve with an extra drizzle of honey, if preferred.
Credits:
This post was especially written for The Pretty Blog by Ilse van der Merwe from The Food Fox.
Food & recipe: Ilse van der Merwe from The Food Fox.
Photography: Tasha Seccombe.
Styling: Nicola Pretorius & Tasha Seccombe.