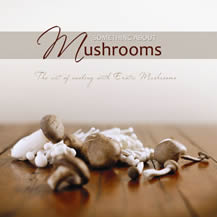 I had the pleasure of attending the exclusive book launch of Nouvelle Mushrooms' first publication at Overture Restaurant in December 2012. This brand new recipe book is called "Something About Mushrooms: The art of cooking with Exotic Mushrooms" and is unique from start to finish.
At first glance, the cover looks earthy yet upmarket – the perfect "jacket" for representing an exotic mushroom brand. Nouvelle is South Africa's largest producer of exotic mushrooms, and suppliers to an impressive list of SA's top restaurants. The book is square and slim (63 pages), but absolutely jam-packed with recipes, interviews with the contributing chefs and information about exotic mushrooms.
The format of the book is distinctly different than your average commercial recipe book. It contains intricate recipes from 14 of SA's top chefs, including Margot Janse from The Tasting Room, Bertus Basson from Overture and Gerald van der Walt from The Greenhouse. Each chef had the opportunity to contribute a recipe of their own, working closely with photographer Annelize Blom (who also did the design and layout of the book). Featuring alongside each recipe is a Q&A section with really interesting facts and tidbits about each chef. Who ever knew that Rudi Liebenberg of the Mount Nelson wanted to become a painter? Or that Richard Carstens of Tokara loves cycling? Or that Franck Dangereux of The Food Barn trains horses in his spare time? It's an insider's look at the very busy lives and personal profiles of the chefs that make South African fine dining a world class industry.
Paging through this book, one immediately realises that it is not aimed at the average home cook. All of the recipes include extensive ingredient lists, various components, intricate processes and skilful plating. This is no "Nigella Express", to say the least! This is a look at the very best fine dining, behind the scenes. To take an example: Margot Janse contributed a recipe for "Shiitake mushroom rocks with wood sorrel, celeriac and wild flowers". Her recipe contains 10 different components (each with its own list of ingredients) including shiitake crumble, coffee and cocoa soil, and a wood sorrel emulsion. The chances of any regular home cook recreating this at home is close to zero. So what is the aim of this book?
From my perspective, this book is a fabulous read, but obviously not a recipe book for daily home use (and not intended that way). It is a fantastic gift for chefs, aspiring chefs, real food fanatics or anyone that is truly interested in the South African fine dining scene. I will surely use it as inspiration for special occasions, taking tips from the professionals on how to turn exotic mushrooms into killer courses, but I won't attempt Margot's dish anytime soon for a midweek dinner!
"Something About Mushrooms" is available directly from Nouvelle Mushrooms at R240 excluding postage ([email protected]).