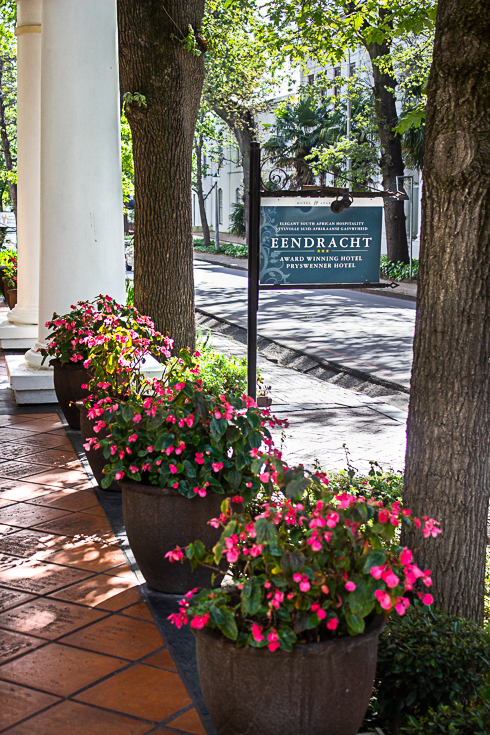 The iconic Eendracht Hotel in Dorpstreet, Stellenbosch, has recently undergone a room refurbishment. This plush accommodation facility is known to be one of the most central and best value for money options in town. We were invited for a 2-night stay including breakfast and a bike tour with Adventure Shop Stellenbosch, courtesy of Cape Country Routes Collection. Have a look at my informal video of our stay and our biking adventure:
Eendracht Hotel & Apartments is an elegant 3-star establishment boasting 12 en-suite bedrooms and 3 semi self-catering units. Cape Town International Airport is within 35 minutes reach and the V&A Waterfront is under 55 minutes' drive. The room interiors are contemporary and texture rich, yet the building's architecture and entry halls clearly convey the deep historical roots of the setting. Being walking distance from many fantastic restaurants, supermarkets, theatres, shops and scenery, it is a great base camp for exploring the City of Oaks.
We were also invited to spend a few hours with Raino Bolz of the Adventure Shop Stellenbosch, where I took my first scenic tour on an E-bike. What a pleasure! We paddled about 16km without me once breaking a sweat – up and down hills, across the university campus, next to the beautiful Eerste River, and into the Jonkershoek Valley with a visit to Stark Condé and Lanzerac Wine Estates for tastings. What a splendid way to discover Stellenbosch – I've stayed here for almost 41 years and I was freshly bowled over by the beauty and scenery of my stunning home town. Highly recommended for people of all skill levels.
Take a look at our stay in pictures below, and find more information about Cape Country Routes and their many accommodation and activity options on www.capecountryroutes.com. Thank you Eendracht Hotel and Adventure Shop for an unforgettable weekend.