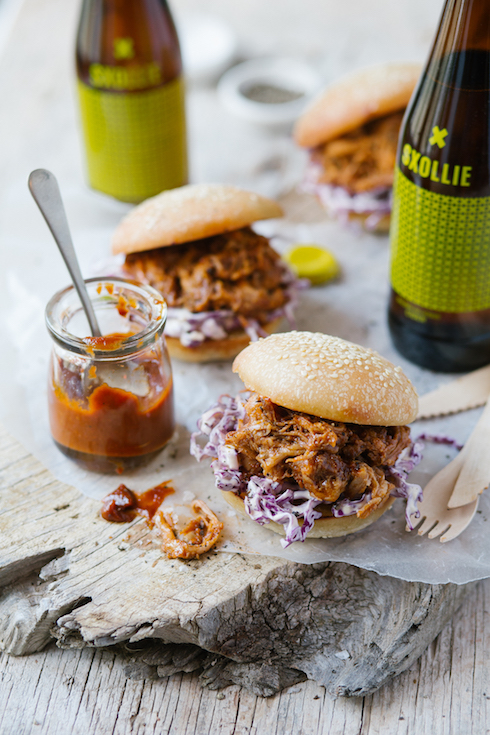 Although I don't eat meat every day, few things give me more pleasure than cooking a large pork roast. Pork is so versatile, flavoursome and easy to handle.
I've read up a lot on American-style pulled meat roasts and most of the recipes involve specialised smoking equipment. Although I've had the pleasure of teaming up with the guys of Santa Anna's for a smoking extravaganza a few years ago, this recipe is meant for the home cook who doesn't have the luxury of outdoor meat smoking equipment (yet). You can achieve great results in your home oven over low temperatures – all you need is time and patience.
I baked soft mini rolls for this shoot (get my recipe), but you can easily buy smaller cocktail buns in most supermarkets these days. The softer the roll, the better it absorbs the BBQ juices – almost like a "sloppy joe".
This is a great way of serving an informal grab-and-eat lunch or dinner to a meat-loving crowd. Maybe there's a game of sport involved in the background. Maybe some beers. But there will totally be cheers involved for the pulled pork.
Note: The meat takes 8 hours to cook, so keep that in mind when you start this recipe. The roasting flavour of the meat from your oven is an important part of the charm when inviting guests over – trust me. However, it can be made ahead and reheated with great success.
For the pork: (serves 6)
2,5 kg pork shoulder, bone out, skin scored
30 ml salt flakes (or 15 ml fine salt)
10 ml freshly ground black pepper
15 ml smoked paprika
15 ml fennel seeds (or 10 ml ground fennel)
250 ml apple cider (or apple juice or white wine)
250 ml BBQ sauce (see below, or use a good quality smoky store bought BBQ sauce)

Method:
Pre-heat oven to 120 C. Mix the salt, pepper, paprika and fennel together in a small bowl. Place the pork skin side up on a clean working surface. Rub all over with the spice mixture, getting the spices into the scored cracks. Place in an deep, oiled roasting tray and cover with foil. Roast for 8 hours on 120 C, or until the meat is soft enough to easily pull apart with two forks.
When the meat is soft, remove the excess fat, then pull the meat apart using two forks. Drizzle with BBQ sauce and mix through. Return to the oven at 230 C without the foil for about 10 minutes, just getting some dark stickiness on the edges. Serve on soft rolls with slaw and pickles.
For the BBQ sauce: (makes about 1,5 litres)
45 ml olive oil
1 onion, finely chopped
6 cloves garlic, finely grated
45 ml fresh ginger, finely grated
1 x 400 g canned pineapple chunks, pureed
1 x 410 g can tomato puree (not tomato paste)
125 ml soft brown sugar
60 ml Worcester sauce
60 ml soy sauce
30 ml white vinegar
10 ml black treacle syrup*
30 ml smoked paprika
15 ml ground Chinese 5-spice
salt & pepper to taste
Method:
Using a large heavy based pot, heat oil, then fry onion over medium heat until soft. Add garlic & ginger and fry, stirring often, until it starts to catch and the edges turn golden brown.Add fruit puree, tomato puree, sugar, Worcester sauce, soy, vinegar, treacle, paprika & spice. Season with salt & pepper. Stir well, then bring to a simmer and cook over very low heat for 30 minutes. Stir every now and then to prevent burning. Transfer to a glass jar and cool to room temp, then store in the fridge. Use on roasts, chops, steaks, chicken and burgers, or as a dipping sauce.
*Black treacle syrup is a dark, bitter, thick and sticky syrup and has no real substitute (molasses comes close, though). If you cannot find it or don't want to buy it especially for this recipe, just leave it out.

For the slaw:
1 small head of purple cabbage (a little goes a long way)

1/2 cup mayonnaise
1/2 cup sour cream
juice of a small lemon
2 teaspoons sugar
salt & pepper to taste

Method:
Shave the cabbage using a mandolin cutter or food processor blade on thinnest setting. Place in a large mixing bowl. In another mixing bowl, mix mayo, sour cream, lemon juice and sugar. Add a pinch of salt & pepper and mix well. Pour over cabbage and mix well (it will always look like the mixture is too dry in the beginning, but it does spread eventually).

To serve:
slider buns, sliced open horizontally (buttered and toasted optional)
pulled pork (see above)
BBQ sauce (see above)
slaw (see above)
fresh coriander (optional)
pickled gherkins/cucumber, sliced
Serve warm pulled pork on soft buns topped with slaw, gherkins, fresh coriander (optional) and more BBQ sauce.