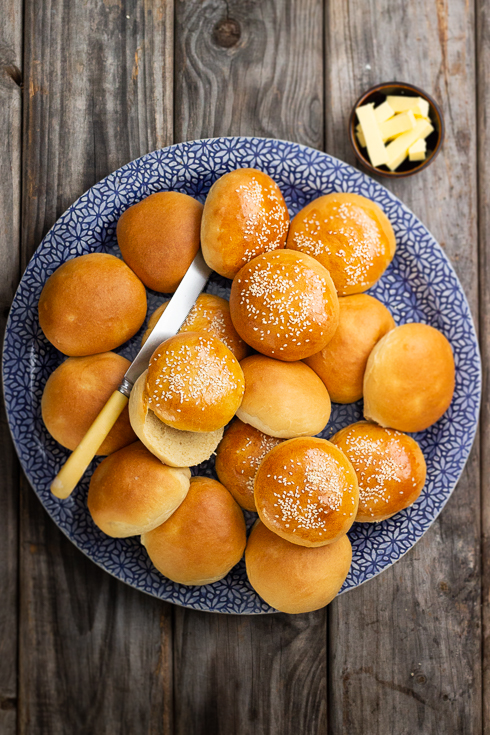 A few weeks ago I started a new collaboration with Kenwood South Africa. In my role as brand ambassador over the next few months, I have received their Chef XL Titanium – you'll see it featuring in some of my upcoming recipes and videos. I've been using this machine for some time now and it is such an incredible tool! From macaroons to butter icing, ciabatta to Italian meringue – what a joy to use it. In my next post, I'll do a full review of this premium mixer, so stay tuned.
More and more people are welcoming the craft of making the perfect hamburger at home. Most of us have the 100% beef patties down (or know where to buy a really good one from a local butcher), many of us can make a killer mayo (or aioli – even better), and then it's up to you to add what you love: pickles, tomato, lettuce, relish, caramelized onions, cheddar etc. One of the most key parts of the burger, however, is the bun. If you're stacking all that incredible stuff on a bun that's going to fall apart when you bite it, or worse – a bun that's too tough to bite through, your burger will be ruined. What you are looking for, is a soft brioche bun that's about the same diameter as your cooked pattie (patties shrink in the pan), not too high so that you can still bite through your assembled burger, with or without sesame seeds on top (I prefer sesame), sliced horizontally, buttered and pan toasted to a golden perfection. It should be light enough to easily bite through without much resistance, but sturdy enough to hold together when all the juicy bits drizzle down towards the bottom half. So next time you're going the full monty with making burgers at home, start with making these incredibly soft hamburger buns – it'll change your burger game forever.
Note: You're going to need an electric mixer for this recipe. I used my Kenwood Chef XL Titanium – it's an absolute pleasure to use. The light around the attachment port shines right into the bowl, and although it's quite a big bowl you can always see what's going on inside. The machine is very strong and makes light work of the dough. The solid stainless steel attachments are very easy to change and along with the stainless steel bowl they are easy to clean. Keep an eye out for a full review of this machine within the next week, and watch my video of how to make soft hamburger buns below.
Ingredients:
200 g butter, cubed
500 ml (2 cups) milk
10 ml (2 teaspoons) honey
1 kg stone ground white bread flour (divided in two halves)
30 g (45 ml) instant yeast
20 ml (4 teaspoons) sugar
10 ml salt (2 teaspoons) fine salt
2 large eggs
1 egg, whisked, for brushing (optional)
30 ml (2 tablespoons) sesame seeds, for topping (optional)
Method:
In a small saucepan, add the butter, milk and honey and stir until the butter has melted (do not boil). Set aside.
In the bowl of an electric mixer fitted with K-beater, add 500 g flour with the yeast, sugar and salt. Mix gently.
Add the warm milk mixture to the flour mixture and mix on low speed. Add the eggs and continue to mix until incorporated (about 30 seconds), then add the second half of the flour and continue to mix for about 1 minute.
Change from K-beater to dough hook (scrape any excess dough mixture using a spatula), then mix with the dough hook on medium-low speed for about 5-10 minutes or until the dough is very smooth and elastic.
Turn out the dough on a lightly floured work surface. Divide the dough into portions (I prefer to weigh it individually – you're looking for balls of about 110-120 g each). Shape each piece of dough into a ball by tucking the seams in underneath, then flatten it slightly and place it on a lined baking tray, leaving enough space inbetween for rising.
Cover lightly with plastic and leave to rise in a warm area for about 25 minutes or until doubled in size. While the buns are rising, preheat the oven to 200 C.
When the buns are risen, use a pastry brush to paint it with whisked egg and sprinkle with sesame seeds (or just leave plain, if you prefer). Bake for 12 minutes (in the middle of the oven) or until golden brown and cooked. Remove from the oven and let it cool completely on a wire rack.
Store in an airtight container or covered plastic bag, and use within 3 days. Best for hamburgers when sliced, buttered and toasted in a hot pan. ​
Note: Baked cooled buns can be successfully frozen for up to 3 months.
*Regular cake flour won't yield the same results as stone ground white bread flour and will result in a more sticky dough that is harder to handle. Rather use stone ground white bread flour, if you want to achieve the best results possible.
This post was created in proud collaboration with Kenwood South Africa.