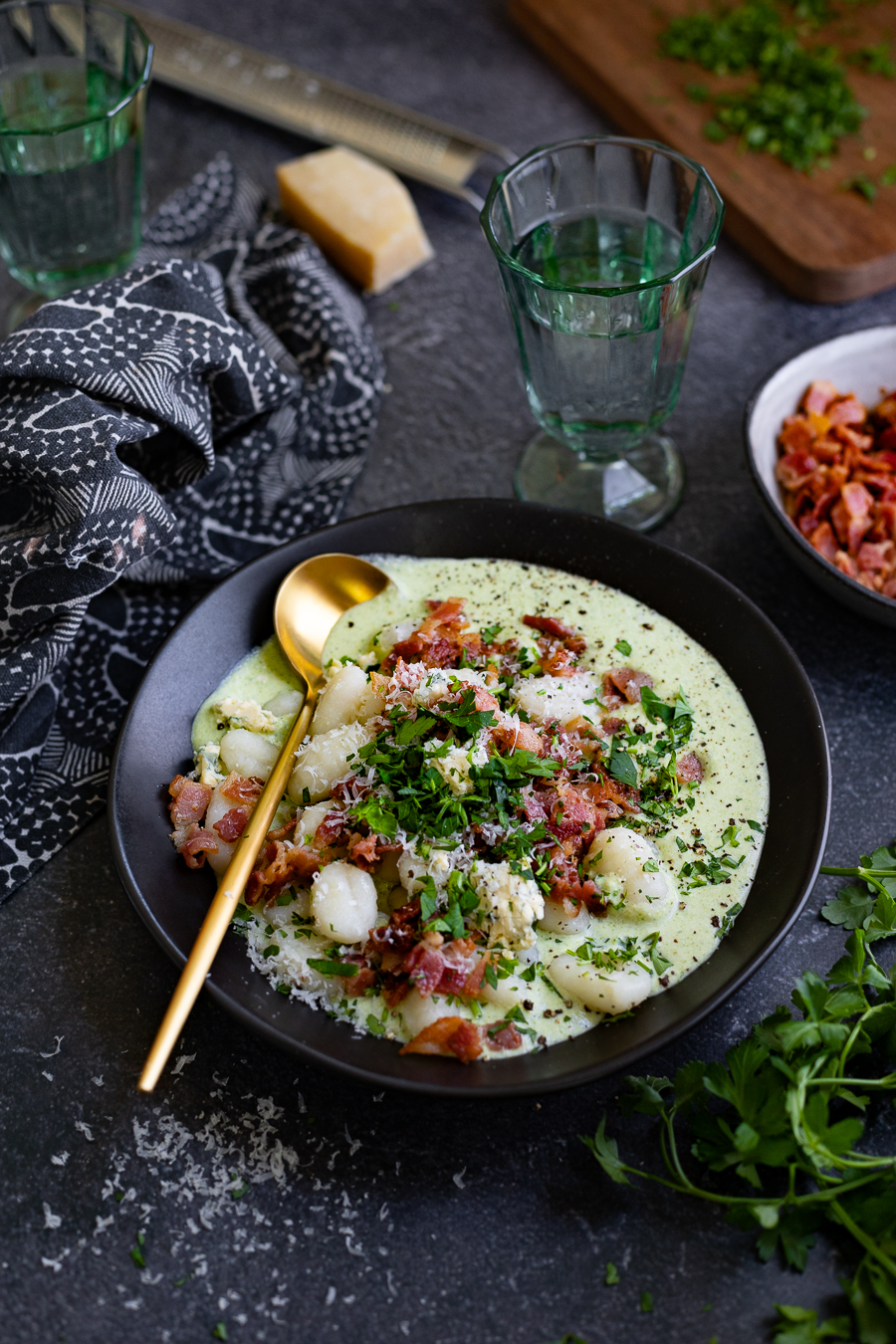 This simple recipe can be cooked under 30 minutes from scratch – so easy! With only a handful ingredients, it is convenient as a mid-week meal, indulgent yet nutritious, anytime of the year. A thick and creamy pureed sauce of broccoli, cream and blue cheese is ladled in bowls, topped with freshly cooked store bought gnocchi (or your favourite store bought pasta), a generous amount of crispy bacon, grated parmesan cheese and parsley. You can also substitute the gnocchi with your favourite store bought pasta. I used Frozen McCain Broccoli Florets – they are already lightly blanched, which means they cook very quickly and retain their beautiful green colour in the sauce.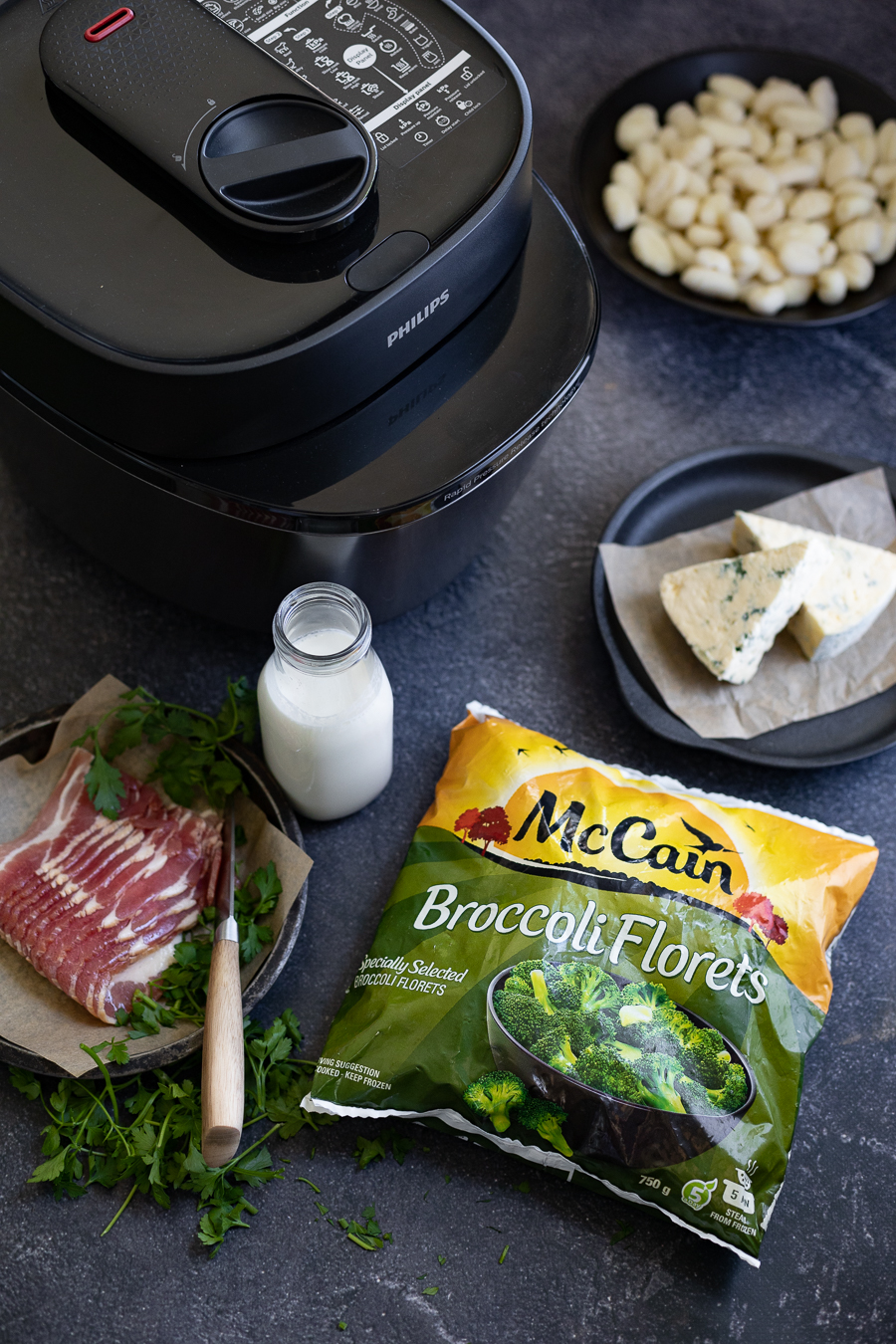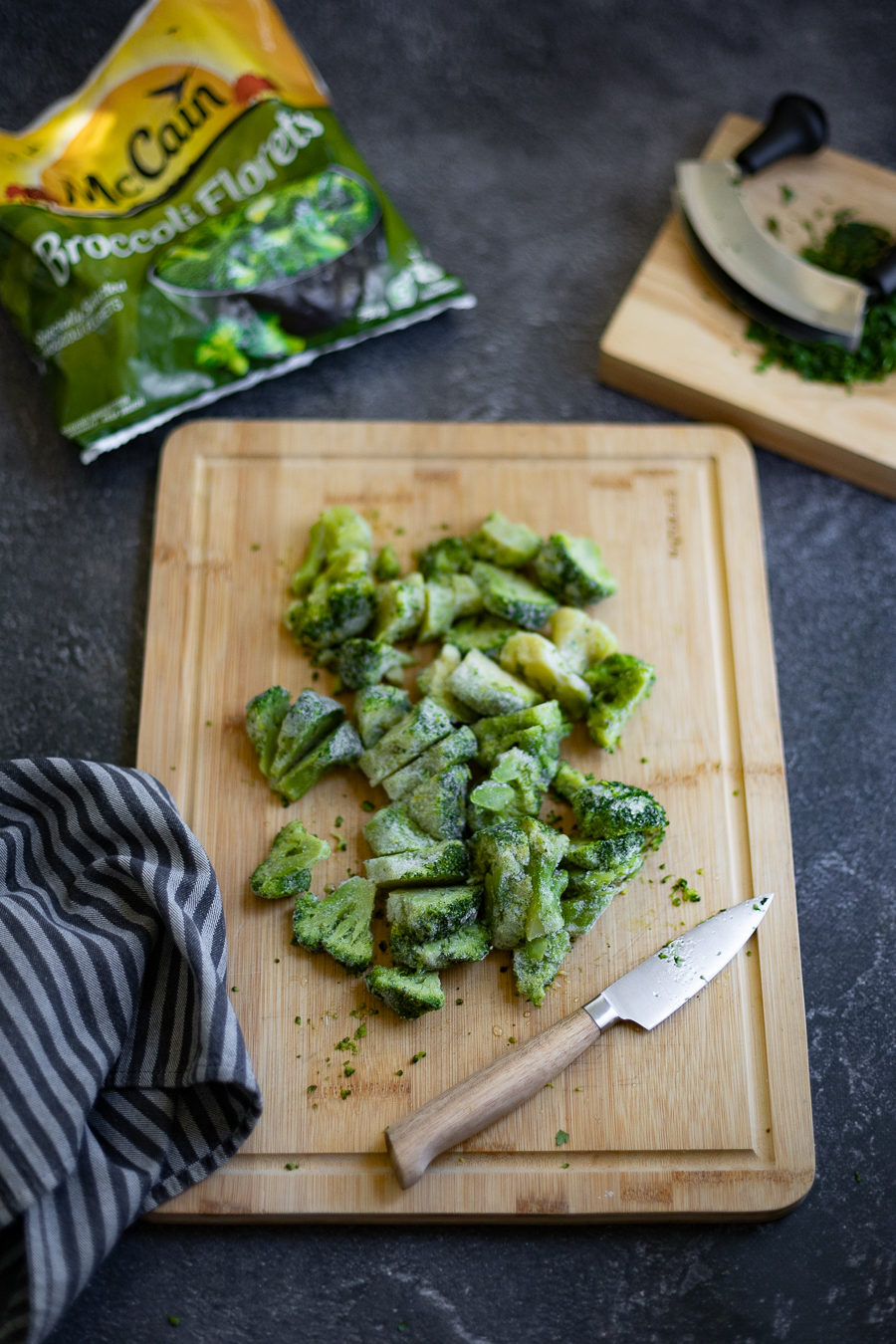 I used the Philips All-In-One-Cooker with sauté function to crisp the bacon and simmer the sauce, but you can also easily do this on a regular stove-top in a heavy based pot.
Ingredients: (serves 3-4)
200 g streaky bacon, chopped
750 g Frozen McCain Broccoli Florets, sliced into smaller chunks
500 ml fresh cream
100-200 g blue cheese, crumbled (save a few crumbs for topping)
salt & pepper
500 g ready-to-cook gnocchi
a handful fresh parsley, finely chopped
some grated parmesan cheese, to serve (optional)
Method:
Place enough water and salt in a pot (for the gnocchi) over medium heat. In the meantime, using your Philips All-In-One-Cooker on sauté function (or just a regular pot over medium heat), fry the chopped bacon until very crispy – you shouldn't need any extra oil as the bacon will release its own fat. Remove the crispy bacon from the pot and set it aside for later. Add the sliced frozen broccoli to the same pot, along with the cream and crumbled blue cheese, stir and bring to a simmer. Cook for 2-3 minutes, stirring often, then turn off the heat. Carefully remove the inner pot from the cooker, place it on a heat proof surface, then use a stick blender to puree the mixture to a smooth sauce (tip the pot to the side – it helps). Season with salt & pepper, then set aside. When the salted water is boiling, cook the gnocchi for 2-3 minutes in rapidly boiling salted water, then drain. Ladle some of the sauce into bowls, followed by the gnocchi, then top generously with crispy bacon, grated parmesan and chopped parsley. Serve at once.
Note: If you prefer, you can also add the freshly cooked gnocchi to the pureed sauce in the pot, add the bacon and stir it all together. Ladle into bowls, top with the parmesan and parsley, and serve at once.
(This post was created in proud collaboration with McCain South Africa.