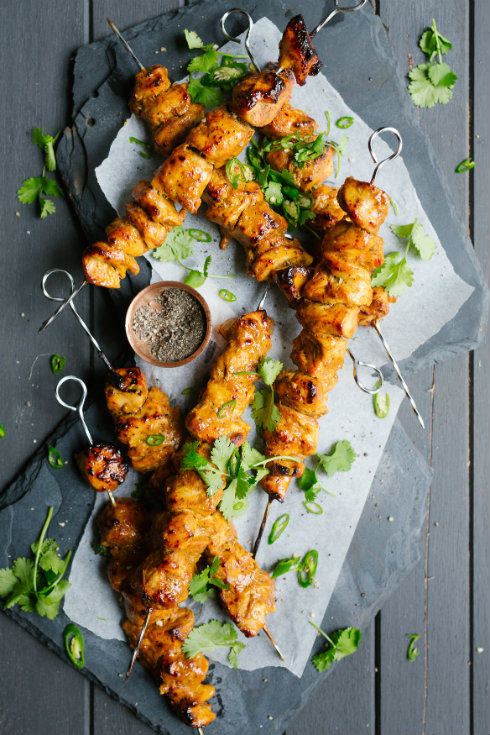 I recently had the pleasure of creating a few new recipes for Peppadew®, using their convenient pasta sauce range. This first recipe is an easy tikka masala marinade for chicken, so fantastic for entertaining a crowd over the festive season – you just mix up all the ingredients and your marinade is ready to use.
Marinating boneless chicken in yoghurt and lemon juice is the secret to extra juicy, tender and delicious sosaties. This recipe contains all the right spices for a fragrant mild tikka sauce. Add extra chilli if you love things more spicy!
Prep time: marinating – minimum 3 hours, cooking – 10 minutes.
Serves: 6
You'll need:
1 jar Peppadew® Green Pepper & Garlic Pasta Sauce
500 ml double cream unflavoured yoghurt
60 ml fresh lemon juice
30 ml vegetable oil
a knob of fresh ginger, peeled & finely grated
4 cloves garlic, peeled & finely grated
5 ml ground coriander
2,5 ml ground cumin
5 ml ground turmeric
30 ml garam masala
10 ml salt
5 ml freshly ground black pepper
8 large boneless chicken breasts, cut into large cubes
6 large or 12 medium sosatie sticks/skewers
a handful of fresh coriander, for garnish
Method:
In a large glass/ceramic/plastic bowl, mix all of the ingredients for the marinade together (except the chicken, sosatie sticks and fresh coriander).
Add the chicken cubes to the sauce and mix well to cover all over. Cover the bowl with a tight fitting lid or plastic wrap and leave to marinate in the fridge for at least 3 hours or overnight.
Bring the meat to room temperature by leaving it on the kitchen counter for an hour. Place the marinated cubes on your sosatie sticks, taking care not to overcrowd the sticks.
Braai the sosaties on a hot fire/grill, turning frequently to prevent burning. Braai until just done (do not overcook), then scatter with fresh coriander and serve hot.
Tips:
This marinade will also work very well for bone-in chicken pieces. Make small slits in the chicken pieces through the skin, so that the marinade can penetrate the meat. Braai the marinated chicken pieces over a medium hot fire for at least 40 minutes, turning frequently until cooked through and golden brown on both sides.